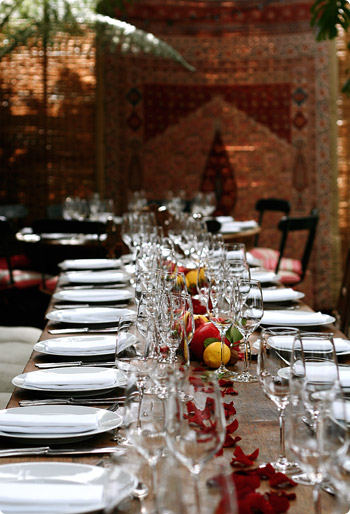 A Fine Spring Day
19 March 2007
While I've been struggling to update my blog, the days are getting much longer, flowers are starting to bloom and my cat has been moulting heavily (!) Although we had quite a mild winter this year, I'm still happy that spring is finally here.
I wanted to share the lovely day I had here last weekend – I've written about this place before and I was delighted to be back for this special occasion.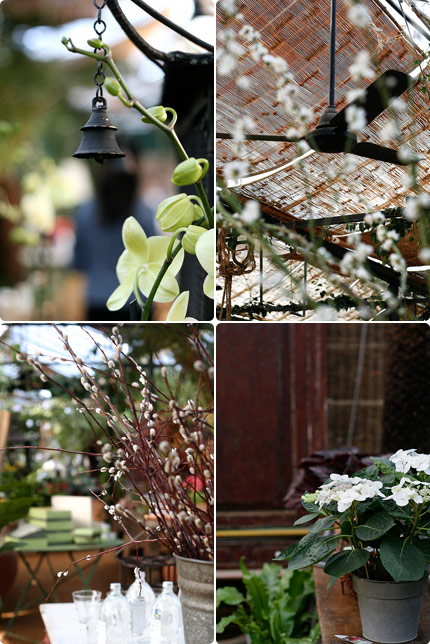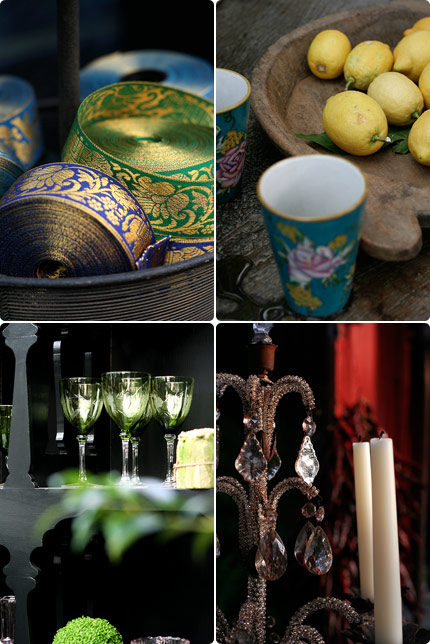 Petertsham Nursery is such a beautiful, unique place that makes you want to come back again and again. As well as the 'garden centre' part, the food they serve makes this place even more special. The Australian chef Skye Gyngell's focus on local, seasonal produce (they grow most of the vegetables/fruits/herbs in their garden) makes for unpretentious and honest food. I should say that her food 'brings me joy' rather than just saying 'it is delicious' – and that's definitely one of the reasons I like this place.
The nursery has held some great events, inviting acclaimed chefs/food writers for demonstrations etc – with their Australian connection they had Bill Granger last summer also – you can read about it here. Last Sunday, it was a Middle Eastern feast from guest chef Greg Malouf (with writing partner Lucy Malouf), an author of three books: Saha, Moorish and Arabesque. Their gorgeous latest book, Saha – a chef's journey through Lebanon & Syria, has just been published in the UK and Europe and they were in London to promote it.
Greg grew up in Australia as a child of Lebanese parents. He spent his childhood seeing his family prepare traditional Middle Eastern food which developed into a passion and led to him becoming a chef. Lucy kindly contacted me before she left Melbourne and as much as I was looking forward to meeting them, I was also just happy to take some photos during the event, it was great fun!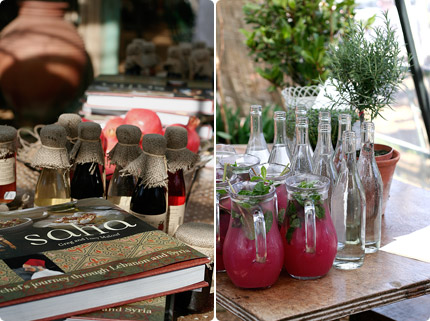 The workshop started in the late morning with lovely pomegranate cordial (I liked it so much that I had to make some myself as soon as I got home :) the recipe is in Saha), followed by their demonstration of the following menu:
Lamb rack with dukkah and parmesan
Preserved lemon guacamole
Lentil tabbouleh
Plum muhallabeya (Lebanese milk pudding with orange blossom water)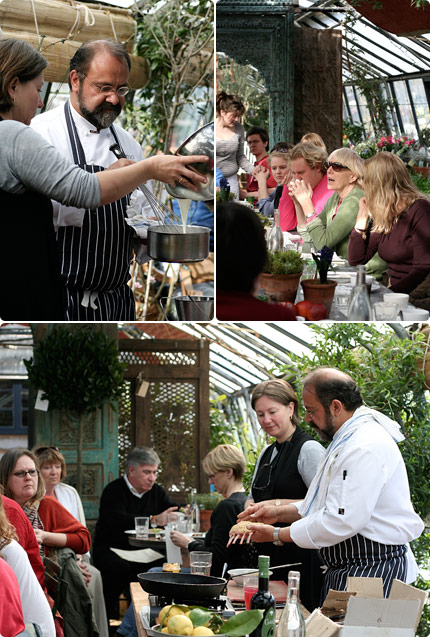 As you know if you're a fan of their books, Greg and Lucy have been working together for a long time – although they are no longer married, I must say that they made a perfect team at the demo. Greg often goes off on tangents and Lucy does a good job of reining him in :)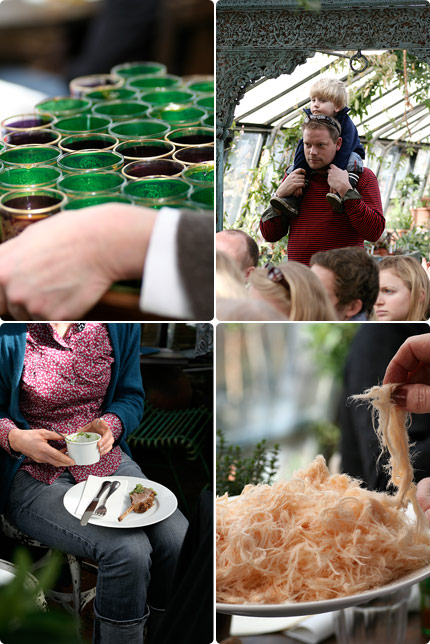 We tasted some samples of each dish – I knew I would enjoy all of them and I certainly did :) I loved the Persian candy floss too, which Greg topped the milk pudding with (pictured above, bottom right). I was happy to find out that the nursery now sells some of the Lebanese preserves, olive oil etc – I got some flower waters/syrups from Mymouné this time and can't wait to try those with Greg & Lucy's recipes :)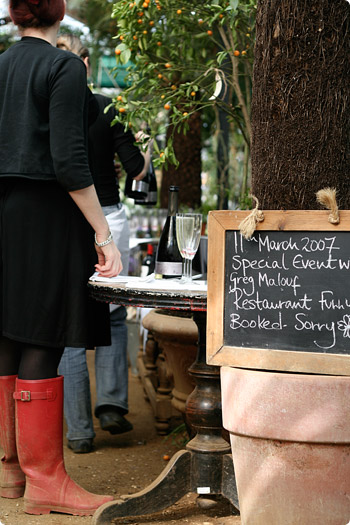 The workshop and the lunch were separate events but most people managed to stay for both. Having tasted the gorgeous samples earlier, I don't think anyone would have wanted to leave without enjoying it more! The lunch was prepared by Skye and her team, inspired by Greg's modern Middle Eastern recipes.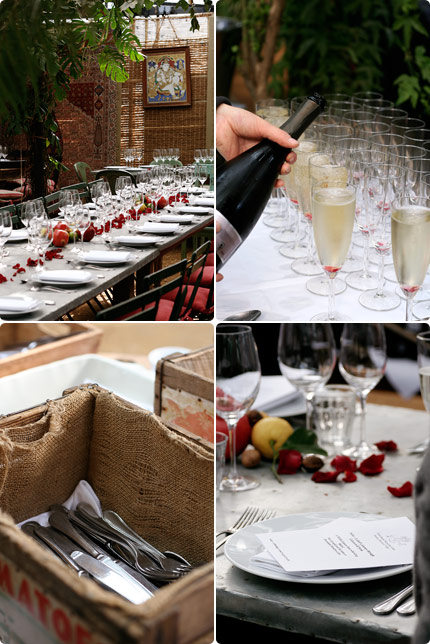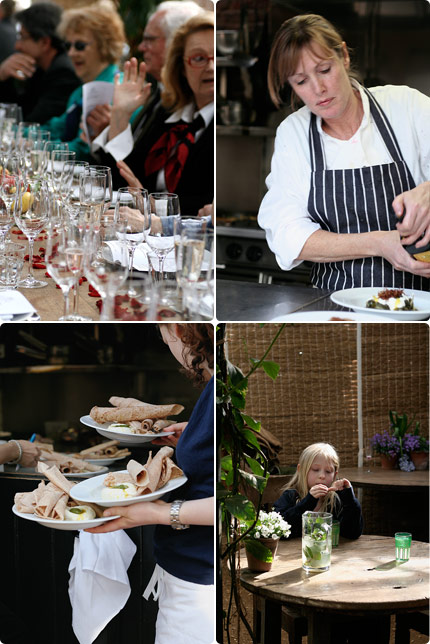 We started the meal with the famous Petersham rose bellini. I wasn't looking at the menu properly but it was certainly a feast – it seemed like an endless banquet and we were nearly full even before we saw the mains coming! The menu included:
Mezza
Haloumi and mint fatayer
Swiss chard, caramelised onions & tahini dressing
White beans with olives & goats cheese
Turbot with golden spices & citrus salad
Aleppo-style beef fillet tartare with green chilli, mint & hot mustard
Labneh with zhoug and souj bread
Barrel aged feta with winter rhubarb
Mains
Giant couscous tagine with roasted spiced hallibut, clams, squid and fennel
Pigeon bisteeya
Secrett's Farm beetroot fattoush
Vegetables cooked in sweet spices
Desserts
Turkish delight ice-cream with cardamom minaret wafers
Walnut baklava
Spring fruits with rose water syrup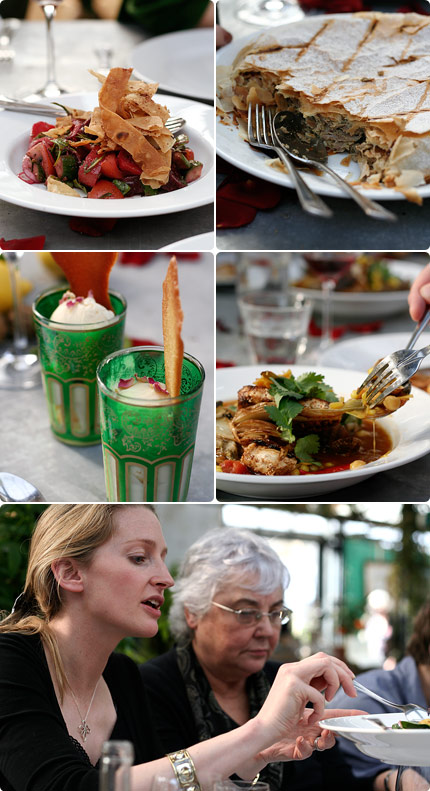 I was too busy enjoying the food to take pictures of all the dishes – everything came on large shared plates, but I think I was the greediest person at the table :) I especially liked the turbot & citrus salad, beef tartare, tagine with hallibut (loved the giant couscous), and of course, the ice-cream (similar to the one I made here). All the dishes were full of flavour – especially the vegetables, I've added some veg/fruits into my list that I'd like to grow in our allotment! I enjoyed talking to people at the table too – most of them live nearby and they were telling me how special the place was and how much they enjoy coming there.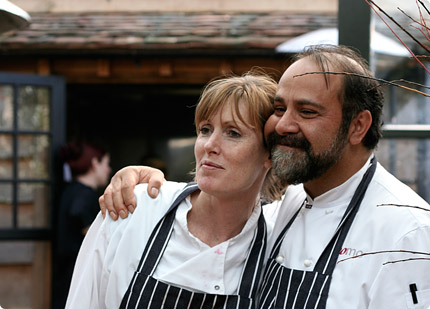 As Skye told us at the end of the lunch, they worked very hard for this event and it was indeed a special meal. I loved her interpretation of Greg's recipes and kudos to everyone involved!
Greg and Lucy are now travelling in Turkey researching their next book – although they've been extremely busy on this trip Lucy has managed to write about it on her wonderful blog. I can't wait to get a copy of their new book, and hopefully they will be coming back for another workshop :)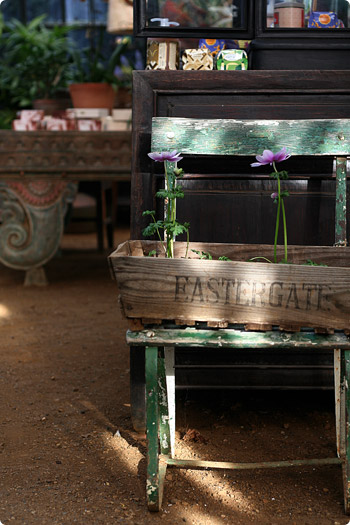 The sun was already setting when I left the nursery – I didn't realise that day passed so quickly. I'm already looking forward to going back to this place and I know I will soon :)