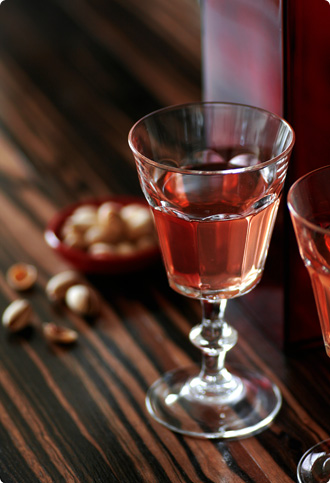 Vin d'Orange
23 February 2007
Since I started living in the UK, I always look forward to January, when you can get these bitter oranges from Seville. The short season is now sadly over, but I enjoyed trying some new things this year.
This ultra tangy sorbet is definitely still my favourite, but flipping through my favourite (and most-trusted) magazine, Food Illustrated (Jan issue), I was intrigued by this irresistible sounding recipe for orange wine. It's a traditional aperitif in the South of France and although I used rosé as the base, the recipes seem quite versatile in terms of which type of wine/what liqueurs, spices to use.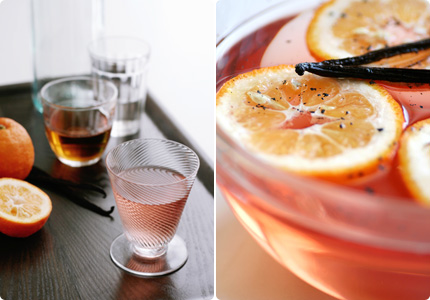 It's been just over a month since I made this, and I'm supposed to age it a couple more weeks but couldn't resist sipping a bit – the colour has started changing to a more red-orangey hue and just like I imagined, the slightly sweet but refreshing taste really appealed to me :) The ratio of wine and spirits/liqueurs is flexible so play around to find your favourite taste. You can try it with normal sweeter oranges too, but you'll need to adjust the sweetness/tartness adding more lemon/lime (or less sugar).
I've only tried with one bottle of rosé and am already looking forward to making more batches next year – it'll be such a lovely gift and I'm sure my friends would enjoy this wintery treat as much as I do :)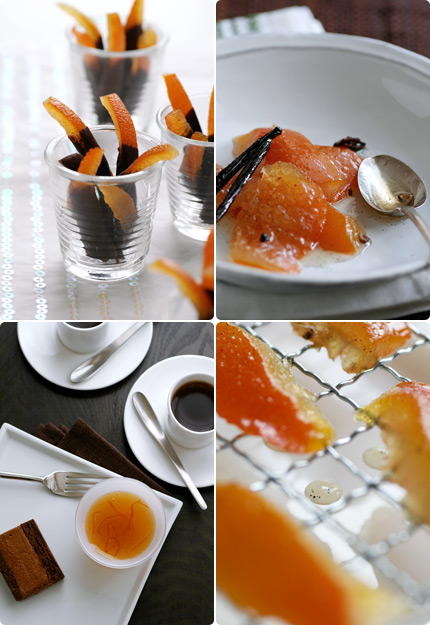 Here are a couple of sweets I tried with Seville oranges too. I'm not normally a big fan of chocolate & fruit combination – but as Valentine's day approached, and knowing Matthew loves Jaffa Cakes, it seemed to be as a good time as any to try them.
Firstly I made Orangettes as I had learnt it'd take a couple of days to dry the candied fruit. M is happy anytime when he munches these orange 'twigs' but I've actually never made them before. Most of the recipes for candied citrus peel call for using plain sugar syrup, but the one in Chocolate Desserts by Pierre Hermé sounded more appealing. Cracked black peppercorns, as well as star anise and vanilla bean definitely add more flavour to the fruit. I was a bit worried whether the bitterness of the oranges would work for this – it was bitter, but in an addictive way :) I think this is one of the things that you should make at home (like ice-cream) – it tastes as good as (if not better than) any posh shop-bought ones, very simple to make, and costs very little. I've been using this candied orange for marinating meat etc, just like marmalade – and it works really well for this too.
The other dessert was Chocolate jaffa mousse cake with orange caramel from the recipe in Christine Manfield's Desserts. After roughly reading the recipe I hoped it wouldn't be too orangey as every component has orange in it! The chocolate fudge cake is baked on a bain-marie – this super moist cake was delicious on its own. For the chocolate jaffa mousse, make the orange infused custard then stir in the chocolate and gelatine. I liked the texture, it's much lighter than I imagined and the citrus flavour was just right with the addition of the orange caramel sauce :)
I used Manjari for both of the desserts (tempered for the orangettes). Béa posted a recipe for her beautiful orangettes and mendiants a while ago, also, although I'm not a fan of marmalade, I was so tempted after I read Fanny's gorgeous post – how lovely having those beautiful orange trees in your back garden!
I managed to squeeze the last oranges to make Seville orange cordial – I was lucky to find the recipe before the season was over from my latest purchase Saha by Greg and Lucy Malouf – I'm looking forward to joining their workshop at Petersham Nurseries next month. They are serving a lunch inspired by Greg and prepared by Skye Gyngell also, I'll make sure to let you know how it goes :)

Vin d'Orange

750ml bottle of fruity rosé wine (I used Muga Rioja 2005)
90ml vodka
50ml dark rum
1/2 vanilla pod, split lengthwise and seeds scraped out
200g caster sugar
3 Seville (bitter) oranges, sliced
1/2 unwaxed lemon, sliced

Place the wine, vodka and rum in a bowl, stir in the vanilla beans (as well as the pod) and sugar, and the orange and lemon slices. Refrigerate for 6-8 weeks in an air-tight container, then strain (through muslin) into sterilised bottles. Serve chilled.