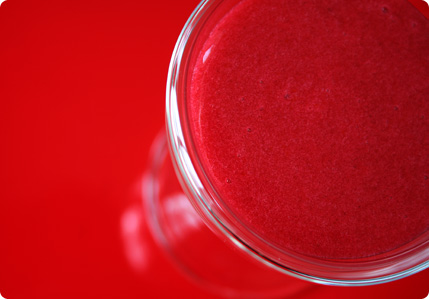 Two Sorbets - Thumbs Up (and Down)
7 September 2005
Because the summer seems to have decided to stay a bit longer in the UK, and even though my ice-cream machine works hard all year around, it has to work even harder during this warm weather. I've made quite a lot of sorbets this summer – mainly using various berries and I thought that this recipe, from Nigella Lawson's Forever Summer, had quite an interesting flavour. It's a really boozy redcurrant sorbet and I don't think you can eat lots at a time like ice-cream, but it's so refreshing and um, slushy (it is called redcurrant slush sorbet, after all).
I liked the idea of cooking the fruit before you puree it, I think you can get a more concentrated flavour by doing this. I adapted the recipe (much less sugar and alcohol, as you may guess) but the liqueur still lent a strong taste to it and it's definitely an adult version.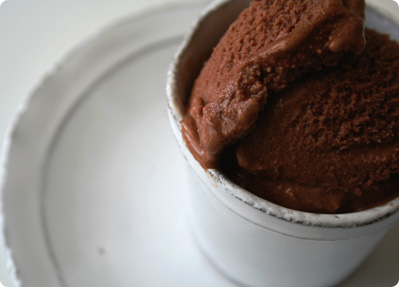 Another recipe I tried was this bittersweet chocolate sorbet from Chocolate Desserts by Pierre Hermé, one of my favourite books. I'm a big fan of chocolate sorbet, so I was really looking forward to making it. Although I was a little surprised that you add quite a lot of water compared to the quantity of chocolate, because I'm a devoted fan of PH, I had no doubts and did what it said in the recipe. And the result? Um, I must say I wasn't very impressed… It suggests using Valrhona Guanaja for this, but I used Manjari instead as it was the only one I could get at the time. As I expected, it had a slight acidic fruity flavour which, I didn't think works well as a sorbet and I'd like to think that was the only reason I failed, but the sorbet turned quite grainy as well and it didn't have as smooth a texture as I hoped.
I know chocolate is a very delicate ingredient and it can easily go wrong, but I don't know much about the chemistry and I want to know why it went wrong… Did I boil the chocolate mixture too long? I think I followed the instructions precisely. Did I boil it too vigourously? I suspect I did, but it did say 'it will bubble furiously' in the book. I'd love to try this again even though I'm a bit scared of another failure (and it's not cheap to make!) – I'd really appreciate it if someone could give me some advice on it, thank you…
 
Redcurrant Slush Sorbet
serves 4
500g redcurrants (with stalks)
200g caster sugar
Zest of 1 orange
Juice of half orange
40ml Cointreau (I used Grand Marnier)
 
Preheat the oven to 180 degrees centigrade. Put all the ingredients except for the liqueur into an oven-proof dish and cover with foil. Cook for about 40 minutes until the fruit becomes a soft pulp.
After cooling, puree the mixture in a blender or processor and push through a sieve to remove all the bits, and then stir in the liqueur.
Churn the mixture in an ice-cream machine until it becomes slushy. Freeze.