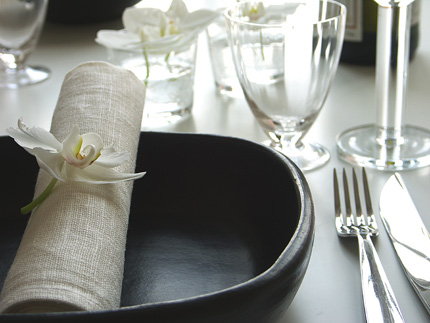 Music in my kitchen
14 February 2005
I wasn't expecting to get tagged by anyone as I've just started blogging this month, but Dagmar at A Cat In The Kitchen and Celia at English Patis tagged me – and I've just noticed Jeanne at World On A Plate was tagging me as well! (Sorry for the late response)
Funnily enough I worked in music when I was in Japan and I think I've pretty much gone through almost every genre – I wouldn't say I know all of them that well, but I'm interested in any type of music and enjoy most of them.
We have a Squeezebox MP3 player in our kitchen – which is a device which streams music wirelessly from your computer, MP3s etc from your library and also internet radio stations. I could just use my laptop there, but I didn't want my iBook to get mucky with oil and dust etc. (lots of grilling going on in our kitchen) BTW, wireless networking (especially AirPort) is fantastic, you can use the internet anywhere in the house (it sounds like we live in a big house – I wish!) Speaking of internet radio, we both love erika.net, it's a very eclectic alternative station and we've found lots of good/bad/funny music on there.
Last four or five years, I've been into jazz and latin music – so my choice at the moment would be something from those genres.
What is the total amount of music files on your computer?
Looks like 1500 tracks, about 5GB – but I've been listening to internet radio most of the time.
The CD you last bought?
Well, Matthew and I sort of gave up buying CDs a while ago since we ran out of storage space! We started buying individual songs from iTunes store instead. Oh, I just remembered he gave me the new Paul Weller album for my birthday. (He's been my favourite since I was very young, and he will always be, even though people say he is no longer good!)
What is the song you last listened to before reading this message?
I don't remember, but it must have been one of Joao/Astrud Gilberto, Caetano Veloso, Gal Costa, Jorge Ben or Sergio Mendes numbers; I'm sort of in Brazilian classics mode at the moment.
Write down 5 songs you often listen to or that mean a lot to you.
I can't choose, that's like saying choose 5 films you really like! I'll list some of the jazz albums I've been listening to.
1. A Love Supreme by John Coltrane – A Classic
2. Moanin' by Art Blakey & The Jazz Messengers – Another classic!
3. Mingus Plays Piano by Charles Mingus – I like it when he plays the piano too.
4. Piano Solo by Thelonious Monk – This got me into the jazz world!
5. Ballade No 1 in G minor, Op.23 by Chopin – Well, this isn't jazz, but it means a lot to me at the moment as I've been practising for a while!
Who are you going to pass this stick to (3 persons) and why?
I'm new to blogging and haven't got many fellow bloggers yet, also most people seem to have gone through this already, so I don't think I'll pass this to anyone. If anyone is interested, please go ahead though!