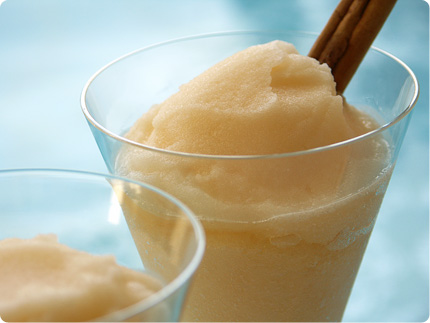 What's in Season 2
19 February 2005
In January/February, There seems to be a lot of marmalade making going on in British households. For this, Seville oranges – from Seville, Spain – are used, which have an intensely sharp and bitter flavour. Apparently Spanish people no longer use these and export most of them to Britain – at some supermarkets here, they are even sold as 'marmalade oranges'.
As neither Matthew nor I like marmalade, I always use these to make ice cream or sorbet. I made sorbet this time – I like to add cinnamon, I think the slight spiciness offsets the zing of the oranges. You could use normal oranges and lime instead, but it won't quite have the kick of the Seville oranges. This is a seasonal treat because you can't get them during the rest of the year.
Speaking of ice cream, we've got a fantastic ice cream machine – that's one of the most frequently used gadgets in our kitchen and definitely one of the best wedding presents we had!