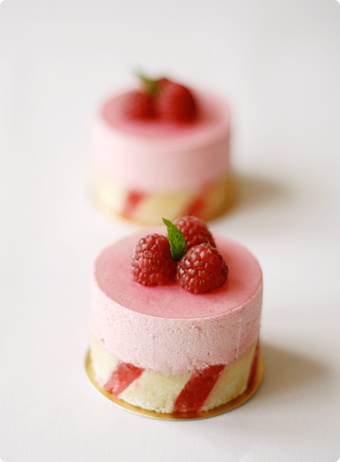 In The Pink!
29 September 2005
About a week ago, lovely Emily over at La Dolce Vita came up with In The Pink, a food blogging theme of making something pink for breast cancer awareness. It's such a wonderful idea which I am very happy to take part in by producing a culinary version of the pink ribbon. I was supposed to be posting this between 7th – 9th October but I took a head start since I won't be here then. For more details, head over Emily's site – there is more than a week before the event, so make something pink and have fun!
The shape of these might be familiar by now, and yes, it is another recipe from the Hidemi Sugino book. There are actually quite a lot of pink/red recipes in the book – but I thought this one was the prettiest :) It's basically a raspberry mousse with almond sponge. I made raspberry jam for the stripy pattern on the sponge – pipe the jam diagonally onto the batter before you bake it, then after baking cut into thin strips and fit around the bottom of the moulds as well as the base. It's got raspberry sauce inside the mousse, the recipe suggested using redcurrants as well as raspberries but I couldn't find them anywhere (the season's over!) and so had to manage just with raspberries. Although I could tell that it would have had more flavour and contrast if I had added redcurrants too, it still tasted good (and looked pretty).
Looking back, I was never a fan of pink when I was a kid (I was more of a tomboy and didn't like it when my teacher/mum told me I must like pink because I was a girl!), but I seem to have changed as I got older…
Anyway, we're off to the south of France and Northern Spain (by motorbike!), so hopefully I can take some yummy photos there. I'm sorry I'm always late getting back to your comments and messages, but I'll try to write back when I return. See you in a couple of weeks!