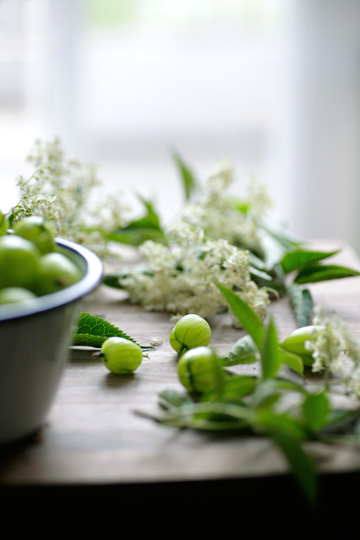 Early Summer Bounties
24 June 2010
Just about when we gave up, the summer seems to have finally arrived in the UK. I was in (very) sunny Sardinia recently, and it was sad to see my tan fading since I got back… I had a great time by the way, we actually stayed on a tiny island off Sardinia with Italian friends – and did little more than sit by the ocean, and enjoy the gorgeous food.
Despite the temperamental weather until now, our fruit and veg in the allotment have been doing well. We are enjoying peas and beans at the moment as well as a continuous supply of salads. I can't wait for the summer bounties yet to come, I really hope we can enjoy this glorious weather for a while.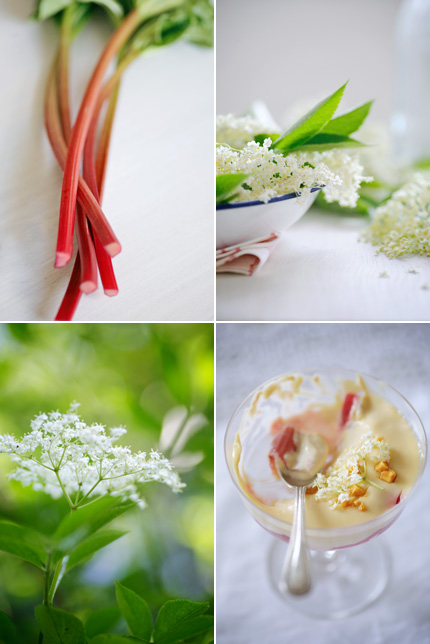 Around June in the UK, you will find many elder trees blossoming – they grow literally everywhere, and I love collecting the little flowers. The delicate scent perfectly captures the essence of early English summer, and making cordial has been my yearly ritual since I moved out from London. I've made elderflower champagne this year (with Hugh FW recipe) – it's now bottled and I just need to be patient for a couple more weeks to taste – I'll report back how it turns out. I've bookmarked quite a few elderflower recipes this year but sadly haven't managed to try most of them, so I'm posting this one for you to try before all the flowers are gone! (or for those who can't get hold of fresh flowers, you can use shop-bought cordial, or even try different flower cordials.)
I was intrigued by the recipe, heather honey custard with rhubarb and elderflower, while I was watching this programme. Pairing elderflower and rhubarb is a very English affair, and the addition of heather honey sounded really lovely. We have more than enough rhubarb growing in the allotment, so it was a perfect candidate. (I've posted some rhubarb recipes before here and here, and an elderflower recipe here.)
The original recipe was a little fancy for a plated dessert, so I simplified it. I wasn't entirely sure about how strong the heather honey would taste in the custard, but it balanced perfectly with the tangy rhubarb. And the flowery jelly with sparkling water lends a refreshing note. (I added freshly picked flowers to it – it is optional, but it tastes lovely and looks pretty in the crystal clear jelly :)) I absolutely loved the crunchy honeycomb on top too – it was my first time to make honeycomb and I'm hooked! I look forward to try making it with different honey, let me know if you have a favourite type :)
Oh and sincere apologies for taking so long to reply to all your comments – I promise I will soon, thank you again for all the kind notes and for being patient!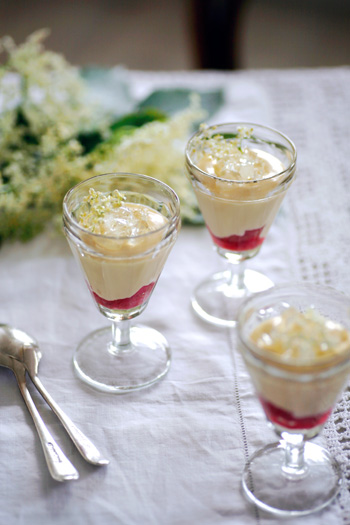 Heather honey custard with poached rhubarb and elderflower jelly
Serves 4
For the poached rhubarb
500g rhubarb, cut into 2-3cm chunks
80g caster sugar
2 tbsp water
For the heather honey custard
300ml double cream
50g heather honey
3 free-range egg yolks
10g caster sugar
For the elderflower jelly
130ml elderflower cordial (I use this recipe)
150ml sparkling water
2 gelatine leaves, soaked in cold water, drained
freshly picked elderflowers (optional)
For the honeycomb
160g caster sugar
25g heather honey
30ml water
60g glucose syrup
1 1/2 tsp bicarbonate of soda
For the poached rhubarb, place the rhubarb, sugar and water in a saucepan and cook gently for about 5 minutes until the rhubarb is tender, but still holding its shape. Strain then leave to cool and divide into serving bowls.
For the heather honey custard, place the cream and honey in a saucepan and bring to the boil. Remove from the heat. Whisk the egg yolks and sugar in a bowl. Slowly pour the hot cream into the yolk mixture, stirring all the time. Place the custard into the pan, set over a low heat and cook until it coats the back of a spoon (about 15 minutes). Cool the custard and sieve into a clean bowl. Pour over each portion of rhubarb and chill in the fridge.
For the elderflower jelly, heat the elderflower cordial in a saucepan. Remove from the heat and stir in the gelatine. Cool the mixture and whisk in the sparkling water and elderflowers (if using). Transfer the jelly into a flat container (so that you can cut it easily), cover with cling film and set in the fridge.
For the honeycomb, line a baking tray with greaseproof paper. Place the sugar, honey, water and glucose syrup in a saucepan and heat until it reaches 155ºC (dark amber stage). Remove from the heat and sieve the bicarbonate of soda over the surface. Carefully swirl the pan until well combined and pour onto the baking tray. Set aside to harden, then break into small pieces. Store in an airtight container.
To serve, cut the jelly into small cubes and place over the custard; sprinkle the honeycomb pieces over. Decorate with some elderflowers if you have them.