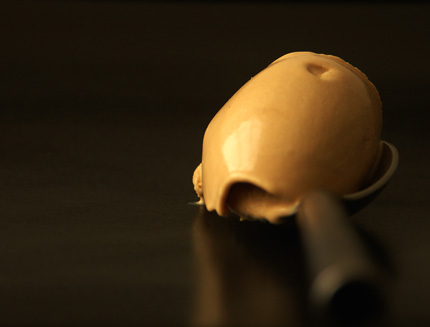 Caramel Balsamic Ice-cream and Brésilienne - SHF6
18 March 2005
I hope I'm not late this time! I can imagine so many food bloggers got excited when they found out that the theme for Sugar High Fridays 6, hosted by Debbie of words to eat by, was caramel. I certainly did! I had a hard time choosing which caramel recipe I was going to try, but in the end I only had time to make these two.
Caramel balsamic ice-cream
I first found this recipe from Gordon Ramsay's A Chef for All Seasons almost four years ago – I love making ice cream and this one hooked me straightaway. However, in the recipe it was supposed to be served with cherry soup, and I don't like cherries at all… So I decided to forget about the cherries and made just the ice-cream. I wasn't sure how the balsamic was going to work, but it turned out well. I wouldn't say it is the normal caramel flavour you might think of, it has got quite a strong, bitter flavour. You can definitely taste something else in there, but you wouldn't think that is balsamic (as you can imagine, you need good aged balsamic for this). I don't think this is to everyone's taste, but I like it. I'd love to try it with fruit soup (but not cherries!) like Mr Ramsay suggests – please let me know if you can think of any good combinations!
Serves 4
250g caster sugar
3 tablespoons balsamic vinegar
6 free-range egg yolks
500ml milk
150ml double cream
1 First, make the caramel for the ice-cream. Put the sugar into a heavy-based saucepan and slowly heat until it starts to melt. (You might want to add a couple of tablespoons of water to help the process, and you can stir gently once or twice) If you get crystals round the edge of the pan, wash them down with a pastry brush dipped in water. Stir occasionally until the crystals have all dissolved. When all the sugar has melted, slowly raise the heat and boil the sugar syrup until it starts to turn golden brown and then a mid-brown. Have ready a big bowl of iced water. As soon as the syrup is the right colour, immerse the base of the pan in the water to cool the caramel. When cool, stir in the balsamic vinegar and set aside.
2 Now make the custard for the ice-cream. Place the egg yolks in a bowl set on a damp cloth (which holds it steady) and whisk until pale golden. Bring the milk and cream slowly to the boil in a heavy-based saucepan. Slowly pour the creamy milk onto the yolks, whisking steadily. When it is all incorporated, tip the lot back into the saucepan and return to a low heat. Stir until the mixture just starts to thicken (it should be 82 degrees centigrade). Do not allow it to even start to bubble, or it may curdle. Remove and cool.
3 Mix the cooled caramel into the cool custard. Pour into an ice-cream machine and churn until icy smooth and creamy. Scoop into a rigid plastic food container and freexe until just solid.
 
Brésilienne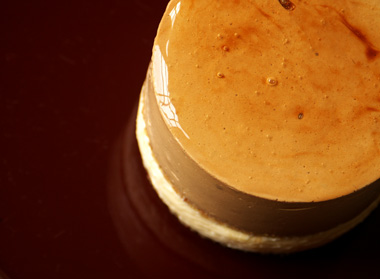 This is another recipe from the book by Japanese patissier Hidemi Sugino. From the picture, you might think that the top layer is caramel mousse, but actually it's coffee mousse and the bottom one is caramel. Like the other cake I made recently from his book, make coffee flavoured almond sponge first, and assemble alternate layers of sponge and mousse. The final touch was to brush coffee extract on top after freezing the finished cake, but I made the extract too thin and it all ended up smudged…
I was really impressed by the taste, though – the coffee mousse hasn't got very much sugar and is quite bitter, conversely the vanilla caramel mousse is very sweet. When you have these two together, you can taste a slight acidity which is surprising but really pleasing!