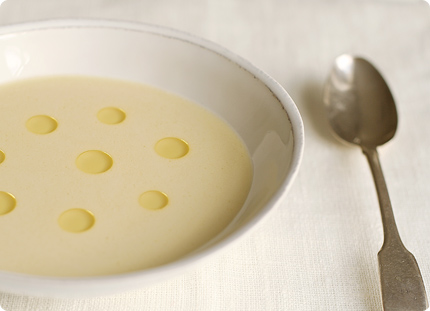 Truffle & White Bean Soup
2 December 2005
It's been really cold and miserable here since the clocks went back – I've got so many chilblains on my feet! I'm afraid we'll need lots of comfort food this winter, especially warm, hearty soups.
This soup – found in Starters by Shane Osborn – looks similar to Spanish almond soup but it's made with haricot beans. I was intrigued by the combination of the ingredients – adding pancetta (although you puree it in the end) as well as the beans and other vegetables, and droplets of truffle oil make this soup even more delicious! Rather than following the recipe by keeping half the cooked beans (to add whole to the final soup), I pureed them all as I wanted a thick smooth finish; I also reduced the quantities of garlic and pancetta to almost half the suggested amount as I didn't want them to overpower the taste. The end result was just what I wanted, simple but full of flavour. I used white truffle oil this time, but I'm sure black truffle oil will work as good as white.
 
Serves 6
100g haricot or cannellini beans, soaked in cold water overnight
1 whole garlic bulb (I used half)
1 onion, peeled and quartered
1 carrot, peeled and quartered
1 sprig each of rosemary, thyme and parsley
200g piece pancetta/smoked bacon (again, I used 100g)
2 litres chicken stock
100g unsalted butter
4 shallots, peeled and finely chopped
1 (preferably lemon) thyme sprig
150g double cream
1 tbsp truffle oil, plus extra to drizzle
 
To cook the beans
Drain the pre-soaked beans, place them in a saucepan and cover with cold water. Bring to the boil, drain and return to the pan. Cut the garlic bulb in half crossways and add one half to the pan with the onion, carrot, rosemary, thyme and parsley. Roughly chop half the bacon and add to the pan. Add the stock, and simmer until the beans are tender (about one and a half hours). Remove and discard the herbs, vegetables and garlic.
 
The soup base
Dice the remaining bacon. Peel and finely chop the other half of the garlic. Melt the butter in a pan and add the bacon, garlic, shallots and lemon thyme. Cover and sweat over a low heat for about 10 minutes until the shallots are soft.
 
The pureed soup
Add the beans, stock and cream to the soup base. Simmer for about 15 minutes and remove from the heat. Cool slightly, then pour into a blender and whiz until smooth. Pass through a fine sieve into a clean pan then stir in the truffle oil. To serve, finish with a few more droplets on top.