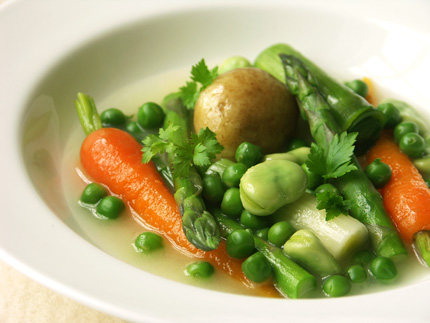 Summer Vegetables in a Herb Nage
20 July 2005
When we got these lovely vegetables from our neighbour friend Peter, who grows all sorts of things in his nearby allotment, I was thinking about making minestrone with pesto – but I just remembered a gorgeous sounding recipe from Starters by Shane Osborn, which is one of my favourite books at the moment. (He is the head chef of Pied a Terre on Charlotte Street in London – I've been wanting to try the restaurant but they had a serious fire last year and it's still closed. It should be open fairy soon though.)
It's very easy, but you need to make the herb nage a day in advance… it is worth it, though! It's basically a herby vegetable stock – I didn't add star anise like the recipe suggested as I didn't want too much aniseed flavour in there. I thought the fennel and tarragon would give enough aniseed flavour and it was just about right for my taste. You can use any seasonal vegetables for this recipe – for autumn/winter, root vegetables like parsnips or swede would be good. I quite liked the butter and lemon finishing touch too. I'm just happy to have such fresh, flavoursome vegetables, what else would you want? (well, I might actually need a dessert, please…)
BTW, Peter also kindly gave us his 10 year old maple tree for our new garden, it's about 7 feet high and looks absolutely gorgeous!
 
serves 4-6
herb nage
3 onions
6 carrots
3 leeks, white part only
2 fennel bulbs
3 celery sticks
3 shallots
6 tarragon sprigs
6 parsley sprigs
1 tsb coriander seeds
12 black peppercorns
4 star anise
summer vegetables
120g podded peas
120g podded broad beans
1 bunch of asparagus (about 12), trimmed
1 bunch of baby carrots (about 12), trimmed and scraped
12 new potatoes, scrubbed
few young celery sticks or baby leeks, trimmed
to finish
100g butter, chilled and diced soft
salt
squeeze of lemon juice
chopped parsley or chervil, or celery leaves
herb nage
Peel roughly chop all the vegetables, place in a large pan and add enough cold water to cover. Add the herbs and spices. Cover the surface with a piece of greaseproof paper and bring to the boil over a medium heat. Reduce the heat and simmer gently for about 20 minutes. Remove from the heat and allow to cool, then cover with cling film and leave to infuse in the fridge overnight.
the next day
Strain the nage through a fine sieve, discarding the vegetables and flavourings. Cover and keep in the fridge until ready to use.
blanching the vegetables
Bring a pan of salted water to the boil and cook the vegetables separately until al dente. Drain and immediately refresh each vegetable in iced water.
to serve
When ready to serve, pour 500ml nage into a medium saucepan and bring to the boil. Whisk in the butter, a piece at at time until emulsified. Season with salt and add lemon juice to taste. Add the blanched vegetables and warm through for 3-4 minutes. Serve with a sprinkle of chopped herbs or celery leaves.