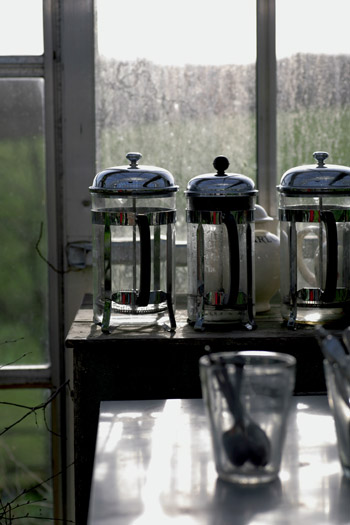 Sarah Raven's Garden
4 March 2008
I can't believe the first two months of the year have already gone, but it's always nice to feel the signs of spring in the air. We've had quite a mild winter this year – seeing lots of sunshine in the middle of the British winter seems odd but it has kept me happy nonetheless :)
I wanted to share my recent excursion with fellow food blogger Shalimar, whose work on a yacht takes her all over the world (she often sends me beautiful postcards and some nice things too :)) We've been talking for quite some time now but had never had a chance to meet before. A while ago, she told me that she would be in the UK visiting her friend who works at a very special garden in East Sussex (south east of London) – so I jumped at the chance to join her when I was invited.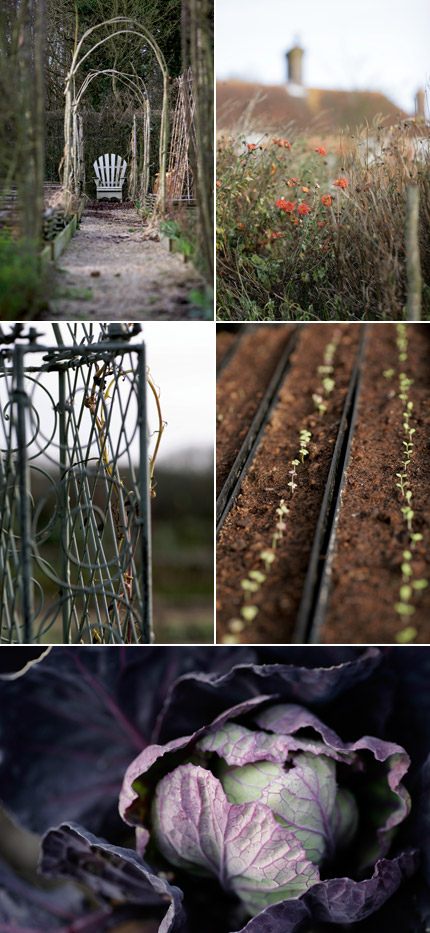 The garden at Perch Hill is run by Sarah Raven who writes and teaches about gardening and cookery, and Shalimar's friend Bea has been working there as the head gardener. I had heard a lot about this place and always wanted to visit myself. Unfortunately Sarah wasn't there when we were visiting but Bea kindly showed us around.
With a wonderful view of the neighbouring hills, it's the kind of place you instantly fall in love with – charming, (very) old buildings in a tranquil setting, it's got everything that the perfect English countryside should have (if there is such a thing!). There would have been more colours and more things in bloom had it been spring or summer, but I was still happy just walking around the place thinking how beautiful it must be in the warmer months (Shalimar posted some gorgeous images here from her visit last summer). I wasn't the only one thinking this as there were many young plants growing in greenhouse nurseries, waiting for the summer too.


Bea lives in a lovely 17th century cottage in the grounds and kindly let us stay with her. Between her busy schedule running some of the courses as well as working with volunteers, she picked some winter vegetables from the garden and cooked a lovely dinner for us – no need to say that we were extremely happy diners :)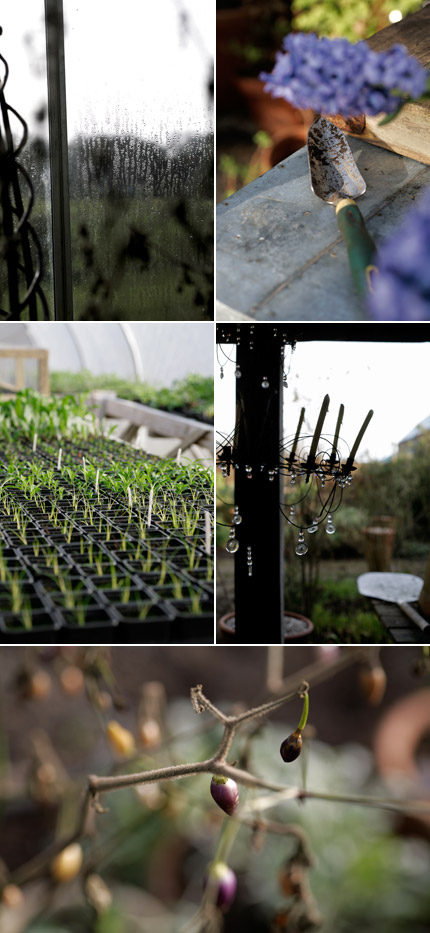 We tend to think that there aren't many possibilities when you think of what kind of fruit and veg you can grow in the UK, but seeing Sarah's garden there are so many things that we can grow and it has certainly encouraged me. I've decided to try more things in our allotment this year – I shall report on our progress :) I was totally fascinated by Bea's knowledge, passion and love for her work – she knows how to get the most out of life!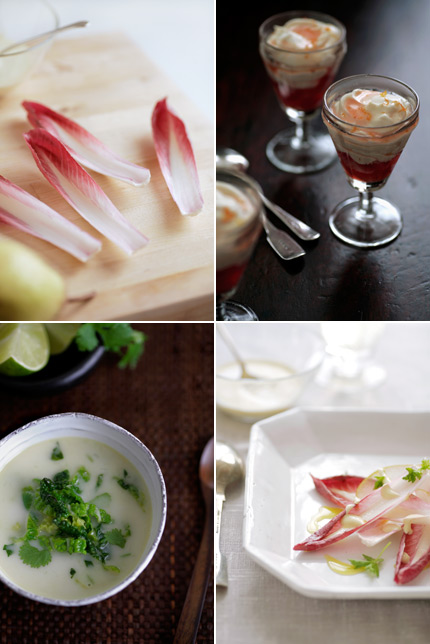 I've been cooking from Sarah's new book too – pictured are some of the dishes I've tried (from top right) rhubarb syllabub, pear, chicory and Stilton (English blue cheese) salad, savoy cabbage, coriander and coconut soup. Her recipes are simple and delicious, I wish I could have all the fruit and veg for the recipes in our own garden! (speaking of cooking from your garden, I've been enjoying this book too)
Shalimar is now back to Florida, but has promised to come back to the UK sometime in the spring, so I'm already looking forward to another visit there together…
Oh and while I'm here, I'll just remind you that my dear fellow blogger Barbara is once again calling for entries to A Taste of Yellow in aid of Live Strong Day – I'm hoping to participate this year, looking forward to seeing your yellow creations too!