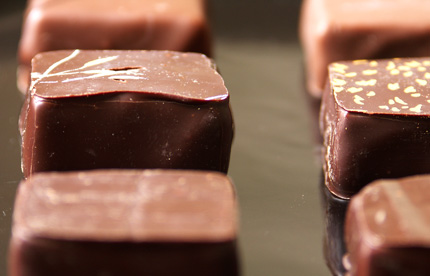 In Case of Emergency
15 February 2005
I hope you all had a romantic valentine's day – we didn't! I was going to make a nice dinner and chocolate dessert for Matthew, but I wasn't well the last couple of days and couldn't manage to tackle anything. At least I had bought some chocolates from L'artisan du Chocolat in case of emergency and I'm glad I did. I much prefer chocolate desserts to chocolate itself, but Matthew really likes chocolate bars or truffles.
I was expecting the small chocolatier near Sloane Square to be a bit fancier from their reputation in the press (apparently 'The Bentley of chocolate' by Mr Gordon Ramsey), but it was a bit shabby with a broken shop window so I was slightly disappointed as I walked in. I asked the girl there about each type of chocolate, but she wasn't particularly helpful either. Well, maybe only people who know lots about chocolate or who are only impressed by reputation come to buy them, I don't know.
Anyway, I somehow chose eight ganaches and four truffles. The following descriptions are from their leaflet:
Madagascar 64%
The most distinctive criollo beans with intense fresh red fruits notes reminiscent of the best wines. Very sharp.
Ecuador 40%
Darker shade of milk chocolate from criollo and trinitario beans with a hint of malt.
Sea Salted Caramel
Milk chocolate caramel, very chewy in texture, balanced by adding sel de guerande, an unrefined sea salt from Brittany
Green Cardamom
Traditionally used in Bedouin coffee, cardamom pods bring all their force and comfort to this fresh ganache.
Tonka
Infusion of an unusual spice from Venezuela with a taste resembling vanilla and bitter almonds.
Cinnamon
These sweet quills have been used since the 18th century in hot chocolate; a little piece of history.
Basil and Lime
A wonderful herb that we struggled to use with chocolate until we came across a basil and lime sorbet.
House Tea
Our favourite scented with orange blossom, very scented and aromatic in waves.
Pave truffle
Designed to make the best of both dark and milk chocolate. Two layers of dark and milk ganache.
House truffle
Light 70% truffle made mostly with criollo cocoa beans with a good balance of bitterness and acidity.
Champagne truffle
Milk chocolate centre with real champagne, not marc de champagne – high in aromas of fine champagne and chocolate and low in alcohol and sugar.
Liquid Salted Caramel Truffle
Our best seller!
They were pretty good and we enjoyed all of them. I don't like unusual flavours when it comes to chocolate, so I'd rather choose ones like Madagascar and Ecuador – but the flavoured ones we tried had subtle spiciness/fruitiness/nuttiness, complex yet not overpowering. And their famous salted caramel truffles just melt in your mouth! The price is fairly reasonable and I think I might go back – although I hope their service is a bit better next time…