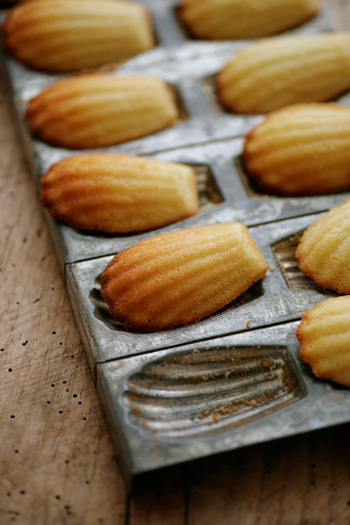 Hazelnuts, Seville Oranges and Truffle Honey
21 January 2009
It's been a cold winter in the UK – everyone seems getting flu including this girl who has just moved here from California. I've been shooting outside a lot for the last couple of months and although I'm fairly used to the cold as I'm originally from the north of Japan, I now have chilblains all over my feet and they started spreading to my hands too – I think it's time for me to get some serious shoes, socks and gloves!
Between those shoots, I was doing some Christmas shopping at this small, but wonderful Italian deli called Vallebona in London – I've been fortunate to work with them since last year and it's been a pleasure to get to know them personally too. It is run by Stefano Vallebona, who is originally from Sardinia, and his Japanese wife Naoko – they import specialised artisan products from Italy and supply many of the top London restaurants as well as selling some of them online.
Vallebona was originally started in Sardinia by Stefano's great grandfather more than a century ago – they no longer operate in Sardinia, but Stefano set up here in the UK about ten years ago to follow his passion for good produce and his family tradition. (I'm planning a trip to Sardinia this year and I'm already excited about it :))
They don't have a 'shop' as such but they have weekly tasting events at their warehouse. I strongly recommend visiting there if you are near Wimbledon – they offer generous samples and I can assure you that you can't leave there empty-handed, their cheeses and charcuterie selections are especially excellent.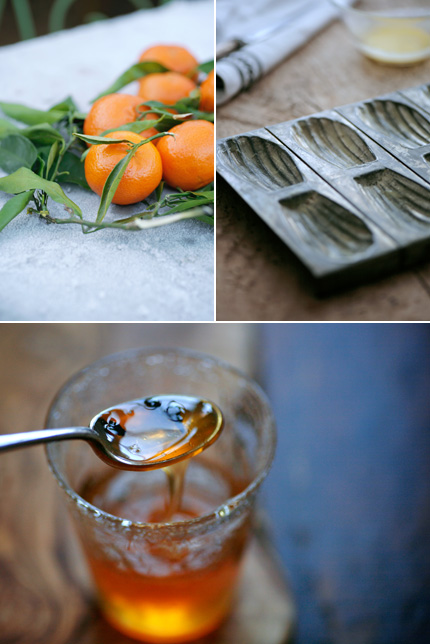 I brought back some white truffle honey and oil, among other gorgeous goodies, this time. I love truffles, but unfortunately my life doesn't often let me indulge in extravagant meals with freshly shaved truffles – so using truffle infused products is the next best thing for me. Truffle oil has been a regular ingredient for me for quite some time, but I've never used truffle honey for cooking so I was quite excited about it. It's normally made with acacia honey, which is quite light, and the one I got this time was from Alba in Piedmont, famous for their white truffles. Like other honey, a common way to serve is by drizzling it over some cheese (great on young cheeses) – I must confess that I'm not a big cheese eater (I love fresh, but not so keen on matured), so my interest lay more with desserts, particularly my love for ice cream :)
I remembered the Giorgio Locatelli book had a recipe for truffle honey ice cream – it's a fantastic (and huge) book by the way, reading it through makes you wish you were born as Italian :) An inspiration came from this super talented girl as usual – I was instantly sold by the idea of pairing it with hazelnuts. As Joycelyn wrote, the Locatelli book is very precise in order to preserve the original restaurant quality of the recipes. I appreciate his approach and I will look forward to trying it out sometime – but for now, I've adapted the recipe to more suit a home kitchen.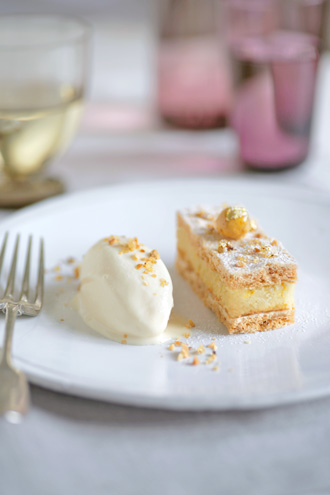 I didn't want the ice cream to be too strongly flavoured, so I used less honey than it says in the recipe. Even so, it still turned out a little too honey-ey and truffle-y for my taste. So as well as making hazelnuts dacquoise to go with it, I decided to add a citrus flavour too, in the form of a light moist sponge. Of course if you talk about citrus at this time of year, it's got to be Seville oranges :)
I wasn't so sure about how everything would work together, but I was very pleased with the result. I absolutely loved the hazelnut & truffle pairing, and the citrus lightened it, balancing out the richer flavours. I loved the fact that all the components were so easy to make too :)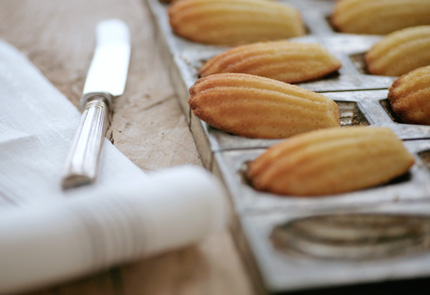 I couldn't help adding a twist on my honey madeleines also. My favourite madeleine recipe comes from Claire Clark's Indulge – I've tried some elaborate recipes from her book but so far I find I like her simple recipes like shortbread or scones better. The madeleines are delicious on their own, but again, it's also lovely to add some orange zest and hazelnuts (chopped or ground).

Truffle honey ice cream with hazelnut dacquoise and Seville orange sponge

For the truffle honey ice cream
250ml whole milk
250ml double cream
4 egg yolks
40g caster sugar
20g truffle honey
70g runny honey (light flavoured eg. acacia)
Place the milk and sugar in a saucepan and bring to a simmer. In a bowl, whisk the egg yolks. Pour the warm milk into the yolks, stirring constantly – then mix both types of honey in.
Place the mixture back in the saucepan and put on a medium heat, constantly stirring with a wooden spoon until the custard thickens and coats the back of the spoon. Strain into a clean bowl, cool over ice-cold water and chill in the fridge. Add the double cream and churn the custard in an ice-cream machine according to the manufacturer's instructions.

For the hazelnut dacquoise
5 egg whites (about 150g)
50g caster sugar
150g icing sugar
70g ground hazelnuts
30g ground almonds
Preheat the oven to 130ºC. Sieve both the nuts and the icing sugar into a bowl and lightly mix.
Whisk the egg whites in an electric mixer until they form soft peaks. Add the caster sugar a little at a time whisking as you go; continue whisking until glossy, then gently fold the nuts and sugar mixture.
Using a spatula, spread the mixture onto a baking parchment-lined oven tray, about 7-8mm thick. Level the surface and bake in the preheated oven for about 1 hour or until the meringue feels dry. Turn off the oven and leave to cool in the oven.

For the Seville orange and hazelnut sponge
4 medium eggs, lightly beaten
180g caster sugar
150g ground hazelnuts
70g ground almonds
Zest and juice of 1 Seville orange
butter for greasing
For the orange syrup
Zest and juice of 1 Seville orange
30g caster sugar
Preheat the oven to 170ºC and butter your chosen mould. Place the eggs and sugar in a bowl and whisk until it falls in ribbons (It will help greatly if you have an electric mixer). Gently fold the nuts, orange zest and juice into the batter and pour into the mould and bake for about 20-25 minutes, until golden – a skewer inserted in the centre should come out clean. Leave to cool on a wire rack.
To make the syrup, place the orange juice, zest and sugar in a saucepan, simmer until slightly syrupy. Cool a little and brush over the warm cake.
You can serve in any way, but I've sandwiched the sponge in the dacquoise and sprinkled over some pralined hazelnuts (coat toasted nuts in hot caramel then chop roughly when cool), but plain toasted nuts work fine too. Decorate with some gold leaf and dust some icing sugar on top if you fancy.

Truffle honey madeleines
Makes about 15-20 regular madeleines
90g unsalted butter, plus 15g melted butter for greasing
2 teaspoons truffle honey
2 medium eggs
75g caster sugar
10g light brown sugar
a pinch of salt
90g plain flour
1/2 teaspoon baking powder
Preheat the oven to 200ºC. Brush the moulds with the melted butter. Sift the flour and baking powder together in a bowl.
Melt the 90g butter and honey in a small pan and cool slightly. In a mixing bowl, place the eggs, both the sugars and the salt. Whisk until pale and nearly tripled in volume, the batter should fall in ribbons. Sift the flour and baking powder mixture into the batter and fold gently; then pour in the cooled melted butter and honey, down the side of the bowl (rather than directly on top of the batter) and gently mix. Cover and rest in the fridge for about an hour.
Spoon the batter into the moulds, it will spread during baking so fill each mould about 2/3 full. Bake for 5-10 minutes depending on your mould size. Take out from the moulds straight after baking. Cool on a wire rack.