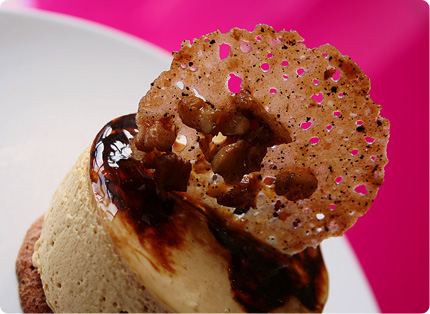 Café Caramel Noix - SHF#11
15 August 2005
Well, it's Monday today and I missed the coffee-themed SHF hosted by Ronald of Love Sicily – not that I couldn't take part in it, but I thought it was this Friday… silly me – but coffee is something I can't live without so I made a dessert anyway.
I found the recipe in a Japanese book written by Katsuhiko Kawada who runs a popular patisserie called Au Bon Vieux Temps in Tokyo. Most of the recipes in the book are traditional French desserts and it also has lots of background information about pastry making. Some of the recipes require quite advanced techniques – if, like me, you've never learnt pastry making, it's difficult to even figure out some of the terms used in the book. But the coffee dessert I found in this book was really tempting and I though it would be worth a try.
This cake has dacquoises as a base (I used walnuts and almonds), coffee caramel mousse and walnut croustillant (thin tuile type biscuits, I added ground coffee beans too) on top. The mousse also has walnut praline inside, so as you can imagine, there are lots of different textures to enjoy as well as the taste. The mousse is similar to the cake called Brésilienne that I made before – which has two layers (caramel and coffee), but I definitely prefer this nutty crunchy version of coffee caramel mousse. As you tuck into it, you can taste acidity from the coffee, blended with the sweet caramel flavour, and then the crunchy praline comes in – delicious! I know I'll definitely be making this again, but maybe not too often – it was more complicated than I expected!
Maybe I'm not as geeky as these people, but I'm quite fanatical about coffee. Although my little old espresso machine did a brilliant job for quite some time, I didn't hesitate to move on to something more serious. Since Matthew bought me this machine and a grinder for my birthday almost two years ago, I've enjoyed great coffee (although I'm still learning, it's more of an art than a science to get it right every time).
According to the folks at coffeegeek.com, the Rancilio Silvia and Gaggia Classic are the most popular machines for home use, but I wanted something more attractive and this Isomac machine seemed to fit the bill. (I considered a Francis! Francis! which seems a must if you have to have the latest trend, but again, I wanted something nice-looking and a workhorse at the same time.) I find the grinding, tamping and brewing process really therapeutic, and I feel really happy when the lovely aroma fills in our kitchen! (my current favourite beans are creole blend from HR Higgins and organic blend from Monmouth Coffee Company)
As much as I love drinking coffee, I love this plain dessert too – Affogato. You simply need good quality vanilla ice-cream and espresso.