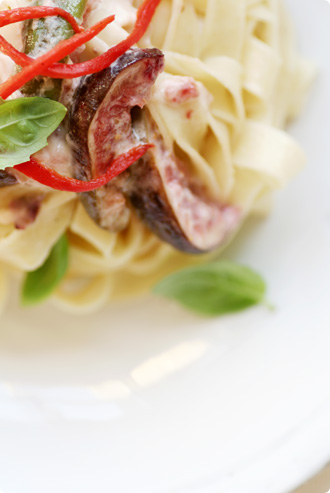 Last of the Season
1 December 2006
It's been a while since we got back to cold, wet England – and still seem to be on Pacific time, already missing the sun (and people :)) in California. We enjoyed lovely food throughout the stay, but not being able to cook for more than two weeks was a bit like torture for me – even more so when you come across so much lovely, fresh produce and you know you can't cook it!
I'll write about our trip later on, but here are some things I rustled up when we got back – I luckily got hold of the last figs of the season.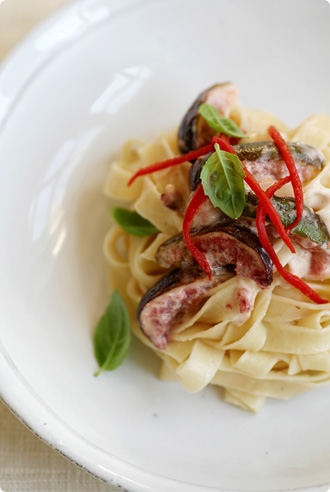 Black fig and chilli tagliatelli – a very simple pasta dish, from this recipe. I normally find creamy sauce too rich, but this was lovely. The heat from the grilled chillis and the sweetness of the figs work really well. I used green figs instead of black ones but it was equally delicious.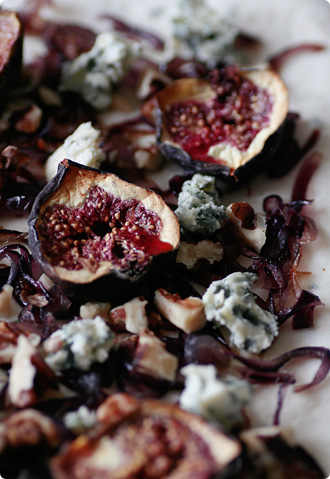 Flatbread with oven-dried figs, caramelised onions and blue cheese – a classic combination, I really like the rustic flavours. Roasting figs and slowly caramelising onions beforehand gives a lovely concentrated taste – they go wonderfully well with the walnuts and blue cheese. I used Italian '00' flour instead of bread (strong) flour this time and it lent it a light, fluffy texture which complemented the topping nicely. Recipe from here (PDF link).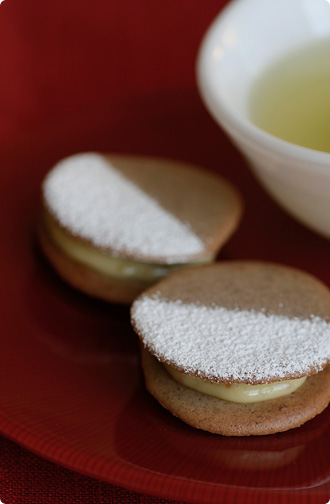 This is another recipe 'with a twist' from this Japanese patissier. The tuille biscuits are made with buckwheat flour – and the sandwiched custard cream has fig jam in it. These tuille biscuits are much crunchier and have more bite than the usual variety – and I think it works well with the textures/flavours from the figs. I used a shop bought jam for this, but you can always make it yourself (a good sounding recipe in the above PDF link) or you can have roasted (or even fresh) figs instead.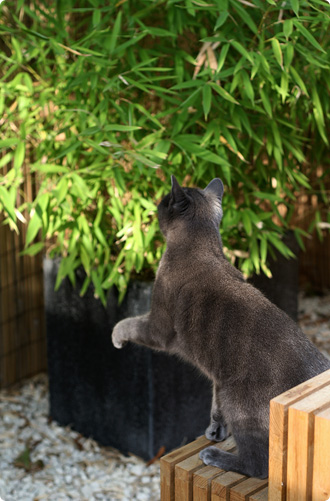 Oh and our cat was missing us loads (or vice versa) while we were away… We are lucky to have such kind neighbours who don't mind looking after him as we know he gets freaked out when he has to go to the cattery. I'm hoping to get back to posting more regularly soon, and will try to write back to your messages and comments, thank you all for being patient!
PS
Since my last post I've changed the blog engine I'm using, so the URLs for the articles and particularly the RSS/Atom feeds have changed. The old ones still work for now, but please update any bookmarks and feeds you're using. Thank you!

Buckwheat tuille biscuits with fig custard cream
Makes about 25
For the biscuits
60g buckwheat flour
80g Icing sugar
20g corn flour
80ml double cream
40ml milk
60g (2 small) egg whites
20g caster sugar
For the fig custard
200ml milk
2 egg yolks
40g caster sugar
10g plain flour
10g corn flour
20g unsalted butter
60g fig jam (adjust to taste)

To make the biscuits, place the buckwheat flour, icing sugar and corn flour in a bowl and lightly mix. Pour in the double cream and milk and mix well. Place the egg whites and caster sugar in a separate bowl then whisk to the 'ribbon stage' (it folds into ribbons as you lift the whisk). Carefully fold the meringue into the buckwheat mixture with a spatula and rest in the fridge for about an hour.
Preheat the oven to 150ºC. Spoon the mixture onto baking sheets, each biscuit about 2.5cm diameter, and bake for about 15 minutes.
To make the custard, place the milk in a pan and bring to the boil, then remove from the heat. Whisk the egg yolks with sugar in a bowl until pale and creamy. Sift both flours into the egg mixture and mix well. Pour the hot milk into the mixture, whisking constantly, return it to the pan and cook over medium heat, stirring all the time, until the custard thickens. Remove from the heat and blend in the butter. Mix in the fig jam when the custard is cool.
To serve, spoon over (or pipe) the custard onto the biscuits, then top with another biscuit, dusted with some icing sugar if desired.