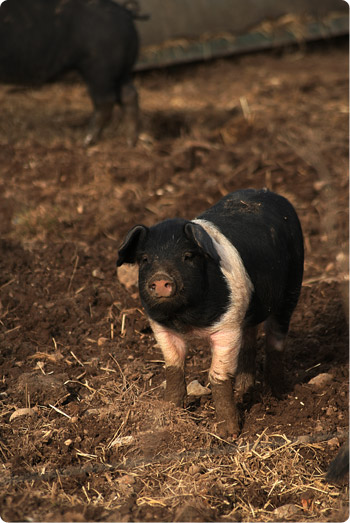 Jimmy's Farm
9 March 2006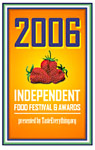 Many thanks to Hillel at Tasting Menu for organising the 2006 Independent Food Festival and Awards – this year marks the second time around for this event and the juries have been writing wonderfully about the food they are most enthusiastic about.
My award goes to the rare breed pigs from a local farm called Essex Pig Company. Pig farming is fairly common in East Anglia (where I live) and as you travel in the region you often see pigs in and out of their distinctive hangar-shaped houses. I knew the choice didn't have to be local produce, but as I wrote before I've been more and more interested in where our food comes from and how the animals are treated – and so keen to support small local producers.
The farm is actually located in Suffolk, not in Essex – they got their name from one of the breeds of pig they rear, the Essex pig (pictured above) which was nearly extinct – and the founder of the farm, Jimmy Doherty, is from Essex too :) Just some trivia, another Essex boy Jamie Oliver is an old friend of his – in the early days, the fact that Jamie helped finance setting up the farm sadly seemed of more interest than the farm itself (and Jimmy denies that it generated much publicity).
He started the farm about two years ago – I actually didn't know about it until I watched the BBC documentary Jimmy's Farm. He has a PhD in entomology (I obviously didn't know what that was :)) and has always been interested in wildlife, having a dream of starting a pig farm where he can produce the best quality pork, bacon and sausages from his herd of rare breed British pigs. All his pigs are rare breed (you can find out more here) and he wanted them to roam free in the ancient woodland where they can forage for wild garlic, acorns and chestnuts etc. Peter Gott from Sillfield Farm in Cumbria is a fellow rare breed pig farmer and he became Jimmy's mentor.
The programme followed his struggle to establish the farm, literally from scratch – in the first couple of episodes, one disaster followed another and the number of tasks seemed daunting. He looks much happier when dealing with animals than with bureaucracy/finance/staff issues (I'd be the same :)) – and I guess his passion for farming kept him going. Oh and I should mention that his girlfriend, Michaela, has been doing a brilliant job too – she was working for a TV company in London, but gave all that up and now drives around on a quad bike, chasing animals and getting covered in mud!
I first visited the farm in the early summer of 2004 – although they had started their own farm shop and were selling meat from their farm, they didn't have enough at the time, so they had to buy some of the rare breed pigs from other farms. Although it was a nice place to visit even then, there didn't seem to be enough business to keep them going and I hoped they wouldn't give up. I was amazed by the quality of their meat, though – their bacon is full of flavour and the smell when cooking it is wonderful. It just tastes like meat should, as do their sausages and meat.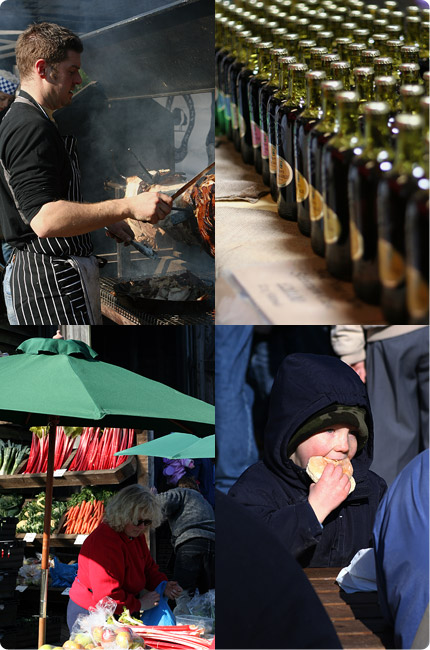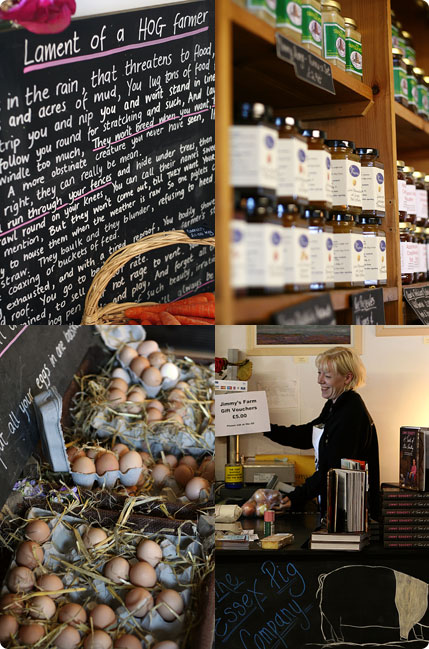 Fortunately they are now getting much busier and have quite a big farmer's market once a month (every first Saturday). He's been contacted by some supermarkets but has refused to sell to them – to do so they would have to make their sausages have a longer shelf life, which would mean adding preservatives and therefore a lower meat content. Rather, I like the way that they try to support and bring together the local community, and I hope it encourages others to do the same.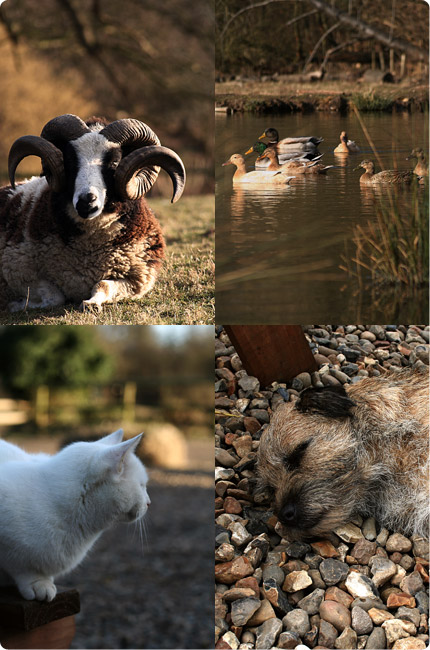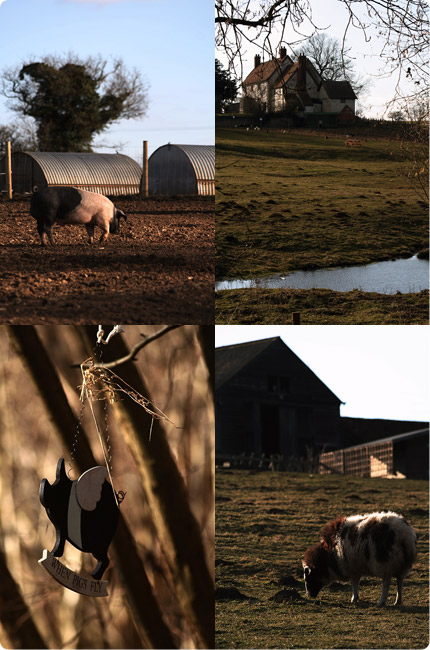 I like the buzz on market day, but I also enjoy visiting during the week when it's much quieter – all the animals seem more relaxed too :) You can wander around the woodland which they've just converted into a nature trail, where you can see more wildlife and get closer to the farm animals – they've now got cows and sheep too, as well as hens and half-a-million honeybees.
They are showing the new series of Jimmy's farm at the moment. He recently got 100 chickens from the Battery Hens Trust – you can read his message here and please remember that buying free-range eggs will ultimately help reduce the number of chickens kept in battery farms. I can't agree more with his view that people shouldn't be asking him why his meat is expensive, they should be walking into supermarkets and asking why theirs is so cheap?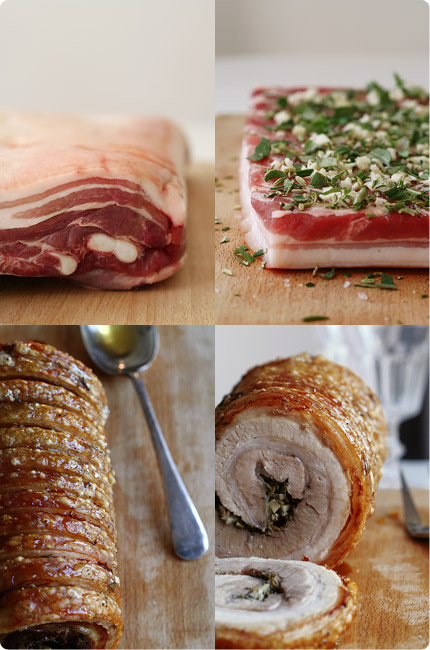 I got a big piece of belly pork (my favourite cut) on my last trip – as I always like eating good ingredients prepared simply, I cooked an Italian version of suckling pig, porchetta. I've been using this recipe for a long time and managed to get most of the other ingredients locally too – all the herbs are from our garden and a drizzle of lovely Suffolk honey on the gorgeous crackling makes this yummy pork even tastier! I've tried a porchetta recipe from Jamie's new Italy book and it was really nice too.
Oh and you can find plenty more wonderful bacon here :)