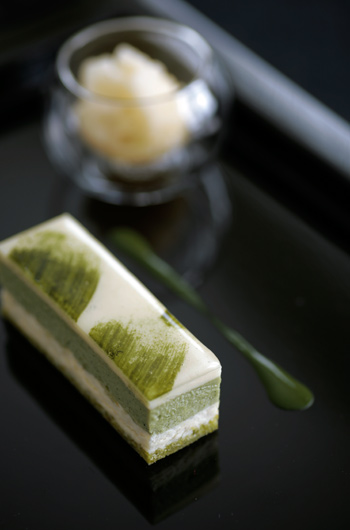 Two Desserts from Indulge
8 February 2008
I must admit that it's been quite a while since I tried any new dessert recipes. I was looking forward to trying some of the desserts from this beautiful book Indulge by Claire Clark – and I'm glad I finally had a chance to do so.
Claire worked at some of the leading restaurants in her native UK including Claridges and The Wolseley (some of my favourite places in London) before she moved to California to work at The French Laundry a couple of years ago. Her recipes in the book vary in influence – some are quite British and some not so – and complexity but you can tell that they all rank among her favourites.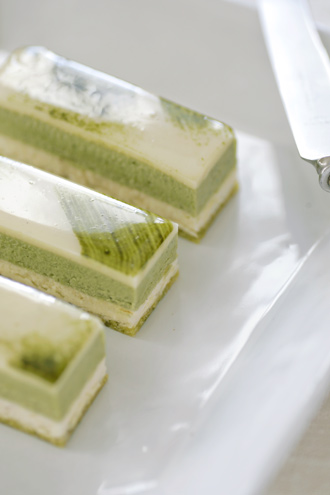 A dessert that caught my eye first was the green tea and jasmine delice – as well as the gorgeous image of the finished cake (Jean Cazals shot the book), the combination of the ingredients sounded really intriguing. It consists of two types of mousse – jasmine tea and green tea – and pistachio cake as a base. I'm definitely a (good strong) coffee person normally, but since I discovered Kelli's gorgeous Amai tea sweets, I now enjoy more and more tea flavoured creations :)
The mousses are both paired with white chocolate – another combination I've been wanting to try since I saw Joycelyn's beautiful creations. I couldn't wait to taste how all these flavours would work together – it may sound busy with all the different ingredients but they were actually quite subtle. I used matcha (powdered green tea) instead of the green tea leaves in her recipe – I suspect that matcha lends a little stronger flavour than leaves, but personally I would have liked a more prominent jasmine flavour as I could barely taste it.
Because both the mousses have white chocolate in them, they are really rich and creamy – she suggests serving it with passionfruit jelly or sorbet to cut the creaminess – I agreed and having just made loads of Seville (bitter) orange sorbet, I served the cake with it, and they worked wonderfully together.
Decoration-wise, she simply layered the two mousses on top of the pistachio cake and finished with another thin layer of jasmine mousse. I felt like doing something a little more fancy so brushed some matcha (mixed with a little water) on top of the mousse (to do this you need to freeze the mousse first) and finished with glaze.
Overall I was happy with the result – but next time maybe I would substitute the jasmine mousse possibly with jasmine jelly to taste the lovely floral flavour better, and probably make a lighter sponge for the base – her recipe is more like pound cake and I found it a little too heavy for this combination. I loved the pairing of pistachio and matcha though – normally it's one or the other, but it actually works really well together. (Try to use Sicilian or Iranian pistachios if you can, they have wonderful colour and flavour.)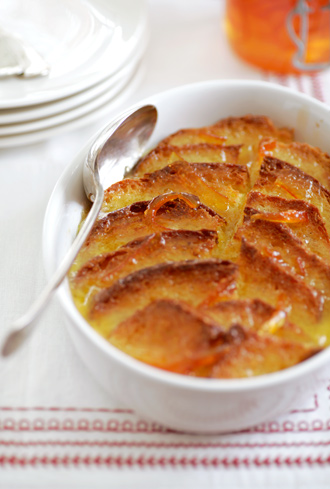 Another dessert I've tried was marmalade bread and butter pudding – I must confess that I'm not that enthusiastic about traditional British puddings nor jams (especially marmalade)... so I never thought I would be posting a recipe for this. However, having tasted such a lovely clementine panettone and butter pudding here recently made me change my mind, I even made the marmalade myself! Claire uses panettone in her recipe also, but I'm not a big fan of dried fruit so decided to use plain brioche instead. I've tried a brioche recipe from Crust – the latest bread book addition to my cookbook shelf. (His first book Dough is also great.)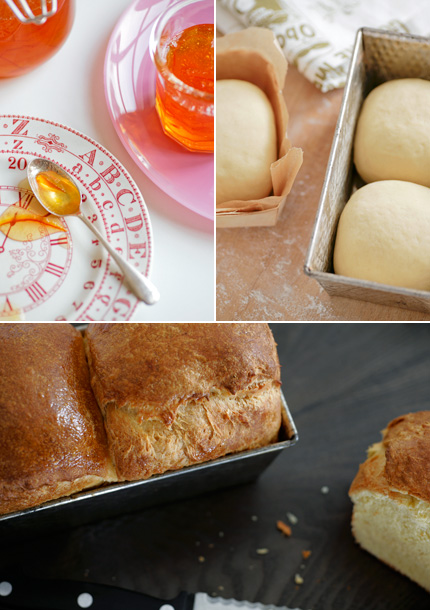 I love making brioche – it's very easy and the sweet buttery smell when baking is enough to keep me happy for the whole day :) The recipe I tried this time was similar to this version, but you don't add any milk and I actually preferred this non-milk, slightly eggier variation. Leaving the dough overnight in a cold place gives it a lovely flavour and texture too.
I know that this pudding was invented to use up stale bread, but I was very happy with my freshly baked bread and butter pudding, served with freshly made marmalade! Claire suggests leaving the crust on and she is absolutely right as it adds a lovely crunchy texture. I loved serving it with a big scoop of crème fraîche or vanilla ice-cream.

Marmalade bread and butter pudding

Serves 3-4
250g brioche (or panettone, pandoro)
70g unsalted butter, melted
1/2 vanilla pod
150ml double cream
150ml milk
2 medium eggs
2 medium egg yolks
85g caster sugar
3 tablespoons marmalade (I made with Seville oranges using this recipe)
Crème fraîche or vanilla ice-cream

Preheat the oven to 170ºC. Slice the brioche about 1cm thick, then cut into quarters. (if you want to make it in individual dishes you can cut them into smaller pieces.) Lay them overlapping in a baking dish and pour the melted butter over the bread.
Cut the vanilla lengthways and scrape the seeds out. Bring the milk and cream to the boil with the vanilla seeds as well as the pod. In a large bowl, gently mix the eggs, egg yolks and sugar. Pour the hot milk mixture over and gently whisk, then strain through a fine sieve. Pour the custard over the bread.
Place the baking dish in a roasting tray and pour enough boiling water to reach about halfway up the dish. Bake for about 30 minutes until the crust is golden brown (you need to be careful not to let the custard boil – if it happens, lower the oven temperature to 150ºC). When cooked, the custard should be slightly set.
While the pudding is still hot, brush the marmalade on top and serve with a big dollop of crème fraîche or vanilla ice-cream.