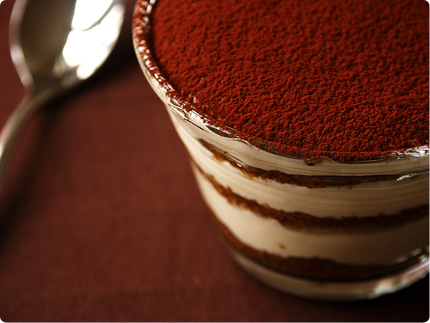 Stuck in the 70s?
1 March 2005
The BBC have been showing a programme called MasterChef Goes Large – it's basically a big cooking competition for amateur cooks. Today's winner was very impressive, but to be honest I don't really think the average standard is very high (not that I can cook better than them – but I was a bit surprised that there was actually a contestant who cooks food without tasting it!). But it is still the qualifying stage and I'm sure lots of talented cooks will emerge as the programme goes on.
In yesterday's round, one of the contestants made Tiramisu for dessert. I must admit that I've made this (in)famous Italian dessert literally hundreds of times – I knew it was the sort of thing you might shy away from if you like talking about fancy cooking, but I just love them.
There are two presenters – one is a grocer to many London restaurants and the other is an Aussie chef, John Torode, who runs Smiths of Smithfield (Smithfield is the largest wholesale meat market in London, the famous St. John Restaurant is just nearby).
Anyway, when they saw that the contestant made Tiramisu, they started needling her with comments like 'Don't you think that making something like this for this kind of opportunity is a bit unambitious?' or 'Are you still stuck in the 70s?' I knew what they meant, but she was quite confident about what she did and in the end she won the round (she cooked other dishes as well)! I know that things like Tiramisu or Chilli Con Carne aren't very 'in' any more, but people should cook what they like!
I like to make my own sponge for this recipe, which is lighter than shop-bought finger biscuits – I also add a little whipped double cream into the cheese mixture as well as meringue. I don't think that's entirely authentic, but I quite like it as it makes the whole texture very light.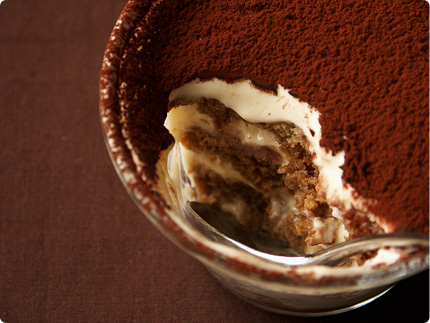 Speaking of TV cookery programmes, a new Jamie Oliver series has started too – it's called Jamie's School Dinners. He visits some schools and tries to convince the kids – as well as the dinner ladies – that they should be eating better food.
They've only shown one episode so far, but it was really shocking – everything that the kids were eating was junk. All processed, deep fried and no sign of any vegetables whatsoever. I think I was aware of this fact and that these kind of things aren't happening only in this country, but it was much worse than I had expected. How can you appreciate what good food really is if you just eat that junk all the time, every day!
Sorry, I'm getting a bit grumpy… I remember that the 'chief' dinner lady in that episode was quite bossy and she wasn't at all happy with JO's interference, because she had to run the kitchen (ie feeding kids on time – no matter what they eat), which seemed more important to her than the actual food. She and JO were arguing most of the time and I thought it was funny when he said 'This woman harasses me more than my wife!'...