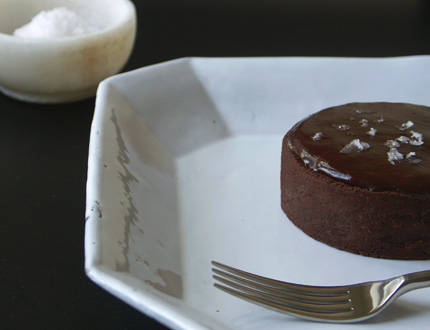 Chocolate Caramel Tartlettes with Sea Salt - SHF#9
17 June 2005
It's that time again, and yet another great theme chosen by Jarrett of Life in Flow – AKA the host of Food Porn Watch – is tantalizing titillating tempting tarts! I thought about having spring/summer fruits in it, but I've already done a fruity tart for a previous IMBB, so decided to go with my all-time favourite – chocolate.
This is the first recipe I've tried from The Last Course by Claudia Fleming – I had wanted this book for quite a while and thankfully Clement convinced me! There are so many things I'd love to try in this book, each recipe has a little twist and her appreciation of the ingredients is so inspiring.
I've made chocolate souffle with salted caramel sauce a while ago (with somebody else's recipe) – I knew I wasn't a big fan of souffle but I love the combination of salted caramel and chocolate so it had to be done. It turned out really nice with the bitter souffle and sweet caramel sauce, but I still didn't get over my aversion to warm pudding type desserts…
Before I made the chocolate dough for this tart I suspected normal vanilla dough might work better with this filling, but I was wrong! The recipe suggests adding corn syrup to the caramel filling – I used a smaller quantity of golden syrup instead as I can't seem to find corn syrup around here. I quite liked the taste of the caramel and adding the creme fraiche was a really nice extra touch.
After filling the shells with the gooey caramel, pour the chocolate ganache over, and of course, the sea salt. In the recipe, she suggests using fleur de sel but I used Maldon sea salt this time. As soon as you cut into it, the filling oozes out and you'll be in caramel heaven!
Although I must say that this didn't surprise me taste-wise, I think the balance between the caramel and chocolate ganache works well. I used 8cm tart rings, but smaller shells might work better because the filling is seriously rich and sweet. This is strictly for those of us with a very sweet tooth!
 
Yield: 2 dozen tartlettes
Chocolate tart dough
1/2 cup unsalted butter, softened
1/2 cup plus 1 tablespoon confectioners' sugar
1 large egg yolk
3/4 teaspoon vanilla extract
1 1/4 cups all-purpose flour
1/4 cup unsweetened Dutch-processed cocoa powder
Caramel filling
2 cups sugar
1/4 cup light corn syrup
1/2 cup unsalted butter
1/2 cup heavy cream
2 tablespoons creme fraiche
Chocolate ganache glaze
1/2 cup heavy cream
3 1/2 ounces extra-bittersweet chocolate, chopped
Pinch of fine sea salt, such as fleur de sel, optional
To prepare the tart dough, in the bowl of an electric mixer fitted with the paddle attachment, cream the butter and sugar until combined, about 1 minute. Add the egg yolk and vanilla and beat until smooth. Sift in the flour and cocoa powder and beat on low speed until just combined. Scrape the dough onto a sheet of plastic wrap and form it into a disk. Wrap and chill until firm, about 1 hour, or up to 3 days.
Preheat the oven to 325 degrees F. On a lightly floured surface, roll the tart dough to an 18×12-inch rectangle, 3/16 inch thick. Using a 2 1/2-inch round cutter, cut out 24 rounds of dough and press them into mini muffin tins or 2-inch tart pans, trimming away any excess dough; prick the dough all over with a fork. Chill the tart shells for 20 minutes.
Line the tart shells with foil and fill with dried beans, rice, or pie weights. Bake for 15 minutes. Remove the foil and weights and bake for 5 to 10 minutes longer, or until the pastry looks dry and set. Transfer to a wire rack to cool (The tart shells can be made 8 hours ahead).
To prepare the filling, place 1/2 cup water in a large saucepan. Add the sugar and corn syrup and cook the mixture over medium-high heat, swirling the pan occasionally, until you have a dark amber caramel, about 10 minutes. Carefully whisk in the butter, cream and creme fraiche (the mixture will hiss and bubble up, so stand back), whisking until smooth (The caramel can be made up to 5 days ahead and refrigerated). Divide the caramel among the tart shells while still warm (or reheat the caramel until it is pourable) and let sit until the caramel is set, at least 45 minutes.
To make the ganache glaze, in a saucepan, bring the cream to a boil. Place the chocolate in a bowl. Pour the hot cream over the chocolate and let sit for 2 minutes, then whisk until smooth. Pour some of the glaze over each of the tarts while still warm. Let the glaze set at room temperature for at least before serving. Sprinkle with salt, if desired, just before serving.