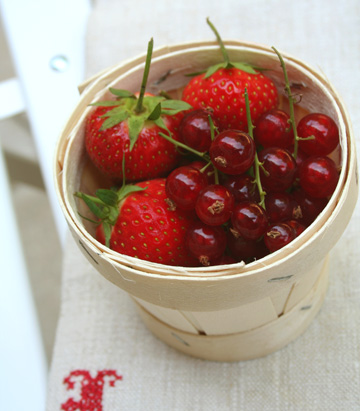 White Chocolate and Honey Cream Summer Berry Parfaits with Lavender-scented Meringues - SHF#10
15 July 2005
It seems like the monthly SHF keeps me going – Nic of bakingsheet chose honey for this month's theme – although I made honey mousse for a previous SHF, I wanted to try another recipe using summer berries as you can get so many fresh varieties at the moment – and I found a tempting recipe in Emily Luchetti's A Passion for Desserts, which contains honey and strawberries – so I had to give it a try.
I thought the combination of honey and white chocolate was interesting and I must say that it turned out much better than I expected. I don't know why but I feel nostalgic every time I taste honey and this cream made me feel even more so. I used redcurrants and strawberries this time, but I'm sure this custard goes well with any berries. I also made meringues with lavender-scented sugar, which worked well with the parfaits. I added a few drops of red colouring to the meringues (as I wanted them to look pretty with the berries) but you can leave it out of course. You leave lavender stalks in the sugar for a couple of days (I used fresh) – I hoped I would be able to taste the lavender and although it was subtle, I could. We enjoyed this summery dessert in our newly re-done garden (we did everything ourselves, including fencing, decking and paving) – I really hope the English summer lasts long enough to enjoy it.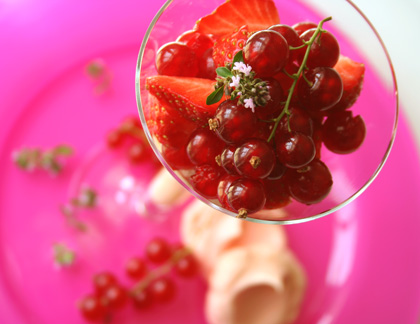 Makes 8 servings
5 ounces white chocolate
3 tablespoons honey (I used lavender honey this time)
8 large egg yolks
1 1/2 cups heavy cream
2 tablespoons sour cream
2 1/2 pints berries of your choice
Melt the white chocolate in a double boiler. Whisk until smooth. Set aside.
Heat the honey to lukewarm. Place the honey and the egg yolks in the bowl and whip until thick, about a few minutes.
Warm 3/4 cup of the cream in a heavy-bottomed saucepan over medium heat, about 5 minutes. Slowly whisk the cream into the egg yolks.
Return the cream mixture to the saucepan and cook over medium-low heat, stirring constantly. As the honey cream cook and thickens, stir with both a whisk and a heat-resistant rubber spatula, switching back and forth between the two. Cook until thick. Remove from the heat and whisk in the melted white chocolate. Transfer the honey cream mixture to a bowl and cool over an ice bath, stirring frequently with a rubber spatula.
Whisk together the remaining 3/4 cup cream and the sour cream until soft peaks form. Fold into the honey cream.
Slice any larger berries. Layer them and the honey cream in glasses. Refrigerate until ready to serve.
 
Oh, and a new series of Full on Food started on BBC2. Heston Blumenthal and Richard Corrigan are among the presenters – Mr Blumenthal cooked the famous snail porridge this week, and yes it was indeed snail and porridge!