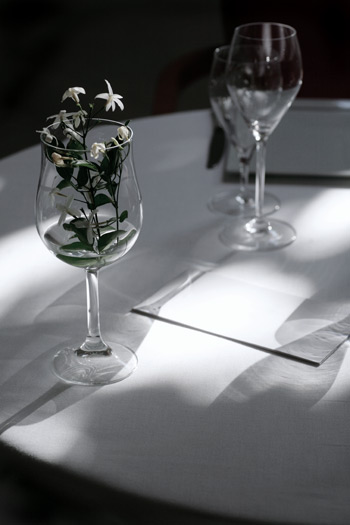 Profiteroles with a Twist and a Weekend to Remember
25 February 2010
I know I don't have much of an excuse for not updating you all for so long, but let me tell you briefly what I've been up to… Since I got back from this trip to Italy, my work got very busy (for which I'm grateful) – then when I had some spare time over Christmas, I became ill :( I hoped I could write something just to let you know how I've been doing, but not having much appetite for eating or cooking kept me from blogging. I had various tests and now I'm feeling better, so I'm hoping to get back on track again.
Some of you know that I've been tweeting fairly regularly, but I'd like to thank you for all your kind emails and comments while I was AWOL. I have some exciting projects coming up this year, which I'm looking forward to and hopefully I can share them here.
Two seasons have passed since I came back from this Italy trip, but my memory of it remains vivid as I look through the images I took while I was there. I spent a weekend with some fellow food bloggers at the fabulous hotel and restaurant Don Alfonso 1890 in Amalfi – they generously invited us to experience their wonderful cuisine and hospitality. Not to mention how thrilled I was to be in the company of fellow bloggers Nicky & Oliver, Matt, Adam, Sigrid, Chika, Alessandra and Andrea.

The Hotel and Restaurant
Don Alfonso is found in the quiet town of Sant'Agata sui Due Golfi, on the stunningly beautiful Sorrentine Peninsula of Amalfi, and driving up the winding road along the breathtaking coastline fills you with anticipation. The hotel was started by Alfonso Costanzo Iaccarino in 1890. His grandson Alfonso and his wife Livia have been running it since the 1970s – having succeeded in realising their vision of providing the finest cuisine and hospitality, expanded and now joined by their two sons Ernesto and Mario, even adding a cookery school to their repertoire.



Although I would recommend anyone to visit this haven for the wonderful food, I learnt that it was the people who make this place so special. The staff were very professional and knowledgeable, yet also unpretentious and enthusiastic – they made every aspect of the stay a delight. You can see and feel their passion and attention to detail everywhere – from their lovingly crafted guest rooms filled with the charm and colour of local artisan touches to the wonderful food itself.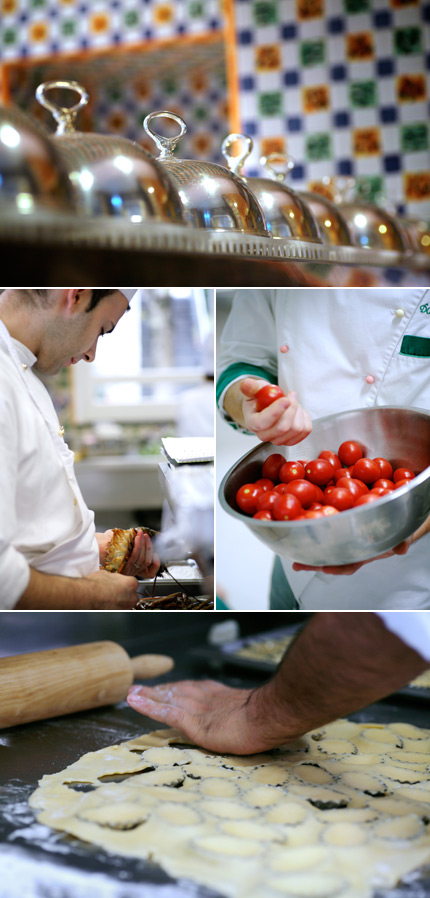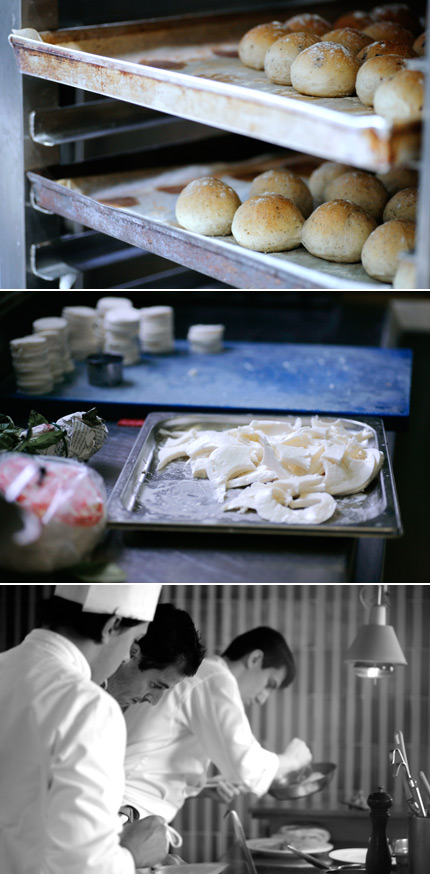 Everyone is welcomed to visit their kitchen where the walls are decorated with beautiful tiles made in the nearby town of Vietri sul Mare and I was happy to watch the fantastic team work diligently and proudly there. You must also visit their wine cellar, part of which dates back to Roman times, holding 25,000 bottles and 1,300 labels. At the bottom of the amazing collection, you'll find their little 'cheese room' proudly hanging Provola (typical Southern Italian cheese made with buffalo milk).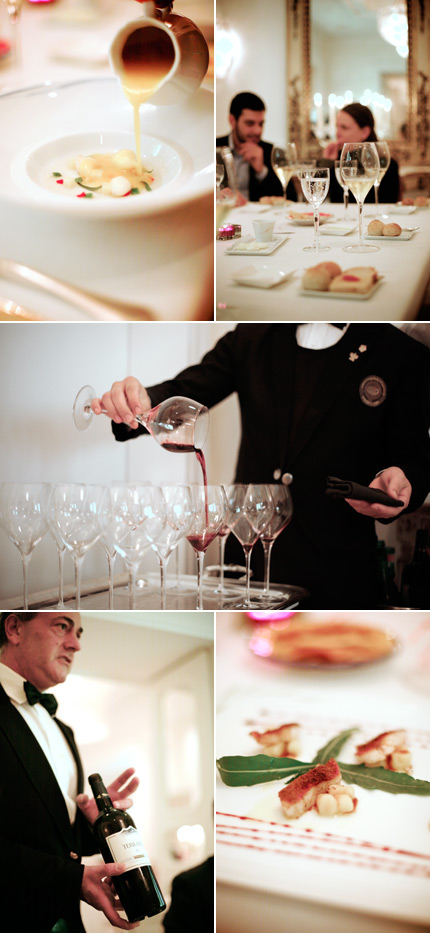 Needless to say, we enjoyed so many wonderful dishes (and wines), made from equally wonderful produce, during our stay. Focused on the best seasonal ingredients (most of them from their organic farm nearby) cooked in respectful yet innovative ways. You would be amazed at inventive twist the skilled chefs can impart to single ingredients – not only the more expensive produce like truffles or lobster but also the most humble such as eggs or tomatoes.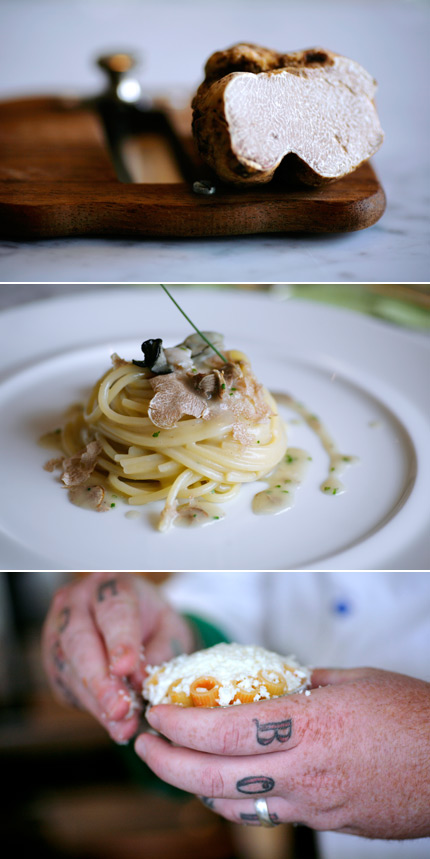 As well as tasting them, we had a chance to learn how to cook some of their signature dishes in their beautiful, state of the art kitchen. It was inspiring not just to learn how they are prepared and about the ingredients, but also to learn their principles and ethos of cooking. Ernesto told us that they stopped using butter in favour of ingredients like olive oil (I hardly use butter in my savoury dishes either) and also tapioca to thicken their sauces. Just one example of how they are keen to preserve traditional Italian flavours yet also move forward.


During the workshop, we enjoyed making and eating amazing pizza – they bring a pizzaiolo from Naples who has been baking for 40 years. The 'maestro' was rather shy, but just watching him prepare and deliver them into the beautiful pizza oven (I want one at home!), fired with their olive wood, was a real pleasure.
It was another example of how the most simple things taste the best when executed with such good ingredients and attention to detail. It was perfect, the dough not too thick, too chewy or crispy; the tomato and cheese so fresh – I'm actually not a huge fan of pizza normally but it was so good that I just couldn't stop taking slices off the plate! (I had to call Matthew, who couldn't make the weekend and was looking after our cat at home – he could just live off pizza for the rest of his life, just to tell him that he missed such a great opportunity :))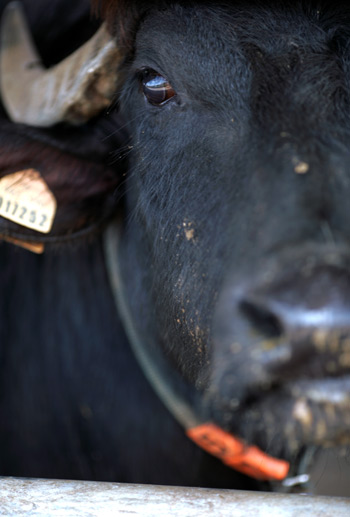 Tenuta Vannulo
We also had a chance to visit a beautiful dairy farm in Capaccio – but no ordinary farm, the only organic water buffalo dairy in Italy.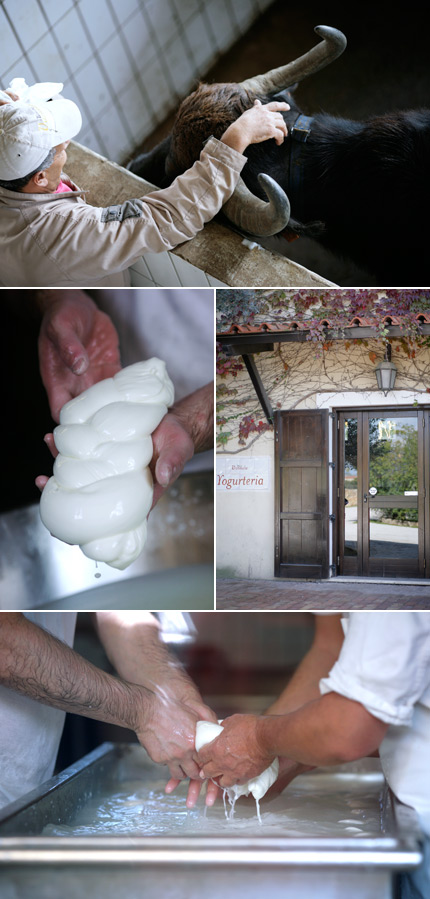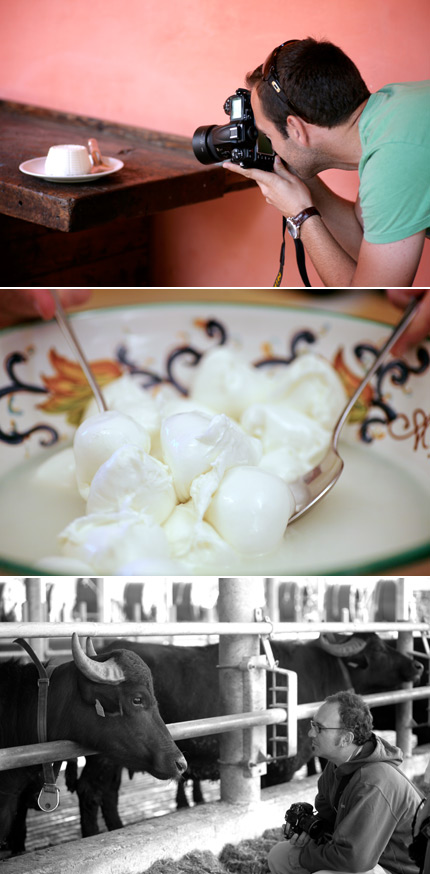 We learnt about their breeding philosophy – I was so impressed by their use of modern technology which allows the buffalo to decide when they want to be milked. The buffalo were really friendly and curious, asking the farmer to scratch their head, sticking their noses through the railings to see us – which I think means they are very happy with the way they live :)
And the cheeses – they were definitely the best I've ever tasted, so fresh and flavourful, especially the ricotta – bursting with flavour, just melting in your mouth. They don't sell wholesale, just direct from the farm ensuring that the highest standard and freshness is maintained. I certainly wouldn't mind living there just to enjoy their cheese every day!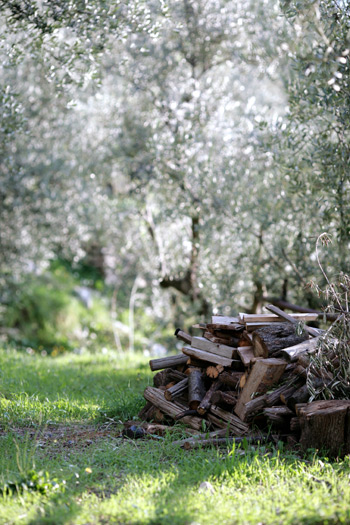 Punta Campanella
Alfonso and Livia believed that the best ingredients would be found closest to home and purchased a beautiful piece of land on the nearby coastline looking onto Capri, and turned it into an organic farm, Le Peracciole.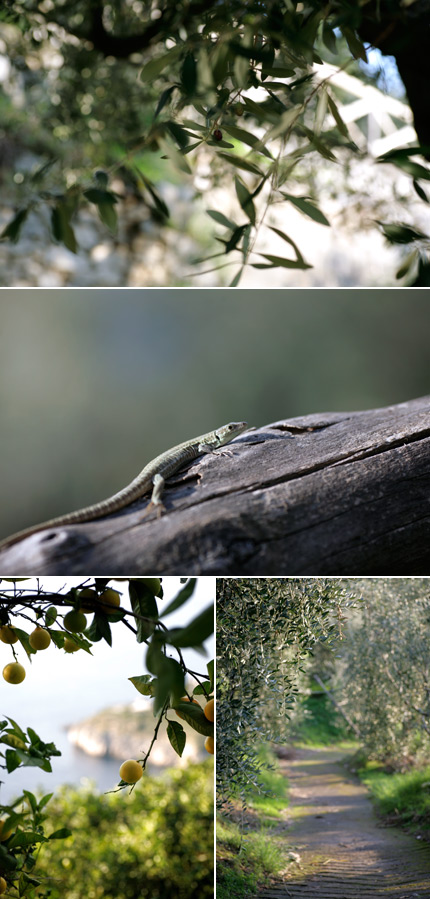 They grow a large proportion of their ingredients, produce ranging from olives – from which they make their own beautiful oil – and lemons, to capers and tomatoes… and almost every fruit and vegetable you can imagine in between.
How lucky we were to be able to stroll through this magical place as the sun set over Capri – well, if this place wasn't paradise, where would be…


So, a huge thank you and kudos to all the team at Don Alfonso – especially Alfonso, Livia, Ernesto and Fortunato who were such gracious hosts, sharing with us their love and passion for what they do. Also Fabio, Andrea and Cristiano from Adhoc Culture for looking after us so well.
I do hope I'll have another chance to visit them again one day, hopefully on the next motorbike trip to Italy…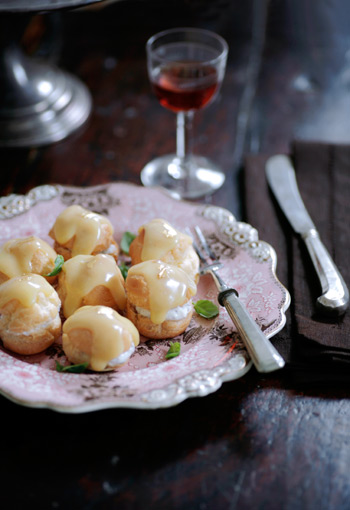 A dessert with a Twist
One of the dishes we learnt during our cooking lesson was a rather unusual dessert – aubergine (eggplant) millefeuilles with white and dark chocolate sauce. I know it doesn't sound very convincing – I was in fact very sceptical until I tasted it – and when I did, was an instant convert :) The slightly spongy texture of cooked aubergine and its neutral flavour actually works well in sweet creations – who would have thought! We learnt that using aubergine in desserts is quite common in this part of Italy – we saw many gorgeous aubergines growing on the hills, so it makes perfect sense that the talented chefs would want to create something new with this often underrated vegetable.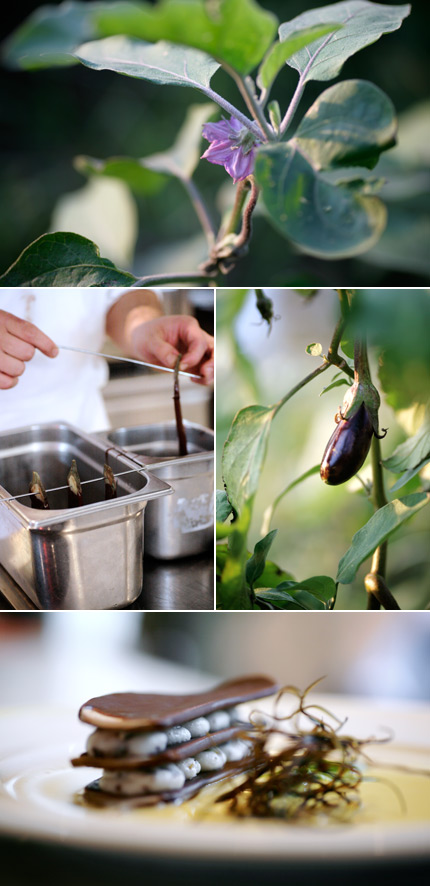 Their dessert is made from a filling of ricotta, dark chocolate and aubergine, layered between thinly sliced aubergines dipped in dark chocolate. It is served with white chocolate and Gianduja sauce, a sprig of basil and deep fried julienne aubergine skin.
I loved it and could have recreated it in my kitchen, but decided to make something a little lighter and probably using less aubergine, say, a beginner's version :) I first thought about making Cannoli – normally filled with ricotta – but perhaps something softer might work in the same casing – so went for my favourite, choux puffs :) I must say I'm happy with the result – both white and dark chocolate work well with aubergine and I loved a hint of basil also. You can play around with the ratio of chocolate and aubergine in the filling, and if you are just not ready for it yet, you can omit the aubergine and it still tastes good :)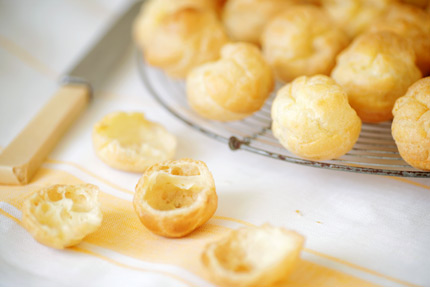 Profiteroles with ricotta, chocolate and aubergine
Makes about 25
For the choux pastry
50g unsalted butter, cut into small pieces
125ml water
1/2 teaspoon salt
1 teaspoon caster sugar
75g plain flour, sifted
120g egg (about 2 large eggs), lightly beaten
For the ricotta filling
200g good quality ricotta cheese
60g icing sugar
15g dark chocolate, finely chopped
20g aubergine, skinned and chopped into 5mm cubes
A few basil leaves, finely chopped
For the white chocolate sauce
100g white chocolate
80ml double cream

Make the choux pastry. Preheat the oven to 200ºC. Place the butter, water, salt and sugar in a saucepan and bring to the boil. Remove from the heat as soon as the butter has melted, add the flour at once and stir vigourously with a wooden spoon until it comes together (it comes off from the side of the pan). Add the egg little by little, stirring well until it becomes glossy and smooth.
Fill a piping bag with the mixture and pipe onto a baking sheet, about 3cm diameter, leaving plenty of space between them. Bake for about 20 minutes then turn the oven off and leave for another 10 minutes or so. (Try not to open the door while baking)
Make the filling. Gently fry the aubergine pieces with a little olive oil. Set aside and cool. Mix the ricotta and sugar in a bowl and stir in the chocolate, aubergine and basil leaves.
To make the white chocolate sauce, gently melt the chocolate over a bain-marie. Stir in the double cream and cool slightly.
To assemble the profiteroles, cut the choux pastry in half, fill with the ricotta mixture and pour the chocolate sauce on top. Decorate with edible gold leaf if you feel decadent.