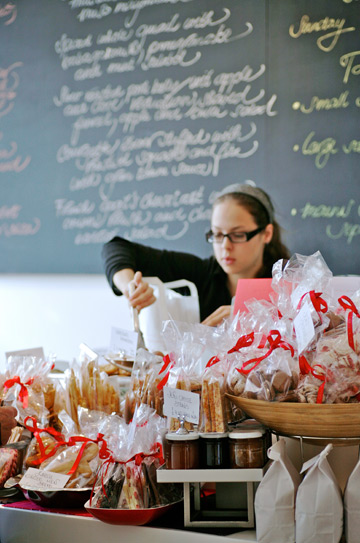 Ottolenghi The Cookbook
16 December 2008
Before I start, let me remind you that this year's Menu for Hope launched yesterday – as many of you know already, it's an annual fund raising campaign hosted by our Pim and food bloggers all over the world. Last year, Menu for Hope raised nearly $100K to help the UN World Food Programme – there are amazing prizes lined up again this year, so make sure to take a look and donate whatever you can!
Also, I would like to mention my dear friend Barbara – as many of you may know, she is a cancer survivor and is now going through chemotherapy. I have never met her in person, but I'm really looking forward to the day I can. Please send her lots of love and hugs to help her through it!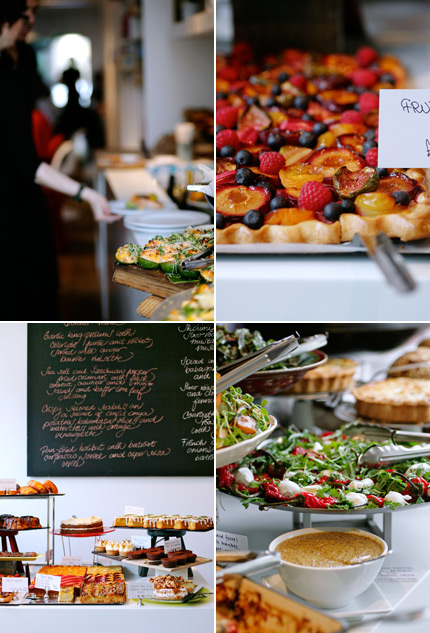 It has taken me much longer than I anticipated to write about this fabulous cookbook from one of my favourite delis in London, Ottolenghi. I must confess that I now try less new recipes from books as my work is getting busier and I go away a lot more than I used to – so having managed to cook quite a few recipes from this book means something, but then I knew I would – I was so excited when I learnt that their first book would be out this year.
Quite a few cookbooks have found a way into my favourites this year – it would be really hard, but if I had to choose just a couple, then along with the Ottolenghi book, one of them would be My Favourite Ingredients by Skye Gyngell who is the head chef at Petersham Nurseries (where I was shooting a Christmas story for a magazine last week, the atmosphere was absolutely magical). As I've mentioned before, I've been a big fan of her cooking and just like her first book, it's full of her love for seasonal ingredients which the recipes make the most of. Her books are always in my kitchen (I have a lot of cookbooks but not many actually live on my kitchen shelf!) – they are an absolute joy to read, and cook from.
The other would be Turquoise by Greg and Lucy Malouf – I've been a big fan of this great chef and writer team since I met them here. Having had a chance to visit Istanbul last year, I waited eagerly for this book to come out – and it didn't disappoint me. The gorgeous images and stories alone make this one of my favourites, but I'm fascinated by the beautiful recipes also. It has definitely made me decide go back to Turkey sometime soon!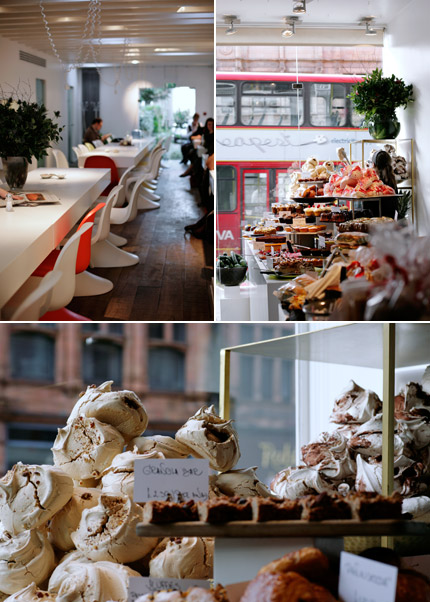 Back to Ottolenghi. I still remember when I first found this little gem by chance in Ledbury Road more than five years ago – the clean white interior with a hint of red, a big chunky communal table in the middle, the vibrantly coloured dishes piled up – I knew straight away that it was my kind of place, and the food of course excited me the most.
Let me tell you their story a little. Yotam Ottolenghi, the patron chef of Ottolenghi (pictured below), and Sami Tamimi, the head chef and co-author of the book, were both born in Jerusalem in the same year. Yotam grew up on the Jewish west side, whereas Sami on the Arab east side, although they may have crossed paths they never met each other until they come to London when they started working at Baker & Spice (another of my favourites, they would meet Dan Lepard, my bread making hero, there).
If you go there in the late morning, you will see the chefs bringing out all the freshly prepared food on huge platters – I can assure you that you would have a hard time choosing what you are going to have, everything looks so fresh and irresistible.
Although they serve all sorts of dishes (mainly Mediterranean inspired) including meat and fish, my favourites are their salads and pastries. Samphire and asparagus salad was one of the first things I tried there – I wished I could get the recipe somehow so you can imagine how happy I was to find it in the book! Their gorgeous Camargue red rice and quinoa salad has become my regular choice (Heidi posted the recipe here), as are their various aubergine dishes with middle-eastern twists. I keep making their French bean salad with hazelnut & orange and the twice-baked flourless chocolate fudge cake – just to name a couple.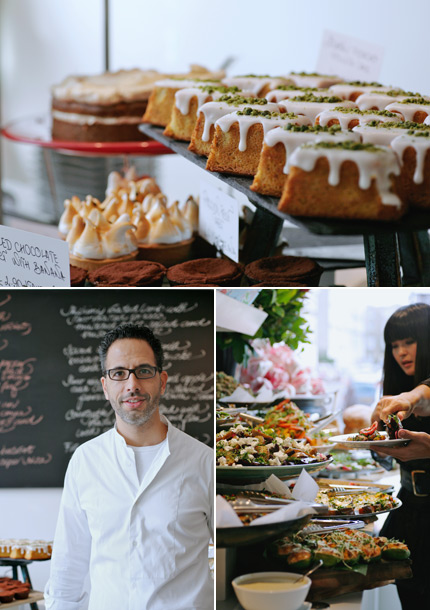 Despite his very busy schedule, Yotam kindly agreed to meet me at their Islington branch (which is another of my favourites) last month. As I imagined, he was such a lovely person and quietly – but very evidently – passionate about good food. I told him how excited I was to read their first book while tucking into their freshly baked croissant that Yotam generously offered.
They've recently opened two more shops in Belgravia and Kensington – I've asked him if they are planning to open any outside London – he shook his head straight away and said no, he is keen to maintain the standard by being personally involved with each branch on a day to day basis – and I'm glad he thinks that way :)
He told me enthusiastically about his and Sami's Christmas food supplement for the Guardian, which came out last weekend (Yotam regularly writes a column called The New Vegetarian for them). As you can see, what a feast! There are so many choices along with excellent wine suggestions – I must thank them that I don't have to spend time making a Christmas menu this year – I'm already excited about having an Ottolenghi-y Christmas!
Their blog is full of inspiration too – you can find more of their fabulous recipes there, I think this one will be the next thing I will try :)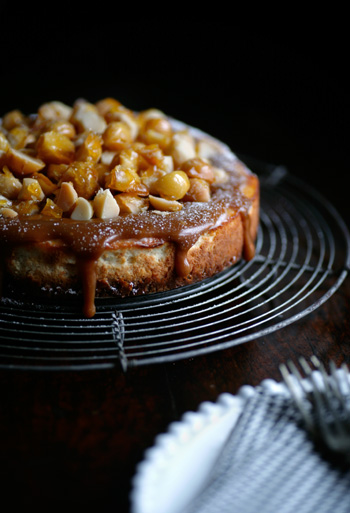 I must emphasis that I had such a hard time choosing just one recipe from the book – this cheesecake is definitely one of my favourites, but I have so many others too.
Their recipe uses only cream cheese, but being a big fan of ricotta, I couldn't help trying this out with it. Armed with Yotam's great advice to get rid of as much water as possible from the ricotta beforehand (as it tends to have a much higher water content than cream cheese), it turned out wonderfully. I was actually not a big fan of baked cheesecakes as I often found they were quite heavy, but this version is light in both texture and flavour. The macadamia and caramel combo is another winner here.

Caramel and macadamia ricotta cheesecake
Serves 8-10
For the cheesecake
400g good quality ricotta cheese, at room temperature
(if it seems too watery, hang it in muslin overnight to drain)
200g good quality cream cheese, at room temperature
120g caster sugar
2/3 vanilla pod
4 free-range eggs, lightly beaten
60ml soured cream
Icing sugar for dusting
For the base
160g dry biscuits
(I used HobNobs, but you can use any digestive biscuits)
40g unsalted butter, melted
For the nut topping
150g macadamia nuts
90g caster sugar
For the caramel sauce
65g unsalted butter
160g caster sugar
100ml whipping (or double) cream

Preheat the oven to 140ºC/Gas Mark 1. Lightly grease a 20cm springform cake tin and line the base and sides with baking parchment.
To make the base, whiz the biscuits to crumbs in a food processor (or put them in a plastic bag and bash with a mallet or rolling pin). Mix with the melted butter to a wet, sandy consistency. Transfer to the lined tin and flatten with the back of a tablespoon to create a level base.
To make the cake batter, put the sugar, ricotta cheese and cream cheese in a mixing bowl. Slit the vanilla pod lengthways in half and, using a sharp knife, scrape the seeds out into the bowl. Whisk by hand, or more easily with an electric mixer, until smooth. Gradually add the eggs and soured cream, whisking until smooth. Pour the mixture over the biscuit base and place in the oven. Bake for about 60 minutes, until set; a skewer inserted in the centre should come out with a slightly wet crumb attached. Leave to cool at room temperature, then remove the side of the tin. Transfer the cake to a cake board or plate – but you can serve from the tin base if that proves tricky. Now chill the cake for at least a couple of hours.
To prepare the nut topping, scatter the nuts over a baking sheet and roast in the oven at 140ºC/Gas Mark 1 for about 15 minutes, until golden. Remove from the oven and set aside. Line a baking tray with baking parchment. Place the sugar in a saucepan with a very thick base (it is important that the layer of sugar is not more than 3mm high in the pan, so choose a large one). Heat the sugar gently until it turns into a golden-brown caramel. Do not stir it at any stage. Don't worry if some small bits of sugar don't totally dissolve. Carefully add the toasted nuts and mix gently with a wooden spoon. When most of the nuts are coated in caramel, pour them on to the lined tray and leave to set. Break bits off and chop them very roughly with a large knife. It's nice to leave some of the nuts just halved or even whole.
To make the sauce, put the butter and sugar in a thick-bottomed saucepan and stir constantly over a medium heat with a wooden spoon until it becomes a smooth, dark caramel. The butter and sugar will look as if they have split. Don't worry; just keep on stirring. Once the desired colour is reached, carefully add the cream while stirring vigourously. Remove from the heat and leave to cool.
To finish the cake, dust the edges and sides with plenty of icing sugar. Spoon the sauce in the centre, allowing it to spill over a little. Scatter lots of caramelised nuts on top. The cheesecake will keep in the fridge for 3 days.