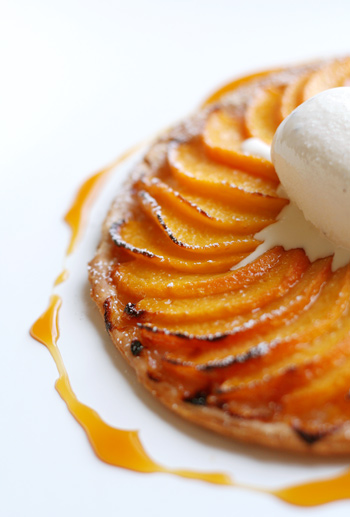 Tart Fine of Peach, Black Pepper Ice-cream
11 August 2006
I seem to be enjoying stone fruit recipes this summer – recently apricots and plums – this time I went for peaches. I don't think I ever cooked them when I was in Japan – it's hard to explain if you've never tried fruit in Japan but they are grown to a very high (and expensive) standard to be eaten fresh so you wouldn't really come up with the idea of cooking them. I'm not saying which is better or worse, it's just different – Japanese fruit often isn't suitable for baking because of its higher juice content. I remember I was slightly disappointed when I first tried peaches etc here – but on the plus side, it let me discover a new way to use them.
I found this recipe in Formulas for Flavour by John Campbell – I bookmarked it as soon as I saw the recipe. It's a thin tart of spice poached peaches served with black pepper ice-cream.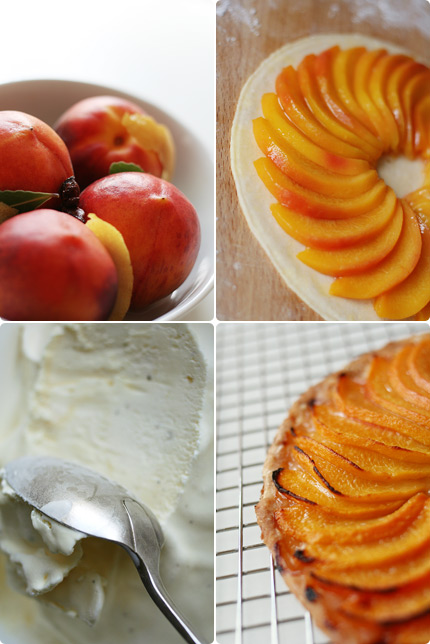 As I mentioned before, I don't like using store-bought puff pastry – but I have to be in the right frame of mind for the roll-fold-rest process, which easily takes up half a day. So I was happy to find out that the recipe in this book suggests making a much simpler puff pastry – you don't need to wrap butter up like normal pastry, just whiz the flour, salt and butter in a mixer very roughly and add water, then just two roll-fold-rest cycles (you still need to work while the dough is cold – if it gets too hot the butter will melt out of the pastry and end up as a greasy tough biscuit). I wasn't totally convinced until I tried the result but it came out very well – it doesn't have as many layers as normal pastry but it's light and flaky, and full of flavour (needless to say, it's vital to use good quality butter here)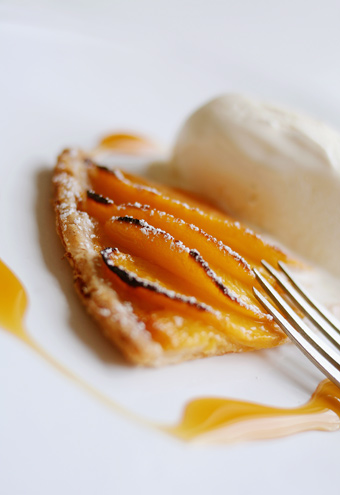 For the peaches, they get a subtle spicy/herby treatment before baking. Poached in syrup with fresh bay leaves, lemon rinds and star anise – they are already lovely at this point but roasting them in turn gives a more concentrated flavour.
And black pepper ice-cream to go with it – the combination might alarm you but it was lovely – the occasional grain of pepper makes for a nice contrast and I really enjoyed it (but it didn't survive far into the photo shoot). This is just plain custard-based ice-cream without vanilla – churn in a machine and add freshly ground pepper (quite coarse) toward the end of churning. The peach caramel sauce (make dark caramel first and add peach juice, simmer for a while) was a perfect complement, it's so versatile and I have a feeling that I will keep a regular stock of it in our fridge :)
I wasn't so sure about not having any filling but I was wrong – it was absolutely delicious. I'm sure this is going to be one of my regular desserts…
 
I also made mini tarts with a little twist (and yes, I burnt them a bit) – got an idea from the Sugino book. Starting with the same pastry and poached peaches, I made frangipane filling with custard and almond cream (the same recipe as the redcurrant and pistachio tart – except for the additional of pistachio paste) and thinly spread it on top of the pastry, sprinkled some shredded basil leaves and topped with the peaches. It was lovely and refreshing, but I still prefer the first version :)
Although I used yellow flesh peaches this time, this will work with other fruit too such as pears, nectarines, apricots or plums.