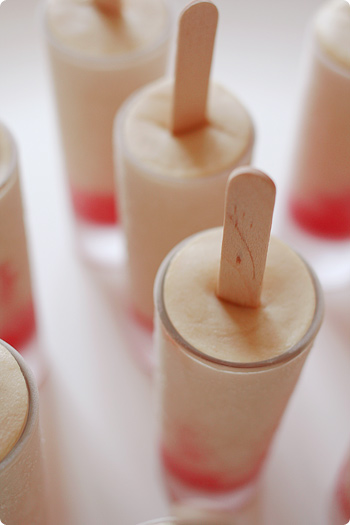 Summer Nostalgia
15 May 2006
It seems like we can finally enjoy some beautiful summery weather – our garden hasn't got many flowers yet but just being able to enjoy meals outside makes me happy (and hope that the cold miserable winter won't come back…)
I recently posted about a dessert using rhubarb and strawberry, but having seen lots of rhubarb growing in our neighbour's garden, decided to try an easy & interesting sounding recipe in Vogue Entertaining + Travel (vol.31). It's Alastair Hendy's and very much like his other recipes, it has a homely touch to it (I must confess that it was the picture rather than the recipe that first caught my eye :))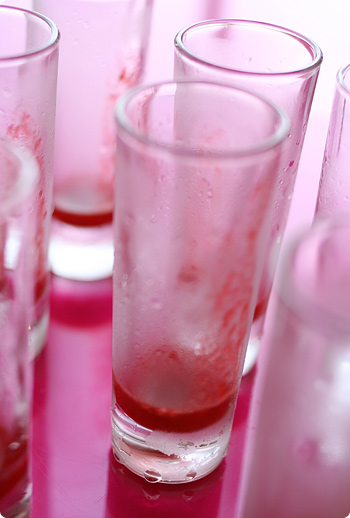 It's rhubarb and almond flavoured yoghurt ice-cream with strawberry syrup – I followed his recipe (adjusting the quantities of some ingredients) and just froze the mixture in the end, but as I expected it became rather icy – I didn't think the texture works very well with this kind of creamy taste, so I think I'm going to churn it in the ice-cream machine next time :) Also, I wasn't really thinking when I was making it but it would be nicer to ripple the strawberry syrup throughout – otherwise, you only get one bite of strawberry flavour!
It tasted lovely despite those minor points though and makes you feel nostalgic (no, I've never had this dessert before but it does so all the same) – as opposed to the Claudia Fleming's dessert above that has a rather elegant, sophisticated touch.
When you cook the rhubarb, you need to check how sweet it is – it's likely that you'll need to add more sugar than the recipe suggests.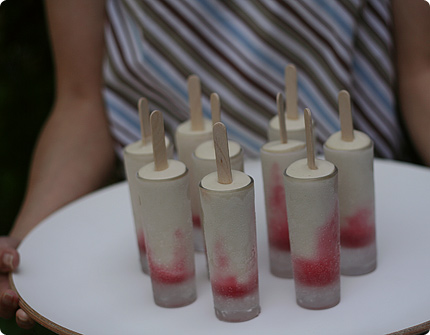 Strawberry and rhubarb almond yoghurt ice lollies
 
makes about 10
200g strawberries
6 tablespoons caster sugar, plus extra to taste
squeeze of lemon juice
250g pink rhubarb, trimmed and chopped
80g ground almonds
250ml evaporated milk
200ml milk
450g Greek-style yoghurt
 
Choose suitable moulds (I used shot glasses) and cool in the freezer.
Place the strawberries, 2 tablespoons sugar and the lemon juice in a saucepan; simmer for about 5 minutes, then sieve out the seeds. Return the mixture to the pan and reduce to a thick syrup, and cool. Pour the syrup into the chilled moulds so that it runs down in lines, then freeze.
Cook the rhubarb in a saucepan with a tablespoon of water and 4 tablespoons sugar until soft, add more sugar if required and puree in a food processor.
Add the ground almonds to the evaporated milk and milk in a saucepan and heat; then set aside to cool. Finely sieve, squeezing out as much of the milk as possible and discard the solids.
Whiz the rhubarb, almond milk and yoghurt in a food processor until smooth. Chill and pour the mixture into the moulds – then freeze overnight (don't forget to push in the lollipop sticks before they are completely frozen.) Or if you're going to use an ice-cream machine, pipe the mixture into the moulds after churning and freeze.