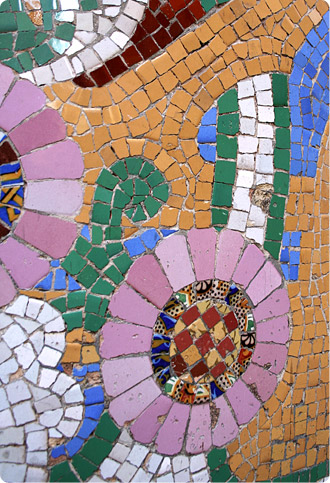 More Memorable Piscine Treats in Barcelona
8 November 2005
This is the last (and rather long) post about our motorbike trip to Provence and Barcelona. At first we were thinking of just staying in France, but looking at the Europe map, Spain didn't seem too far to me so I insisted that we take another bike trip while we were in St Remy (Matthew wasn't that impressed by my suggestion, knowing how we would feel after the long initial trip!). This is something that always happens when we plan our motorbike trips – I love to peruse the atlas (anytime) and when Matthew suggests a route we can do in a certain duration, I start thinking 'hang on, if we go to Helsinki, we can go to St Petersburg. If we manage to go to St Petersburg, we must go to Moscow. If we manage to go to Moscow…' and so on. Matthew once joked 'why don't you go back to Japan through Siberia?" I've actually considered it seriously, it'd be such a great experience like she has been doing. (and it'd be a good reason not to take a plane too – yes, I HATE flying… I get really sick every time I fly – I've once been carried in a wheelchair at Heathrow after a flight from Tokyo, I was just too sick to get up from my seat!)
Anyway, back to Barcelona. We had a lovely time exploring the city, I've always been fascinated by the Catalan culture. I started laughing when I was sorting out my travel photos – how many pictures of fish I've taken! As you know, they have great meat and charcuterie in Spain and France, but fortunately we can also get hold of it in the UK, so my focus had to be on something you can't get here – yes, fresh fish, not 'oh my, how many days have they been sitting on the counter since they were caught?' fish :) I've always loved Spanish food – the simplicity and the way they focus on only the very best ingredients are similar to Japanese cooking – and needless to say, the ingredients we use are similar to theirs too, so I knew I was going to enjoy this short trip (and that I was going to feel homesick again…)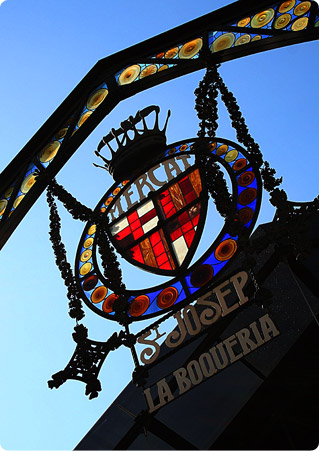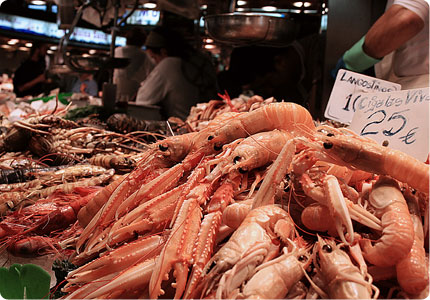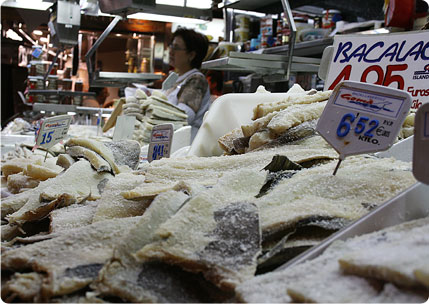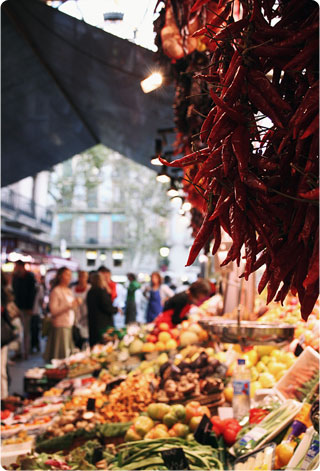 We visited La Boqueria and Santa Caterina markets – both are really big, wonderful markets but I liked the buzz and atmosphere at La Boqueria more. I should mention that Santa Caterina has just reopened this summer and the building was quite impressive, though.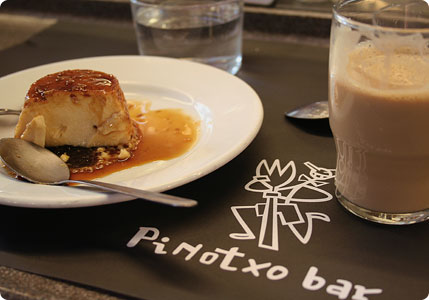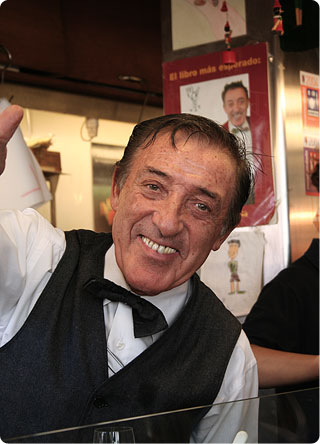 We had early lunch at Pinotxo Bar in La Boqueria. They serve great tapas all day to both traders and shoppers. I was vaguely hoping that we would bump into Javier Bardem at the tiny counter (I'm a big fan of Almodovar by the way) but he wasn't there… The front man of the bar, Juanito (posing for me above) – arguably the most well-known person in La Boqueria – was really a charming (and very hard-working) man. I had a classic Catalan dish – garbanzo beans cooked with blood sausage, pine nuts and raisins – the big fluffy beans were absolutely delicious!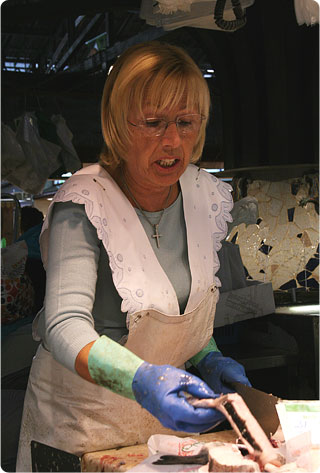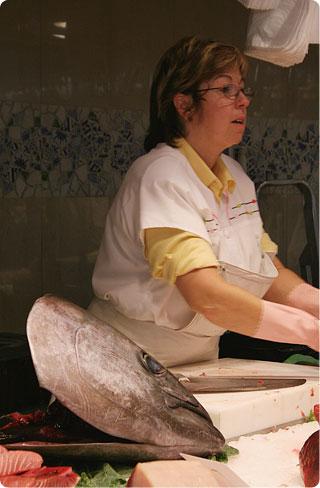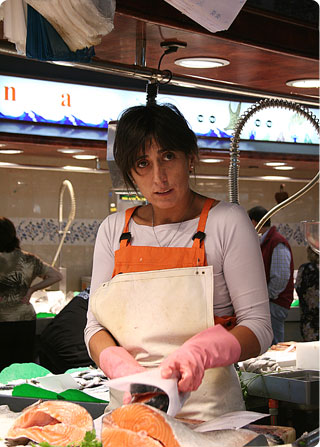 As well as the amazing variety of produce in the markets, I was also fascinated by these 'fishermen's wives' – most of the people who work at the fish stalls were women and they were so skilful and industrious – I couldn't help capturing them (admiringly) on my camera. Although you can tell that quite a few shoppers here are tourists, it is still a fascinating place and I wish Borough market had that many varieties of food!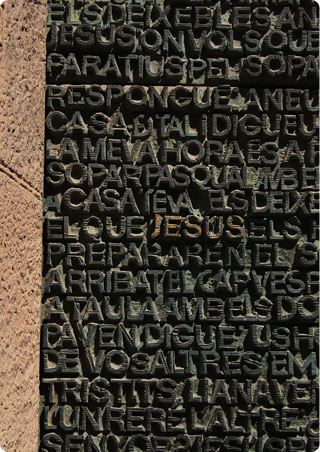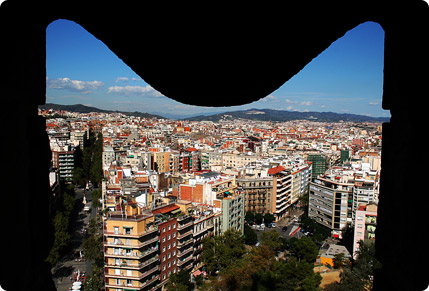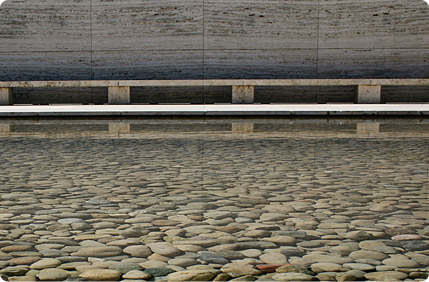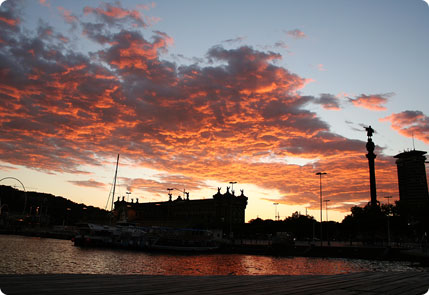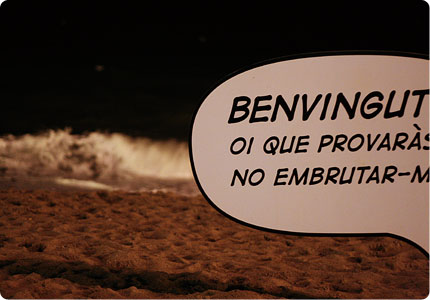 We ended up going back to our hotel really late every night as most restaurants don't open before 21:00! We couldn't really choose where to eat as there were so many recommendations, but tried Cal Pep on the first night. This place is really popular with both tourists and locals, we were ready to queue up to get in but luckily we made the first seating – but there will always be lots of eager diners waiting behind you!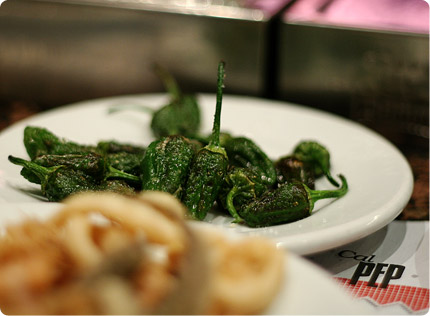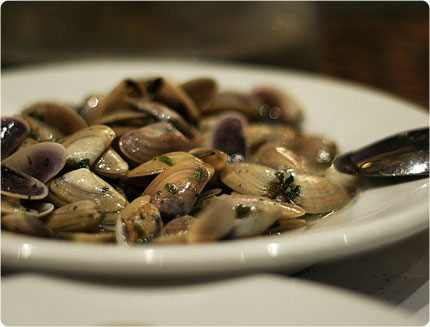 They don't have a proper menu and as soon as you get to your seat, everyone starts asking what's available on the day. As non Spanish speakers, we had to observe what people were ordering and wait for the helpful waiters to come to make suggestions – but it was worth the wait. Start with Spanish version of bruschetta – the tomato is just rubbed on in the same way as garlic – followed by my all time favourite tapa, deep fried baby green chilli peppers, tiny clams cooked in sherry (I'm a clam fiend and loved these tiny butterfly shaped clams – I found them in Provence too and cooked them myself after we went back to St Remy. I don't know why you can hardly get clams in the UK, sigh), deep fried whitebait, small shrimps, calamari in light crispy batter and gorgeous rovellon mushrooms (and giant sliced beef for Matthew!). Everything tasted so fresh – I'll definitely go back to this place next time I visit Barcelona… (and will learn at least enough Spanish to be able to order!) Mr Pep, the owner of this place, looked like the Karl Lagerfeld of the food world – he was mainly giving everyone moral support and I really enjoyed watching them cooking over the counter.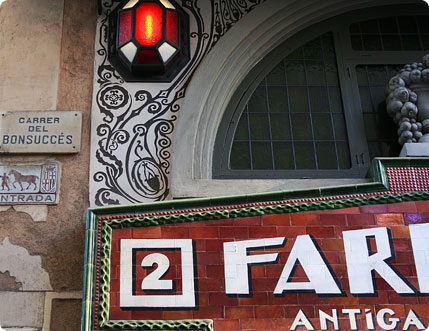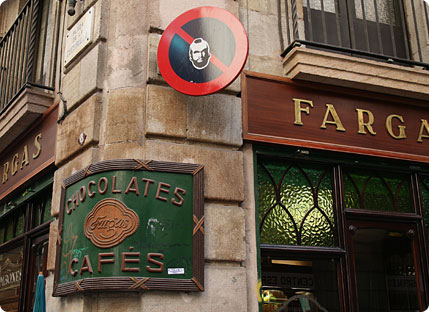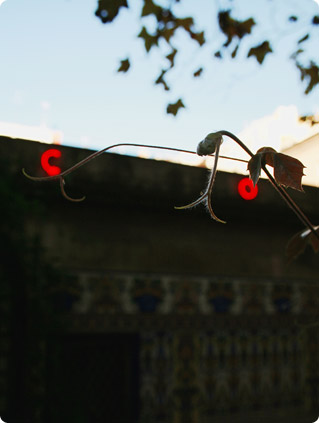 The next night, we headed for Santa Maria – another popular place for foodies. I loved the unpretentious interior, and their food was superb too. As a fussy eater, Matthew wasn't sure at first because their menu was quite, um, ambitious – but he was convinced as soon as he tasted the food :) All the tapas were delicious with little twists – Bacalao (salt cod) with peppers, perfectly cooked sardines with poppy seeds etc. I'm glad I was brave enough to try their rabbit sushi – it was just like Anago sushi (anago is a type of eel – we grill them and brush with sweet soy-based sauce). I've heard that the head chef, Paco Guzman, has spent time as a chef in Japan too, so it made me smile :) The staff were extremely helpful and friendly, and we were impressed by their very reasonable prices too.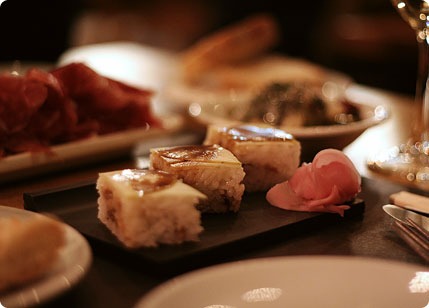 By the way, I found all the restaurants above in this book – I fell in love with the gorgeous photographs and the writing is inspiring too. Maybe it's not the best book if you're looking for lots of recipes, but I think it's great. I should also mention that there are quite a few good chocolate shops in Barcelona (there is even a chocolate museum!) – we only managed to try here, but we loved it.
So we enjoyed our holiday even though the long ride was a bit hard – one thing I missed out on was riding back through Basque country and along the west coast of France – well, there is always next time…