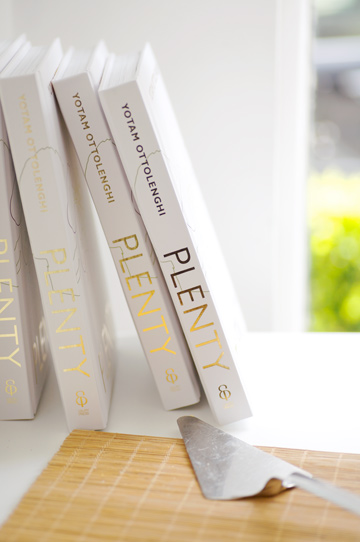 Plenty
21 May 2010
Some of you may remember that I've written about Ottolenghi before. They've been running this fabulous place for eight years now, and I still love what they do.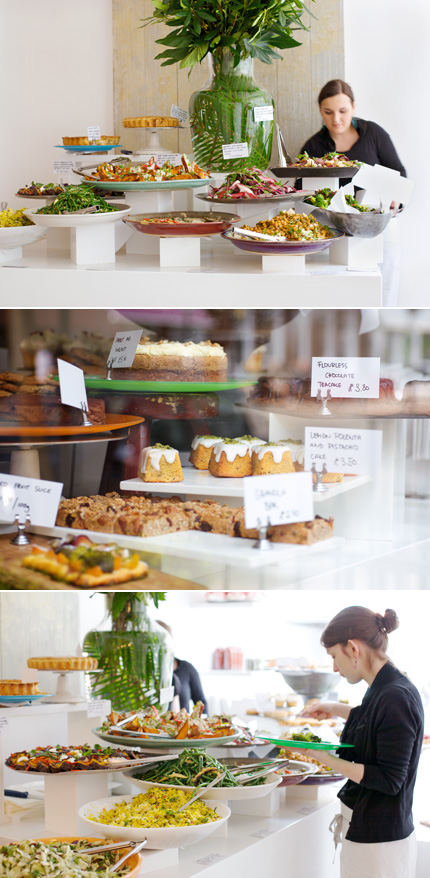 I regularly chat with Yotam, the owner and chef patron, who is always helpful and generous in responding to me bombarding him with dessert questions, where to get special ingredients in London etc. In one of his emails last summer, he told me that he was writing his next book while at his parents' place in Israel (where he's originally from). Having been a huge fan of the first Ottolenghi book, you can imagine my anticipation – and it didn't disappoint me when it finally arrived last month.
Plenty is a collection of vegetarian recipes from his weekend column in The Guardian, The New Vegetarian. The book is beautifully shot by Jonathan Lovekin (who also does Nigel Slater's books), and Yotam has added many new recipes as well as revising all the Guardian ones.
As he confesses in the book, he wasn't so sure about writing a vegetarian column – primarily because he is not vegetarian. But as he says, Ottolenghi has become famous for what they have done with vegetables and grains; for the freshness and originality of their salads, which is what I like most about them too. I'm not vegetarian either, but the recipes are substantial and throughout the book, you can see his bold, fresh approach to the ingredients. (I must say I was a little sad that it doesn't have any dessert recipes, but I'm sure he will make up for it in his next book :))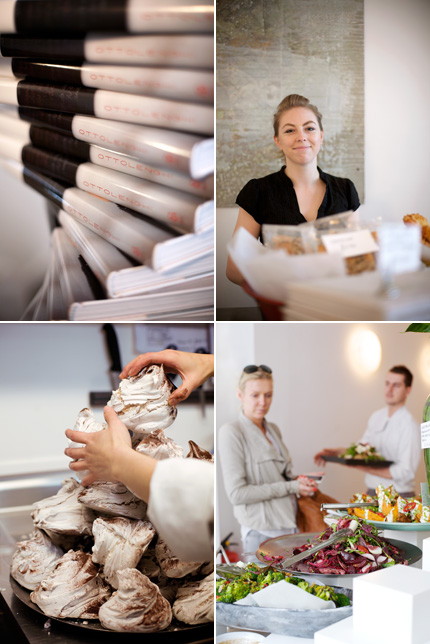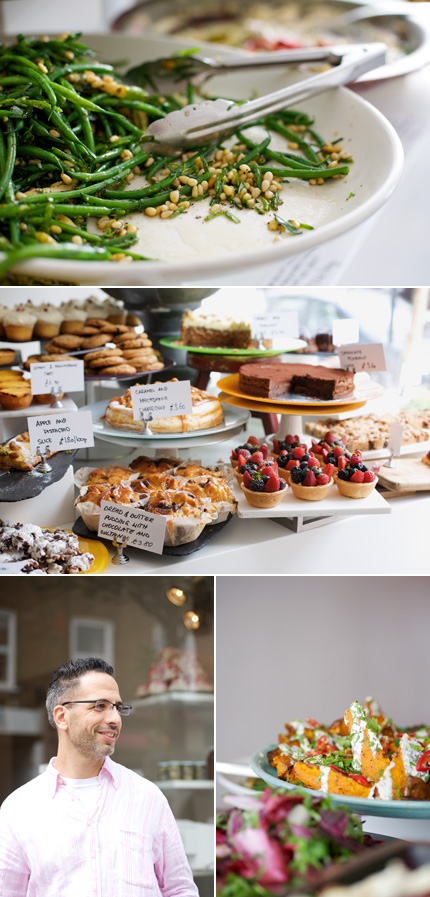 A while ago Yotam had asked me to photograph the restaurant – so I went to see him at their Notting Hill branch (their first and still my favourite) last month. As always, the shop was filled with the aroma of freshly prepared food, and the hustle and bustle of both staff and customers coming and going. We enjoyed lunch together – catching up about his exciting new projects, his recent trips to Japan and Australia – which he seems to have enjoyed very much – and his love of pilates, among many other things.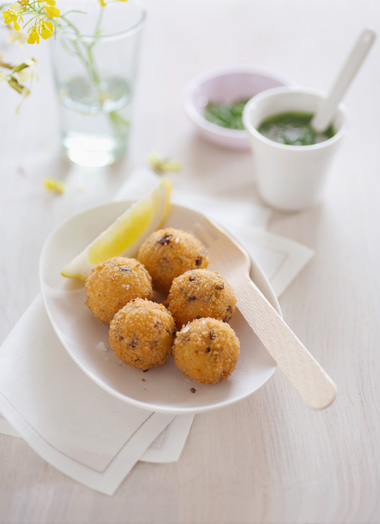 Yotam kindly gave me a couple of recipes that didn't make into the book – one of them I'm sharing here is polenta balls with rocket salsa. He said he likes polenta so much that he's written too many polenta recipes to fit in the book :)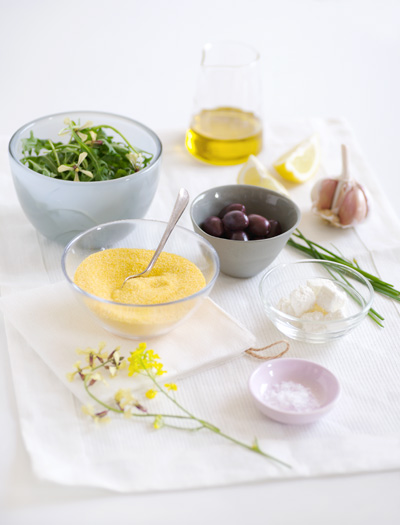 I'm not a big feta cheese fan normally, but it was quite subtle and well balanced by Kalamata olives and the rocket salsa on the side. Perfect for a canape or starter. The recipe suggests shallow-frying them, but I deep-fried in vegetable oil which works as well.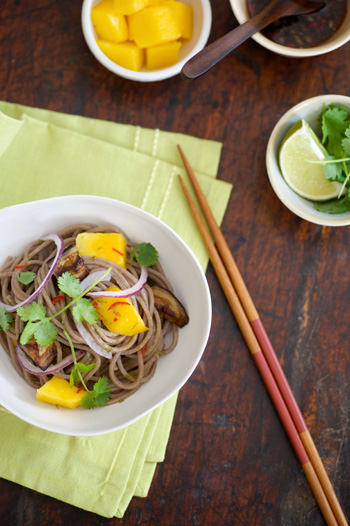 There are many other recipes that I love in the book, but this soba noodle salad is becoming more in demand as the weather is getting summery here in the UK. I'm a total noodle fiend (apparently so is Yotam) and having tried many of his soba recipes, this is one of my favourites. I wasn't so sure about mixing aubergine and mango with soba at first, but it works and it's lovely :)

Polenta balls with rocket salsa
Serves 4–6 as a starter
For the polenta balls
600ml water
140g quick polenta
20g butter
2 tbsp olive oil
50g Kalamata olives, pitted and chopped
4 tbsp finely chopped chives
80g feta, crumbled
2 egg whites
100g panko breadcrumbs (I blitzed old sourdough in the processor)
vegetable oil for frying
salt and black pepper
For the salsa
40g rocket, plus extra to finish
40g parsley
2 tbsp lemon juice
90ml olive oil
2 tsp water
1 garlic clove, crushed
Bring the water to the boil in a medium pot, adding a pinch of salt. Gradually pour in the polenta while stirring with a wooden spoon. Reduce the heat and keep on cooking and stirring for 5 minutes. Off the heat, stir in the butter and olive oil, then the olives, chives and feta. Add salt to taste and lots of freshly ground pepper. Whisk the egg whites until stiff and gently fold into the polenta mixture. Shape into walnut-size balls and toss in breadcrumbs to coat all over. Chill to firm up.
To make the salsa, blitz together all the ingredients in a blender until thoroughly smooth.
When ready to serve, heat up some vegetable oil in a large non-stick pan. Shallow-fry the polenta balls, turning gently to brown all sides. Remove to kitchen paper to drain. Serve warm, or at room temperature, on some rocket leaves with the salsa on the side.

Soba noodles with aubergine and mango
Serves 6
120ml rice vinegar (I use Japanese black vinegar which is milder)
40g caster sugar
1/2 tsp salt
2 garlic cloves, crushed
1/2 fresh red chilli, finely chopped
1 tsp toasted sesame oil
Grated zest and juice of 1 lime
220ml vegetable oil
2 aubergines, cut into 2cm dice
250g soba noodles
1 large ripe mango, cut into 1cm dice or into 5mm thick strips
40g basil leaves, chopped (if you can get some use Thai basil, but much less of it)
40g coriander leaves, chopped
1/2 red onion, very finely sliced
First make the dressing. In a small saucepan gently warm the vinegar, sugar and salt for up to 1 minute, just until the sugar dissolves. Remove from the heat and add the garlic, chilli and sesame oil. Allow to cool, then add the lime zest and juice.
Heat up the vegetable oil in a large pan and shallow-fry the aubergine in three or four batches. Once golden brown remove to a colander, sprinkle liberally with salt and leave there to drain.
Cook the noodles in plenty of boiling salted water, stirring occasionally. They should take 5-8 minutes to become tender but still retaining a bite. Drain and rinse well under running cold water. Shake off as much of the excess water as possible, then leave to dry on a tea towel.
In a mixing bowl toss the noodles with the dressing, mango, aubergine, half of the herbs and the onion. You can now leave this aside for 1-2 hours. When ready to serve add the rest of the herbs and mix well, then pile on a plate or in a bowl.