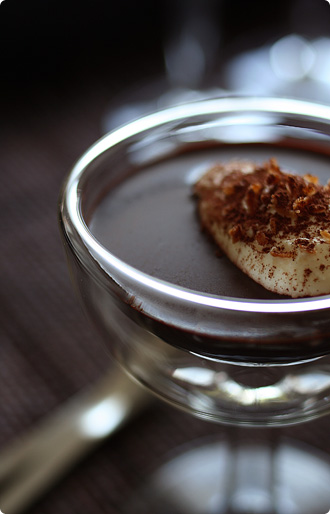 Summer Chocolate and Hidden Garden
1 August 2006
Even though chocolate is something I can't live without, you don't really want a big bar of it in this weather (well some people may do) and these 'cold chocolate' drinks with a little twist are a good way both to cool down and satisfy your chocolate cravings.
I found the recipes in Japanese Elle à Table (no.26) and they are taken from new Jean-Paul Hévin book, Délices de Chocolat (I'm not 100% sure if these recipes are included in the book as it sounds like he made some especially for the magazine. I took a look at his book when it came out but can't remember if those were included…)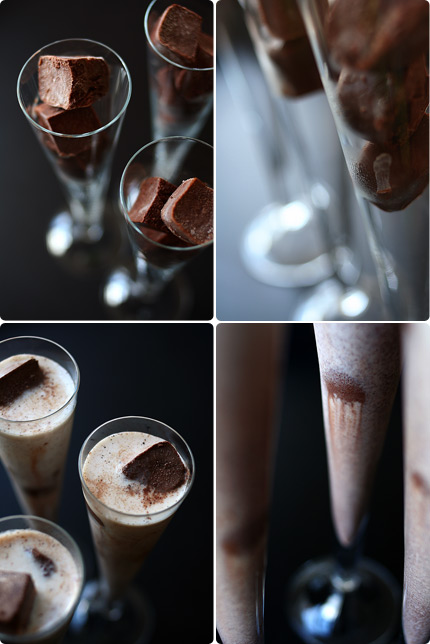 I tried two recipes this time – the first is basically a vanilla flavoured milk drink but the chocolate content is by way of chocolate ice cubes. Tastewise not very surprising (I'm thinking of adding coffee flavour or even spices next time) but you can enjoy the texture – as you drink the milk the ice cubes start melting (they aren't hard like normal ice) and blend in with the milk nicely.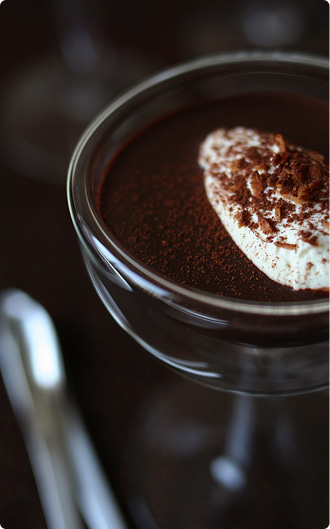 The other one has a tropical twist – adding some banana puree into the chocolate drink as well as coconut milk in the whipped cream; the flavours are quite subtle and I loved the combination. Both recipes are quite adaptable to your taste – so feel free to adjust the quantities, but make sure to use good quality chocolate/cocoa powder and serve them chilled (and preferably in small portions) otherwise they would taste a bit, um, dull :)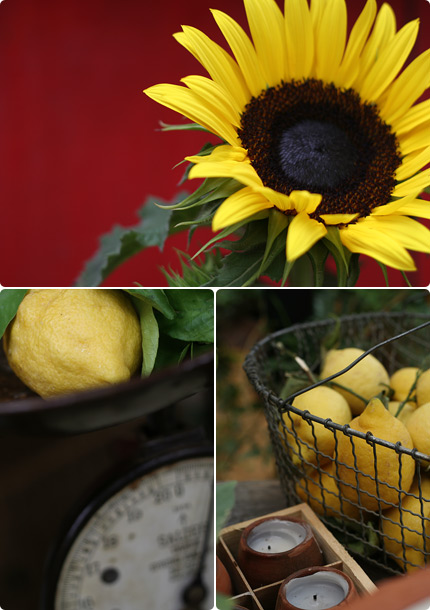 Since we did our garden last year, I've been enjoying growing things – our not-so-big flower bed is getting covered with all sorts of herbs, fruit trees and I'm warming to the idea of growing vegetables in our friend's allotment (under his supervision :)) I was never interested in gardening (and thought I never would be) but it's definitely growing on me and spending time in the garden really lowers my stress level :) I still have a problem every time I stumble upon slugs/snails (or anything else that slithers) but hopefully will learn to live with them one day…
Last weekend I had a lovely time with some fellow food bloggers – Anna and Valentina, they are both very sweet and their blogs are my inspiration. They kindly accepted my rather short notice suggestion of visiting a 'garden centre' for lunch – I've been curious about this place since I read some articles about its restoration a few years back and am glad I finally paid a visit.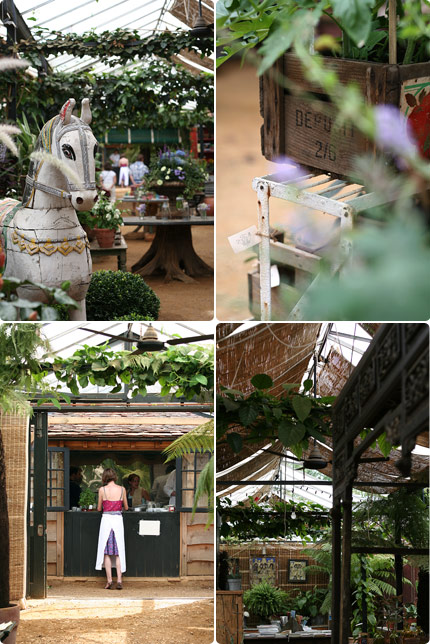 The Petersham Nurseries is in the leafy London suburb of Richmond, set on the grounds of Petersham House, a 17th-century mansion. Italian banker Francesco Boglione and his Australian wife Gael's transformation of this run-down nursery is gorgeous, the huge greenhouses and garden are filled with beautiful things.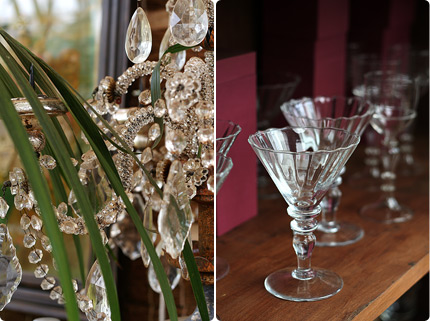 You will find not just loads of plants and gardening paraphernalia, but also lovely furniture, antiques and interior accessories among them – the place itself has a sort of colonial feel, everything on display from exotic Balinese furniture to delicate French glasses makes this place feel even more original.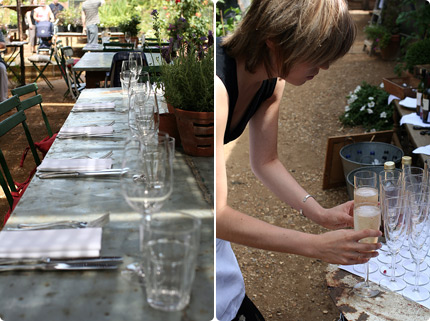 They have a restaurant and cafe which is perfect for an alfresco summer lunch. Unfortunately we couldn't book a table this time (and were told that there was quite a long waiting list), but from various reviews and the menu we checked on the day, I know I would love the Australian chef Skye Gyngell's unfussy food focused on seasonal, fresh local ingredients – most herbs, fruit and vegetables are grown in their own organic garden (you can read more stories in their press page including some of her recipes that she has written for various publications).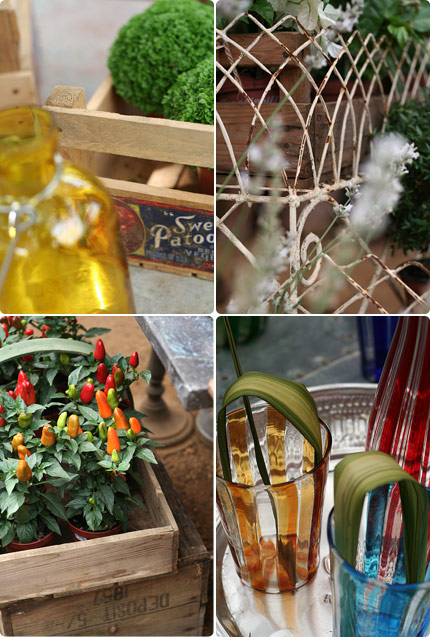 Instead, we enjoyed a long chat with some tea and cakes in the 'tea house' – actually there isn't any specific area, just lots of wobbly reclaimed tables and chairs all around the nursery so you just take a seat wherever you like and watch the world go by. I never thought having tea in a greenhouse would be such a relaxing, fascinating experience :)
This is a place where simplicity and elegance come together, and I'll be going back soon for sure (oh and I had to pre-order her new book :))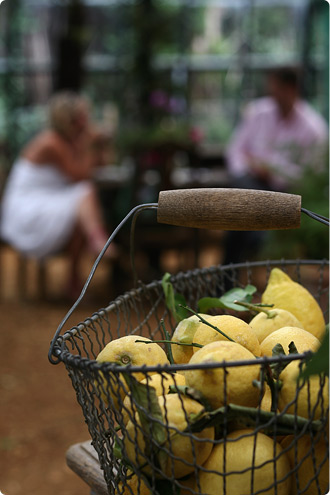 After tea, we enjoyed a walk along Richmond meadow and the Thames (and some local shops in Richmond town) – thanks again, Anna and Valentina, for a lovely day out.
 
Glaçons chocolat d'été
serves 4
for the chocolate ice cubes
200ml milk
50ml water
1 tsp sugar
1 tbsp cocoa powder
70g dark chocolate (finely chopped)
for the vanilla flavoured milk
600ml milk
1 vanilla pod (seeds scraped out)
40g sugar
 
For the chocolate ice cubes, place the milk, water, sugar and cocoa powder in a pan and bring to the boil. Take from the heat, add the chocolate and leave to melt. When cool, pour into ice cube trays and freeze.
For the milk drink, place the milk, vanilla pod & seeds and sugar in a pan and bring to the boil. Set aside and cool, then chill in the fridge (preferably overnight).
To serve, place the chocolate ice cubes into the glasses and pour the milk over. You can serve with some whipped cream and shaved chocolate on top if desired.
 
Chocolat des îles
serves 4
for the chocolate drink
500ml milk
90g cocoa powder
60g sugar
50g banana puree
for the coconut cream
120ml double cream
30ml coconut milk
10g sugar
shredded coconut (lightly roasted)
cocoa powder
 
To make the chocolate drink, place the milk, cocoa powder and sugar in a pan and bring to the boil. When everything has blended, take off from the heat, cool in ice cold water and chill in the fridge.
Whip the cream and sugar lightly in a bowl and add the coconut milk.
Add the banana puree into the chilled chocolate mixture. Pour the chocolate into glasses, top with the coconut cream, and finish with the lightly roasted coconut dusted with a little cocoa powder.