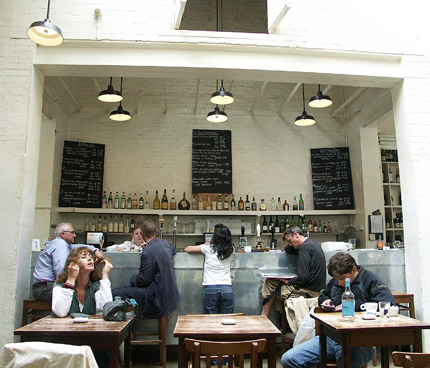 Lunches with Food Bloggers (from all over the world)
3 June 2005
I know it's been almost a month since I joined a London food bloggers' lunch – it may be too late for a blog post, but I wanted to mention it as it was a wonderful opportunity to meet some of the great 'local' food bloggers in person. Although I don't live in London any more, Johanna of The Passionate Cook kindly asked me if I wanted to join and I'm so glad I did!
The people who made it on the day were:
Johanna of The Passionate Cook (she kindly provided her lovely place)
Jeanne of Cook Sister!
Celia of English Patis
Jenni of Pertelote
Meg of Though Small, It Is Tasty
Andrew of Spittoon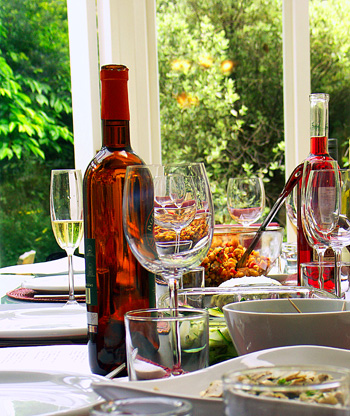 I'm not going into details here as other people have made wonderful posts about it already. They've got nicer pictures than I took and needless to say their writing is much more entertaining than mine, so please visit their sites for details.
I must just say that I had a wonderful time (and great food and wine of course!) – their knowledge/passion about food/wine was just incredible and was really fascinating! I'd like to thank Johanna and Jeanne especially as they planned this get-together and worked hard organising things. I'm looking forward to the next meeting which apparently is taking place by the Thames enjoying the Henley Regatta... Sounds perfect for spending a summer afternoon, I just hope we'll have good weather…
Oh, I almost forgot to post the recipe for the creme brulee – which was one of the desserts I made for the lunch. I wanted to make something more adventurous but thought it was the kind of thing that everyone can enjoy.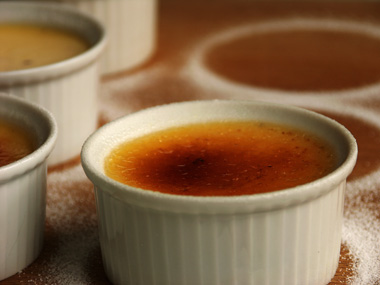 Creme Brulee
Serves 6-8
750ml double cream
1 vanilla pod
130g caster sugar
8 egg yolks
Light brown sugar or icing sugar for the glaze
 
Preheat the oven to 130 degrees C.
Pour the cream into a saucepan. Split the vanilla pod, scrape the seeds into the cream and add the pod too. Bring the cream to the boil then take off the heat and leave to infuse for about 5 minutes.
Mix the egg yolks and sugar in a bowl until pale (don't beat). Slowly pour the hot cream over the egg mixture, whisking all the time.
Strain through a jug and skim away any froth on top. Pour into the ramekins. Place the ramekins in a roasting tray and cover them individually with foil. Pour boiling water into the roasting tray to about halfway up the outsides of the ramekins.
Bake for about 1 hour, or until the custard is just set and still a little wobbly in the middle. Remove from the tray and leave to cool.
When they are ready to be served (you should chill the custard in the fridge at least for a few hours, preferably overnight), sieve about 1 teaspoon of icing sugar or light brown sugar (if you are using brown sugar, you need to powder it in the food processor) very thinly and caramelise with a blowtorch. Repeat this process at least two more times to give it a lovely crunchy top.
I personally prefer using light brown sugar – it has a stronger flavour and I think it works really well with the vanilla custard. You can caramelise the sugar under a hot grill, but it won't give as nice a finish as with a blowtorch. It is worth having it even just for making créme brulee!
  
Last week, I had another chance to meet up with a fellow food blogger in London who came all the way from Japan (well, she didn't just come to see me obviously, she was on holiday travelling around Europe. We've known each other almost two years and have met in London before, but not in Japan – what a shame!) We went to St. John in Smithfield for lunch – I regularly go there to get bread (they don't have many varieties but what they have is pretty good) but had never eaten before.
The place was packed with business people from the City – after ages trying to choose what to have, we decided to share the famous roast bone marrow & parsley salad, followed by roast guinea fowl and courgette for Chika and poached skate and leeks with aioli for me. We both enjoyed the bone marrow on toast – although it was a little oily and by the time the cheerful waiter had brought our main dishes, we felt almost full…
The skate wing was really nice – meaty and flavoursome – goes well with the really garlicy aioli and nicely cooked leeks. The guinea fowl, on the other hand, was OK but we both thought it a little bland.
We did enjoy the meal, but couldn't help feeling that it was a bit overpriced (even knowing that we were in London) and wasn't as special as the media says. Still, I love the buzz and unpretentious interior :) The portions for the main dishes are quite big so if you'd like to try desserts too (which we couldn't) you might need to be starving before you go!
The picture on top is the bar area in the restaurant.