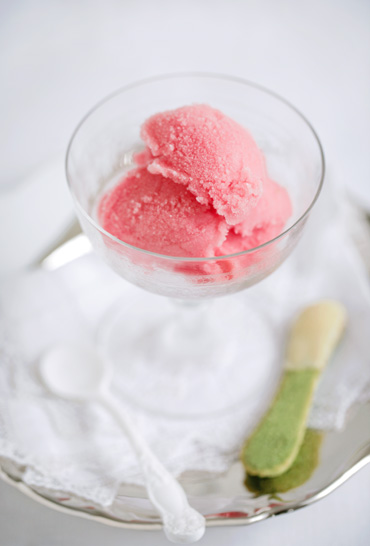 Seville and Blood Orange Sorbet with Sichuan Pepper
3 February 2011
I know the first month of the year has already gone, but I hope all of you had a great start to the year. I've been working on some exciting projects, and winning this gorgeous selection of pieces must be an indication of more good things to come :) Thank you Nikole!
We are still only half way through the gloomy British winter, but I can definitely feel spring in the air, and early January when these beautiful oranges start appearing makes me feel we've turned the corner.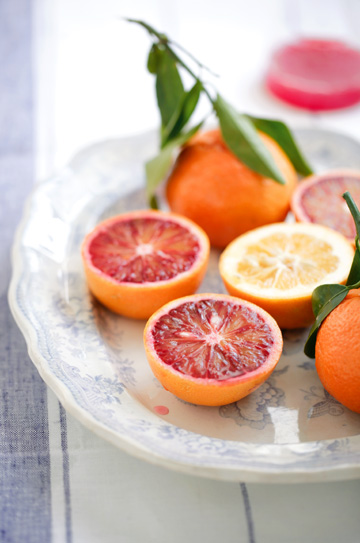 I've written how much I love Seville oranges before, and making this sorbet has been an annual ritual. I recently spotted some beautiful blood oranges too and couldn't help trying a recipe that combines them.
Browsing through my ice cream bible, David's Perfect Scoop, I was intrigued by his orange and Sichuan pepper ice cream recipe. I love Sichuan peppercorns (although they are technically berries) – they are fragrant and not overly spicy, the citrussy flavour seems to work well in many dishes, and one of my recent favourite recipes is Nicky's 3 pepper spaghetti carbonara.
David infuses the pepper and orange zest in ice cream, but I wanted to try the flavour in a sorbet. He suggested I use Tangelo instead of Seville oranges as it has much more juice – unfortunately I couldn't get hold of any, and by the time he told me I already had 5kg or so of oranges in the house so I decided to stick with them.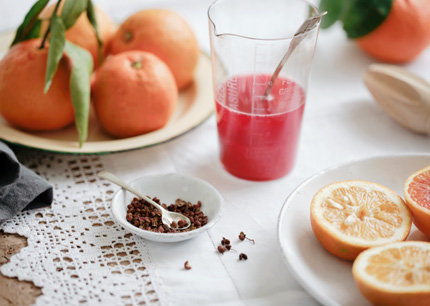 It was my first time to use Sichuan pepper in a sweet dish so I went a little easy on them, and it turned out perfect for my taste. I loved the subtle kick in the aftertaste, and the balance of tartness between the two types of orange.
I made some matcha Langues de Chat biscuits ('cat's tongues' in French, similar to tuiles) to go with it – I remembered that it was lovely when I served this matcha and white chocolate cake with Seville orange sorbet. I dipped some of the biscuits in white chocolate, but they are delicious as they are too.
I used the same amount of juice from both oranges, but you can use just one type, or different proportions. Just make sure to adjust the sugar quantity as Seville oranges are much more tart than blood oranges.
I'm hoping to make another couple of batches before the oranges are gone for another year – I always try to make enough to keep for a while, but they never last long in our freezer.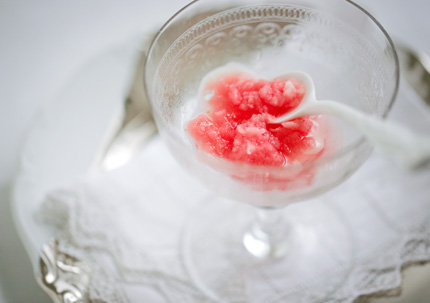 Seville and blood orange sorbet with Sichuan pepper
serves 4-6
125ml juice of blood oranges
125ml juice of Seville oranges (as well as zest of 1 orange)
120g caster sugar
200ml water
1 teaspoon of Sichuan peppercorns
Roughly crush the peppercorns in a pestle and mortar. Place the sugar, water, peppercorns and zest in a saucepan over a moderate heat, bring to the boil and simmer for about 15 minutes until syrupy. Steep for about an hour or so.
When cool, add the orange juice and strain the liquid. Chill the mixture in the fridge, then churn in an ice cream machine according to the manufacturer's instructions.

Matcha langues de chat (adapted from this Japanese recipe)
makes about 40-50
100g unsalted butter (softened)
100g icing sugar
100g egg white (about 2 large whites, room temperature)
5g matcha
70g plain flour
30g ground almonds
a pinch of salt
Preheat the oven to 180ºC .
In a bowl, beat the butter and sugar until pale and fluffy.
In a separate bowl, whisk the egg white with a pinch of salt just until it starts foaming.
Slowly add the egg white into the butter mixture, stirring it in as you add.
Sieve the matcha, then flour and ground almonds into the mixture, and gently mix.
Transfer the batter into a pastry bag fitted with a plain tip. Pipe the mixture onto a baking sheet, leaving enough room between the strips for them to spread.
Bake for 5-6 minutes, or until the edges are just slightly brown. Cool on a wire rack and store in an airtight container.