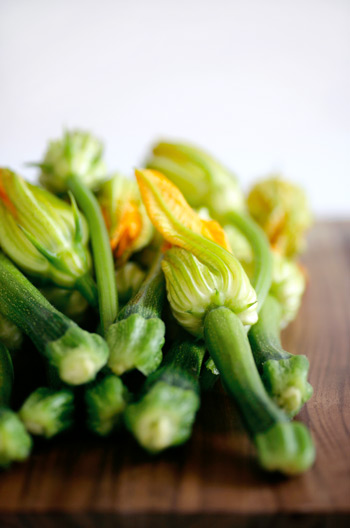 A Taste of Yellow (and A Little Bit of Orange)
11 September 2009
This is my entry for this year's Live Strong with A Taste of Yellow that my dear friend Barbara is hosting. The event is to support the Lance Armstrong Foundation in aid of cancer awareness. As you know already if you are a reader of Barbara's blog, she recently finished her chemotherapy treatment – it was wonderful to read her come back post celebrating with her favourite champagne. I know Barbara is a very positive, strong person, but I can only imagine what it must be like – she has been my hero in many ways and I really look forward to meeting her one day.
This great event is to increase awareness by way of cooking something yellow – the deadline is 18th September – so you still have some time to take part (and I'm sure Barbara wouldn't mind if you are a little late :)).
I made a couple of desserts with ginger last year; this time I ended up making a couple of savoury dishes as well as a dessert. I admit that my creations here are leaning more towards orange than yellow, but hopefully Barbara will approve of them :)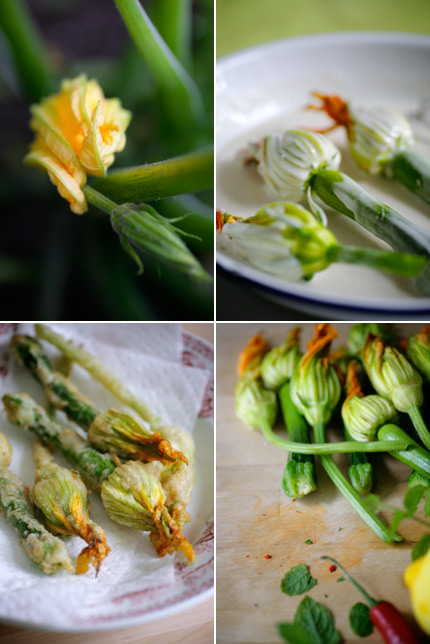 Crispy courgette flowers stuffed with ricotta and mint
I'm not a big fan of deep fried food normally, but these crispy stuffed courgette (zucchini) flowers, a kind of Italian version of Tempura, has always been my favourite. A month ago or so, I was asked by a friend to take some pictures of those flowers. We grow courgettes in our allotment, and I did manage to shoot them, but despite me enjoying eating the flowers, I never actually cooked them myself as we grow a small amount and only have a couple of flowers at a time.
But when we visited a PYO (pick your own) farm with our friends recently, we found loads of courgette flowers so I decided to dust off our deep fryer :) Many British people wouldn't even think about eating these beauties (and if you find them at Borough Market, they are sold for more than £1 each!) – it's a real shame because they have such a gorgeous, delicate flavour.
You can find many different recipes for the stuffing – I tried one from this book which uses ricotta, chilli, mint and lemon zest – it's light and mild and I liked it, but you can use mozzarella (anchovies go well with it) or add some parmesan, or some nuts for an extra texture. Play around a bit and find your favourite :) I liked the batter recipe that Jamie suggested though – it uses white wine instead of water, I wasn't so sure until I tasted it, but it was lovely!
You can use other flowers like pumpkin or squash too, and even if you can't get hold of the flowers, you can still use the batter to fry courgettes. Make sure to eat them as you fry them, although I don't think you will be able to resist very long :)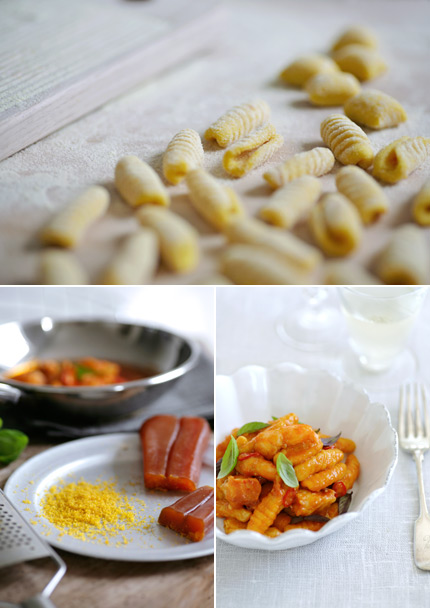 Malloreddus with prawns and bottarga
Another yellow dish I tried is saffron infused pasta called Malloreddus – I was intrigued to try out the flavour, and of course saffron lends a beautiful yellow colour to the dough. I love saffron both in savoury and sweet dishes – I was given some gorgeous 'threads' by my friend Alastair a while ago, so I was looking forward to using them.
When I found out that Malloreddus was a Sardinian speciality, I asked our friend Stefano, who is from Sardinia and our trusted Italian food purveyor, about what sauce he would recommend. The most common way to serve this pasta is in tomato sauce with sausages (called Salsa alla Campidanese), but I wanted to pair it with something a little lighter – Stefano suggested that these days in Sardinia it's very popular with Bottarga – which made up my mind for me, and bottarga has a gorgeous yellow colour when you grate it :)
Bottarga is cured fish roe normally from grey mullet (although sometime tuna) and I always have some in my pantry. It's not cheap, but just grating a little on pasta or salad, instantly gives it a taste of the sea. We have a very similar thing called Karasumi in Japan- I remember my father used to eat thin slices as Tsumami when I was a kid – I never understood why he thought it was a 'delicacy', but now I'm old enough to appreciate its acquired taste…
Back to the pasta dough – Malloreddus is short ridged pasta made with semolina flour – it looks like a little worm and you can buy it with saffron or without. It's made in a similar way to orecchiette, by rolling a small piece of dough as you press it – Stefano told me that you would use a gnocchi board to make the ridges, which I didn't have – then I came up with the brilliant idea of asking Matthew to rustle up something similar :) He is a techie by day, but really enjoys woodworking and has made some beautiful furniture for our house and some of our friends. (and our little garage is completely packed with his woodwork tools!)
I sent him some info about the gnocchi board and he came back with a nice looking little oak strip with lots of grooves on it – I'm not entirely sure if I did a good job working on the pasta, but after some experiments, my little worms started shaping up more consistently and um, vermiform :)
I first made a batch with bigger pieces than I suggest in the recipe below, but they were just too big and thick so it's better to go smaller – you need to experiment a little, but hopefully my picture gives you an idea. You can't really see it in my pictures, but I loved the beautiful red threads of saffron you can see in the dough.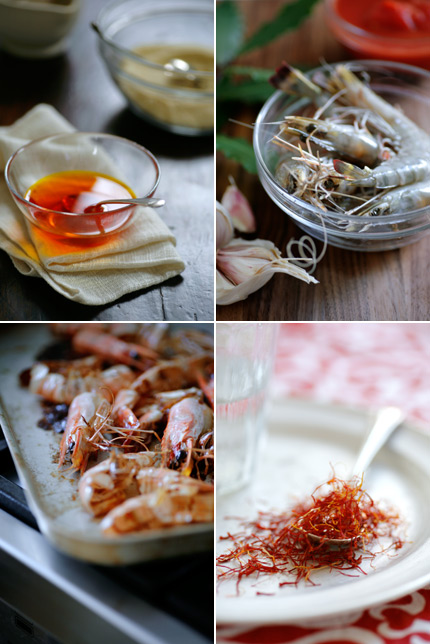 I adapted this sauce recipe, and it turned out great. It's very similar to how I normally prepare seafood tomato sauce – roasting the prawn shells gives a deep, sweet flavour (I wrote about it here a while ago). You should always buy with shells attached – they have much more flavour than just buying peeled.
The prawn and tomato sauce was delicious enough to serve on its own, but adding bottarga transforms it into a seafood delicacy. I thought it almost tasted like sea urchin pasta – rich and velvety, I absolutely loved it :) I could nicely taste the saffron in the pasta too, although this sauce is equally delicious with dried pasta as well.
I've earmarked a couple of bottarga recipes in my favourite book, A16 Food+Wine (I still regret that I didn't make it to the restaurant when I was in San Francisco a few years ago), will report back when I try it out next time!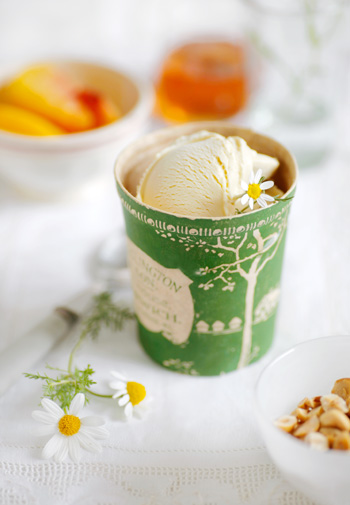 Camomile and honey ice cream with hazelnuts and macerated nectarines
Last but not least, my favourite dessert, ice cream :) This may not be an obvious yellow food – but for me, the gentle colour of custard is a lovely warm yellow.
I found the recipe in The Big Sur Bakery Cookbook – I first learnt about Big Sur on Heidi's blog, then when she wrote about this book, I just had to get a copy straightaway. I've been lucky to work in Los Angeles a few times in the last few years and my friends including Matt and Adam kindly took me to some of the most beautiful places in the surrounding area. Before my first visit, I didn't even know California was bigger than the whole of Britain (!) – but I really enjoyed every visit and I would love to travel around one day – and visit Big Sur and this beautiful restaurant too.
The book is lovingly written with lots of personal touches – the sort of cookbook that you'd enjoy reading at bedtime. I was intrigued by their story about when they decided to leave LA to open the bakery in one of the most rural areas, and their slightly eccentric English friend and neighbour too :)
There are many recipes I'd like to try, but I chose the ice cream recipe this time because a) I just can't help it when I find a new ice cream flavour, b) I saw my little camomile in our garden blossoming when I read the recipe :) I just love the smell of these cute little flowers, it's very soothing and refreshing.
Their recipe is actually for an ice cream terrine, but I went for the easy option by just making ice cream. I was slightly worried that the honey might overpower it, but the refreshing flowery flavour from the camomile balances out really nicely. It's great with some chopped hazelnuts sprinkled on top, and some macerated nectarines/peaches alongside. It has certainly made me miss the fading summer even more…
OK, I should go now – but please let me remind you again that the deadline for A Taste of Yellow is 18th September – I hope you can join, and have fun cooking yellow inspired food!
Oh and I know I'm very late in the game, but I've finally started twittering – it may take me a while to get the hang of it, but let me know if you are on it too!

Crispy courgette flowers stuffed with ricotta and mint
Serves 3-4
8-10 courgette flowers, with courgettes still attached
For the stuffing
150-200g ricotta cheese (best you can find)
1/4 of a nutmeg
A small handful of freshly grated Parmesan cheese (optional)
Grated zest of 1 lemon
A bunch of fresh mint, leaves picked and finely chopped
1-2 fresh red chillies, deseeded and finely chopped
150g self-raising flour
300ml white wine or sparkling water
Vegetable oil for frying (my favourite is ground nut oil)

Mix all the ingredients for the stuffing in a bowl. Season with sea salt and freshly ground black pepper.
To make the batter, place the flour in an bowl with a good pinch of salt. Pour in the white wine and whisk until smooth and thick. The consistency should be similar to double cream.
Gently open up the courgette flowers and snip off the stamen inside (they taste bitter), you don't need to wash them but inspect them for any creatures (I had to evict some ants!)
Carefully fill each flower with the ricotta mixture – you can use a small spoon, or pipe it in with a pastry bag. Press the flowers back together and twist a little to seal.
Fill a saucepan with vegetable oil to about 10cm deep – make sure to choose a big deep pan or of course a deep fryer if you have one. Heat up the oil to around 180ºC – drop a little batter in, and if it comes back to the top sizzling after a few seconds the temperature should be about right.
Dip the courgette in the batter and let any excess drip off. Carefully place them into the oil away from you being careful not to overcrowd the pan. Fry until crisp and nicely golden then drain on some kitchen paper. Sprinkle with a pinch of sea salt, finely chopped chilli, mint and a squeeze of lemon if you like – serve immediately.

Malloreddus with tiger prawns and bottarga
Serves 2-3
For the pasta
200g Semolina flour
100ml hot water
1/4 teaspoon saffron
A good pinch of sea salt
For the prawn stock
6 large tiger prawns, shells removed and reserved, intestinal tract removed
2 tablespoons olive oil
1 carrot, roughly chopped
1 brown onion, roughly chopped
1 stalk of celery, roughly chopped
2 cloves garlic, roughly chopped
3 tablespoons white wine
300g tinned whole tomatoes
4-5 stalks basil
300ml water
2 fresh bay leaves
5-6 whole black peppercorns
To Serve
200g malloreddus
1 tablespoon olive oil
2 cloves of garlic, finely chopped
1/2 red chilli, thinly sliced
1 stalk basil
10g butter
Bottarga, to taste

For the pasta, grind the saffron in a pestle and mortar. Add the hot water and leave to infuse for 15-20 minutes. Place the flour and salt in a big bowl, making a well in the centre and pour into the saffron water. Mix until roughly combined, then knead for about 10 minutes until the dough becomes elastic and silky to touch. Cover the bowl and rest at least half an hour at room temperature.
On a lightly floured surface, roll the dough into a cylinder about 1cm in diameter. Cut into 1cm pieces,
and roll on a gnocchi board (or you can just roll on a flat board or use a fork to give it the ridges.
For the sauce, make the prawn stock first. Preheat the oven to 180ºC. Place the prawn shells on a roasting tray, sprinkle with a tablespoon olive oil then roast for about 10 minutes.
In a saucepan, heat a tablespoon of olive oil and add the chopped carrot, onion, celery and garlic, cook for about 10 minutes until slightly softened. Add the prawn shells in the pan. Pour the white wine in the roasting tray and scrape all the goodness into the pan too. Turn up the heat and reduce the wine slightly. Add the tomatoes and basil stalks and cook for about 5 minutes until thick, then add the water along with 1 teaspoon of sea salt (be careful not to over season at this point as bottarga is quite salty), bay leaves and peppercorns. Simmer for about 40-45 minutes until thicken (reduced by 1/3), skimming the foam off the surface.
When it's ready, strain through a fine sieve pressing hard so as not to waste any tasty bits. Discard the solids.
Cook the pasta in a large pan of salted water until al dente (it depends on the size of the pasta, but it should be around 7-8 minutes).
While cooking the pasta, heat the olive oil in a frying pan, add the garlic and chilli and cook until soft. Add the prawn stock and basil stalk, simmer until thickened. Cut the prawns into 2cm pieces, then cook in the sauce for a couple of minutes. Add the pasta to the sauce, melt the knob of butter in, and grate some bottarga and mix well. Serve with some fresh basil leaves sprinkled on top.

Camomile and honey ice cream
4 large egg yolks
140g honey
300ml whole milk
300ml double cream
4-5 camomile tea bags
Hazelnuts
Ripe nectarines/peaches

Preheat the oven to 180ºC. Place the hazelnuts on a baking tray and roast them in the oven for about 10 minutes or until they are golden. Shake the tray a few times to insure they are evenly roasted. Chop them roughly.
Place the milk, cream and honey in a saucepan and bring to a simmer. Remove from the heat, add the camomile tea, and let it steep for about 10-15 minutes. Take out the bags (or strain through a fine sieve into a bowl if you're using loose tea, then return the mixture to the saucepan) and discard them.
In a bowl, whisk the egg yolks until pale. Bring the milk mixture back to a simmer, then pour into the yolks, stirring constantly. Place the mixture back in the saucepan and put on a low heat, constantly stirring with a wooden spoon until the custard thickens and coats the back of the spoon. Strain into a clean bowl, cool over ice-cold water then chill the mixture in the fridge. Churn in an ice cream machine according to the manufacture's instructions.
Just before serving, slice the fruit and place in a bowl, sprinkle with little sugar and leave for 10 minutes or so to macerate (if your fruit is very ripe, you may not need to bother to do so). Sprinkle the chopped hazelnuts on top of the ice cream and serve with the fruit.