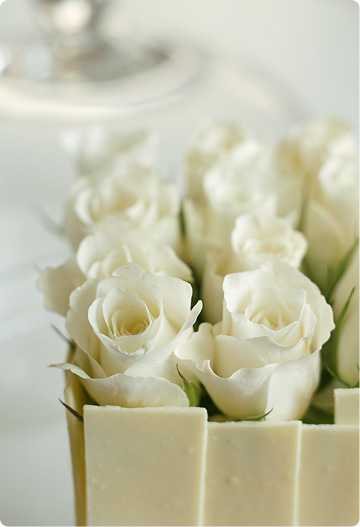 Pretty in White
18 January 2006
Having been asked to make cakes for a couple of friends' birthdays, I've been looking for some suitable dessert recipes. Something delicious of course, but being a visual person, looking pretty (and befitting celebrations in this case) is also important to me. Most people may like vibrant coloured desserts, as do I – but I have a penchant for white… I'm pretty sure I'd choose white as my favourite colour if I had to. Therefore, this cake, found in Donna Hay magazine (issue 21), appealed to my, um, blancophiliac tendencies straightaway.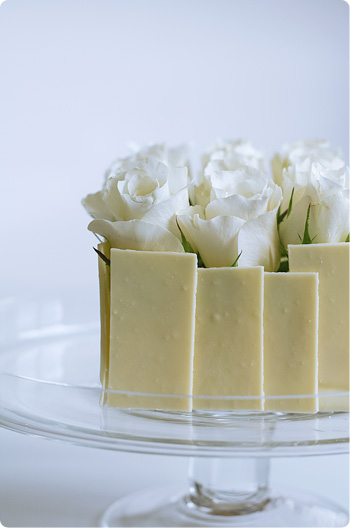 The cake has not only the white roses on top, but also white chocolate sheets on the side, and the cake itself has white chocolate in it too. The recipe was very simple, similar to making pound cake – melt butter, milk, sugar, vanilla and white chocolate together, then add eggs and flour (and bake). When cool, spread whipped double cream all over and 'build' the walls up with chocolate sheets (it's good fun). I felt a little guilty cutting the rose stems that short, but the finished cake had lovely shades of white and I was happy with how it looked.
However, although the cake tasted fine, I found it a little too sweet and heavy (even though I added less butter and chocolate than suggested in the recipe). I still love the look of this cake but I think I'll need a lighter, possibly more interesting flavour to match this pretty deco. So I'll try to post a recipe when I find one I like, but meantime please let me know if you have any suggestions.