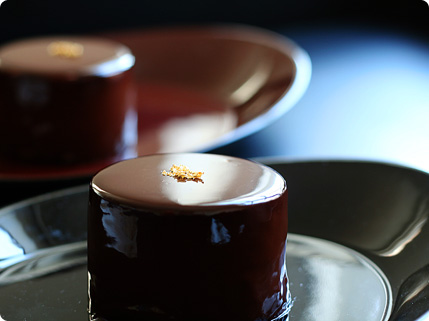 Ambroisie and Bay Leaf Creme Caramel - SHF#12
17 September 2005
As much as I appreciate Jennifer's great idea of SHF, I'm grateful to Elise at Simply Recipes for choosing custard for the theme this month – because I'm a real custard fiend! Getting fresh eggs, milk and cream at a farmer's market on Saturday mornings, cooking up creme brulee, creme caramel or vanilla ice-cream is a kind of weekly routine for me, we've always got something custardy (and loads of leftover egg whites) in our fridge.
I had trouble choosing what to make, but in the end I only managed to try these two desserts. One of them is yet another entry from the Hidemi Sugino book – I've found so many interesting recipes in this book and I'm afraid there will be lots more similar looking desserts coming up… This cake may not look like it involves custard, but beneath the chocolate glaze, it has a custard-based pistachio mousse, chocolate mousse, raspberry jam and pistachio and almond sponge as a base. It's called Ambroisie and is supposed to be his signature dessert – although I haven't actually had this cake yet, I've always wanted to try making it. I was supposed to use 'proper' pistachio paste but couldn't really afford it – so ended up making it myself from whole nuts. I used a normal food processor and although the colour of the paste wasn't as green/nice as I hoped, it turned out really nice as the mousse and the sponge. I'm not mad about the combination of chocolate and fruit in general, but I must say it was much better than I thought – the two rich creamy mousses with the raspberry flavour were delicious!
In the recipe, you make chocolate sponge as well as the pistachio sponge, but um, I couldn't be bothered making two different sponges this time… After pouring the shiny glaze, I was also supposed to stick some thin chocolate plates around it, but again I skipped that bit too… but it still tasted good :) I'd love to try making this with proper pistachio paste some time, though.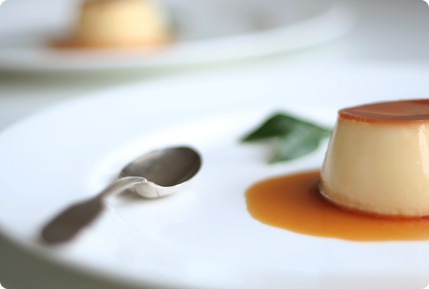 I found this creme caramel recipe in Claudia Fleming's The Last Course – I was hooked as soon as I saw it. It's not just that it sounded intriguing but it was also a perfect excuse to use some fresh bay leaves from our garden. I've only started growing herbs this year, but all of them have been doing well and we've been enjoying them so much (and saving money too!) Infuse the milk with the fresh bay leaves instead of vanilla – and cook it just like a plain creme caramel. The recipe suggests using half milk and half double cream, but I like creme caramel just using milk so I adjusted it. The result was amazing, I was so impressed how well this combo works together. I normally prefer dark caramel, but for this recipe I think that a lighter caramel flavour works better in order to taste the subtle spiciness of the bay leaves. As she suggests in the book, you wouldn't get this clean flavour from dried leaves – so make sure you will use fresh ones.