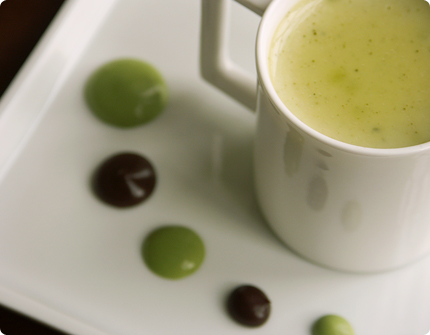 Green Tea and Vanilla Panna Cotta with Chocolate Sauce
1 April 2005
This is delicious and dead easy to make! I don't drink green tea as much as I should (I say this because I am Japanese and that green tea is good for you), but I really like it when used in desserts or cooking.
I've made some desserts with green tea and all of them were pretty good (my favourite is green tea ice cream). I saw this recipe in Delicious magazine a while ago – it's Jamie Oliver's and he says that it's got to be one of the best combos he's tasted in the past 10 years. I wouldn't go that far, but I agree that green tea and chocolate go really well together. I don't make panna cotta very often because it's a little too creamy for me, but this one works well with the bitterness of the green tea. Also you make this with milk and cream (rather than just cream) so it's not as heavy as normal ones.
I'm lucky to have some matcha (or maccha) at hand which my mum kindly sends me (she teaches tea ceremony). Matcha is powdered green tea, normally from better leaves, so can be quite expensive.
As you can see from the picture, the colour of the panna cotta is a bit yellowy, that's because green tea changes its colour when it's cooked (I've used matcha specially made for cooking so that it keeps its vivid colour). In this recipe, Jamie suggests just using tea bags or normal loose tea (not ground ones) to flavour and I'm sure that would work just as well as matcha.
I made matcha sauce (matcha and double cream) along with the chocolate sauce (I thought it might look pretty!), it works well as long as you don't have too much of it!
Makes 4
100ml milk
1 vanilla pod, split and seeds removed
3 green tea bags or 2 heaped tablespoons of green tea
350ml double cream
1 1/4 leaves of gelatine, soaked in water
70g icing sugar
30g caster sugar
150ml water
1 level tablespoon cocoa powder
100g dark chocolate, broken into pieces
Put the milk, vanilla pod and seeds, tea bags or tea and half the cream in a small pan and slowly simmer for about 10 minutes until reduced by a third. Remove from the heat and extract the tea bags (put the mixture through a sieve if you've used loose tea or you tea bags have burst). Squeeze out the gelatine, discarding the soaking water, then stir the gelatine into the tea mixture and leave to dissolve. Allow to cool a little, then place in the fridge, stirring occasionally until the mixture coats the back of a spoon. Remove the vanilla pod.
Whip together the icing sugar and the remaining cream. Mix the two cream mixtures together. Divide into four metal moulds (small glasses or cappuccino cups also work well). Cover and chill for at least an hour.
Meanwhile, place the caster sugar, the water and the cocoa in a small saucepan and bring to the boil. Take off the heat and stir in the broken chocolate. Stir until dissolved and warm briefly before serving.
To serve, sometimes I dip the mould or cup into some simmering water to loosen the panna cotta, then turn it out on to a plate and spoon the chocolate around it, or – especially if you feel the mixture is a bit wet – you can simply serve the dessert in its cup with chocolate sauce poured over the top.