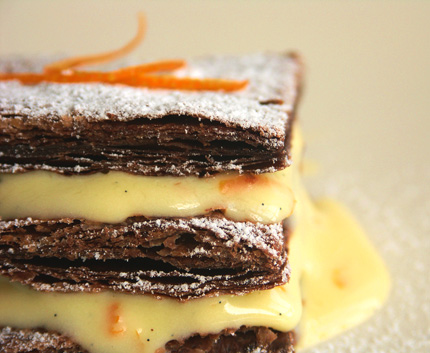 My First Dessert from Hermé Recipes - SHF#5
21 February 2005
By the time I found out that the theme of the 5th Sugar High Fridays was puff pastry, I was too late, having missed the closing date already! Even so, I wanted to try a new dessert and coincidentally it was puff pastry so I decided to give it a go anyway. Clement of A La Cuisine! – the host of the SHF5 (and who also makes the most elegant desserts) – kindly added my late entry to the round-up. There were almost 30 participants and it was a great success – I really enjoyed other people's elegant and original creations.
I bought the book Chocolate Desserts by Pierre Hermé more than a year ago. However, I was a little put off by the fact that there weren't very many pictures in it (I'm a visual person!) and the layout was kind of odd so I put the book back on the shelf like so many other books!
I'm a big fan of his desserts and since I started this blog, I thought this was a good time to try some recipes out. I remembered a beautiful shot of chocolate puff pastry from one of the few pictures in the book and decided to make that. I used to make plain puff pastry, but because Matthew doesn't like puff pastry at all, I never tried since I came to Britain.
According to Mr Hermé, this is the 'photographic negative' of the chocolate-filled mille-feuille – ie plain puff pastry and chocolate filling. It sounded intriguing! I wasn't sure if it was going to work when I was rolling the pastry out (although I really liked the sweet smell of chocolate from the dough, I used Valrhona cocoa powder this time), but it turned out quite well, except for the fact that I made the filling too soft – as you can tell from the picture, it all oozed out like lava even before I put my fork in! Still, the bitter, flaky and buttery pastry goes well with the orange-infused vanilla custard, with lots of icing sugar on top.
After trying this recipe, I realised that the book wasn't so bad after all and I'm sure I'll be trying some more recipes in the future…