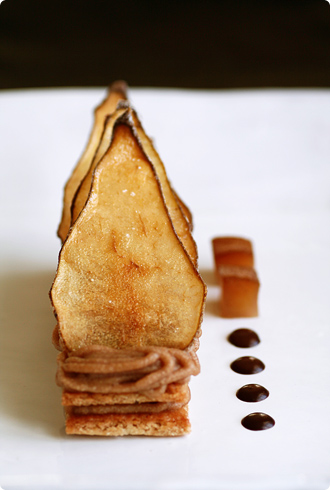 Mont Blanc with Poached Pear
5 January 2007
I hope you all had a lovely holiday (and are happy to be back to work :))
I must admit that I haven't got round to trying many new recipes over the last couple of months, but this is one of the desserts I made over Christmas – I always look forward to trying chestnut recipes when the autumn arrives, but didn't get a chance to until December this season. I've posted about a couple of chestnut desserts here and here, and this time I tried Mont Blanc with poached pear and chocolate sauce from a beautiful book, Season to Taste by Liam Tomlin.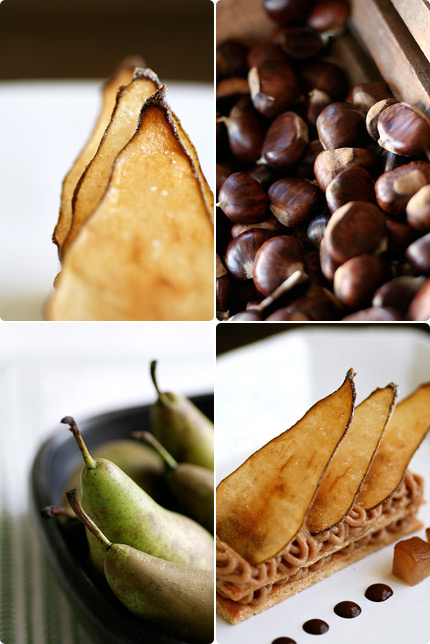 Although all the components were simple to make (and you can make them in advance), it involved some unfamiliar steps for me – slicing the pears really thinly and drying in the oven (with a sprinkle of icing sugar) was definitely a job for the mandolin; I'm glad I could use it as it's one of the gadgets that tends to be neglected in my kitchen (even though I specifically asked Matthew to get me one as a Christmas present a couple of years ago…). When done, they need special care when removing so as not to break them (I did) – they are so thin and crispy!
In between the layers of chestnut puree (mixed with vanilla bean and lightly whipped double cream) are honey cinnamon flavoured tuilles – subtle but it certainly adds another dimension to the dessert. I especially loved the combination with the espresso poached pears (cooked in espresso + plain syrup), they're so lovely together not to mention the chocolate sauce. By the way, I got the special Mont Blanc piping nozzle from here a long time ago.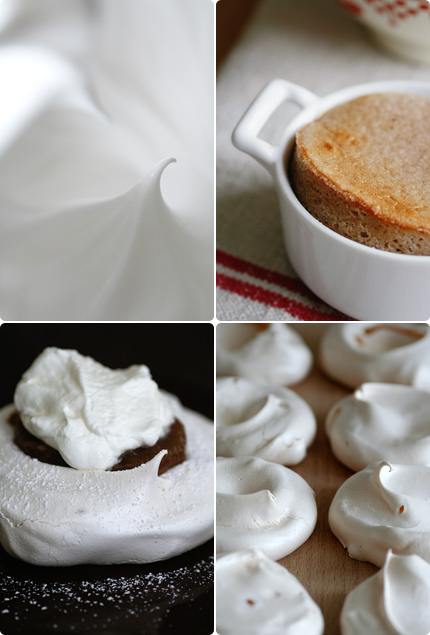 Can't be bothered going through all the soak-skin process to make chestnut puree? I'd definitely recommend trying it at least once, it's full of flavour and you can't beat it (I normally cook them in milk after skinning, add sugar towards the end then sieve) – but it does take a long time and you can make a much simpler version of Mont Blanc using a good puree like this or this. Just make meringues (I guess you can even buy those, but surely you can be bothered making them :)) and top with some chestnut puree and cream of your choice (I prefer whipped double cream but you can use fromage frais, creme fraiche or even mascarpone). It can't be easier than that!
I also tried chestnut soufflés this time, from a recipe in my favourite book. I'm actually not a fan of soufflés – I suppose the fact that I don't like warm pudding-type desserts doesn't help, but for some reason I've been wanting to overcome my aversion to soufflés! I've tried a few different flavours before but unfortunately I didn't really like any of them. So there was some trepidation until I tasted this chestnut version, and fortunately I loved it :) The dark rum infused custard sauce definitely helped (Armagnac is used in the book), and I thought the combination of flavour and texture was just right. I've made quite a lot of puree this time so I'll give it another go for sure :)
PS
On another chestnut note – I've just found that Ms Gyngell, who runs the Petersham Nurseries cafe in Richmond, London, has written a short story about Angelina's Mont Blanc as well as a recipe in her first book, A Year in My Kitchen. I've posted about this beautiful place here and am looking forward to visiting again soon :)