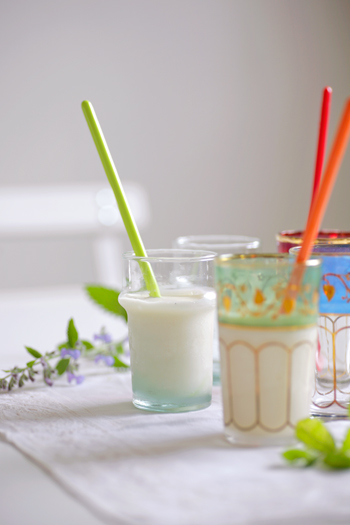 New Summer Favourites
5 June 2009
May, for me, was a rather disappointing month – having had to give up a trip to South America with my dear friends at the last minute got me a bit more down than I expected. Still, I had some fun work shooting outside for these cool people and the arrival of summer has definitely been cheering me up. I've been spending time in the garden growing fruit and vegetables – my least favourite part of which is battling against snails! Scattering egg shells and using copper tape around the bed seems to be doing the trick so far (I don't like the idea of using pellets), but please let me know if you have any other tips. But apart from that, it is therapeutic and our cat loves munching salad leaves from the ground too.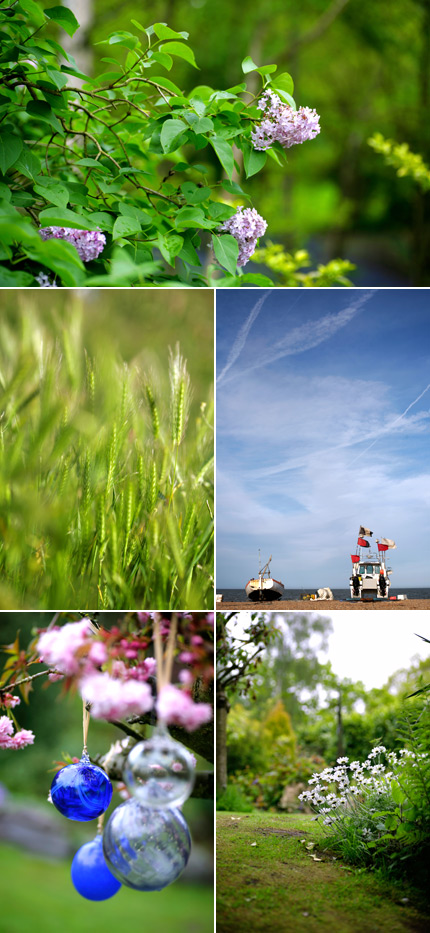 Encouraged by this gorgeous weather, I started getting into more 'churning' action too :) I was looking for some new flavour combinations and couldn't resist trying out a couple that I found in Tessa Kiros's beautiful book, Venezia.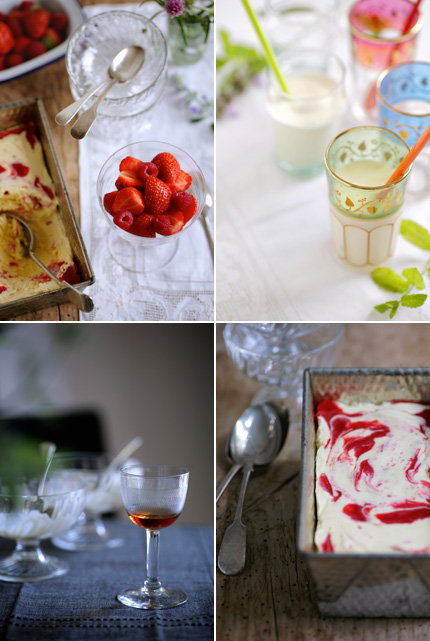 The first recipe I tried is Zabaglione ice cream. Being a custard fanatic, it's no wonder I love Zabaglione – you can add other flavours like vanilla, cinnamon or lemon zest, but as Tessa says I like mine simple too, making it just with egg yolks, sugar and Marsala, served still warm. It reminds me of when I tasted it in Rome where it was served with wild strawberries.
Although I knew this flavour was going to work as ice cream, I was still excited to taste it and it turned out lovely indeed. Tessa's recipe was rather on the sweet side, so I decided to stick to my basic recipe with an addition of berry swirl, an idea that I found in David's book. It's delicious on its own, or served with fruits.
The other summery recipe is called Sgroppino – it's a kind of lemon slushie for adults mainly served in Northern Italy – lemon ice cream blend with a little prosecco and vodka. What intrigued me about this recipe was using lemon ice cream, not lemon sorbet (there are some versions using sorbet too). I'm not normally a fan of fruit ice creams as they tend to lose the intensity of the fruit flavours, but this one works as the lemon flavour remains strong and I loved the milkiness with a touch of bubbly :)
You can add more prosecco and vodka if you would like, but like Tessa, I prefer to enjoy this more as a dessert rather than a boozy drink – you don't want to pass out for the afternoon! I actually added limoncello instead of vodka that I made a while ago and it worked just as well. You can serve this as a palate cleanser instead of a dessert. I didn't have a chance to try this last time I was in Venice, so I shall look forward to enjoying it hopefully sometime soon…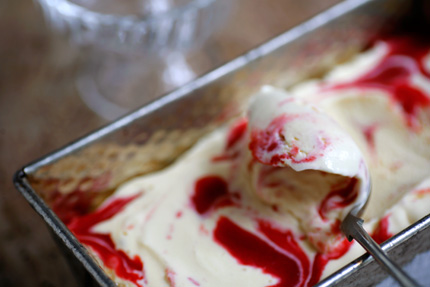 Zabaglione ice cream
For the custard
4 large egg yolks
85g caster sugar
250ml whole milk
250ml double cream
80ml Marsala (not too sweet)
For the berry swirl
80g raspberries
40g strawberries
20g caster sugar (you can adjust to taste depending on how sweet the fruit is)
1 tablespoon vodka
Place the milk in a saucepan and bring to a simmer. In a bowl, whisk the egg yolks and sugar until pale and thick. Pour the warm milk into the yolks, stirring constantly.
Place the mixture back in the saucepan and put on a medium heat, constantly stirring with a wooden spoon until the custard thickens and coats the back of the spoon. Strain into a clean bowl, cool over ice-cold water then add the double cream and Marsala. Chill the mixture in the fridge, churn in an ice cream machine according to the manufacturer's instructions.
Make the berry swirl just before churning the ice cream. Puree the fruits and sugar in a blender, strain through a fine sieve. Add the vodka.
When the ice cream is ready, pour into a container, layering and swirling the puree into it as you go along.

Sgroppino
For the lemon ice cream
Zest of 2 lemons, cut into big strips
220g caster sugar
160ml lemon juice
250ml double cream
For the Sgroppino
200g lemon ice cream
4 tablespoons chilled prosecco
2 tablespoons chilled vodka, or limoncello
To make the ice cream, place the lemon zest and sugar in a saucepan with 120ml water, bring to the boil to dissolve the sugar. Simmer gently on a low heat for about 10 minutes until it's syrupy. Strain through a sieve and discard the zest; cool the syrup then add the lemon juice.
Add the double cream and chill the mixture in the fridge, churn in an ice cream machine according to the manufacturer's instructions.
To make Sgroppino, you need to make the ice cream the day before so that it's firm enough not to melt too quickly. Just scoop the ice cream into a blender, add the prosecco and vodka and whiz briefly. Serve immediately.