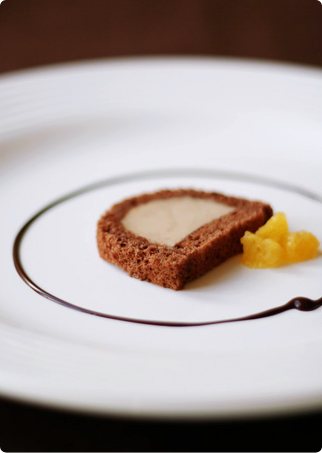 Chestnut Chocolate Marquise
26 September 2005
Although we've been having good weather for late September, summer is definitely on the way out and I'm already comfortable wearing autumn colours – and thinking about similarly seasonal recipes.
I'm not a big fan of chestnuts per se, but it's a different story when used as puree in desserts. I think my most frequently prepared dessert using chestnuts is Mont Blanc – I love the simplicity of it that lets the flavour of chestnuts really come out. I found this recipe in Emily Luchetti's A Passion for Desserts and gave it a try straight away as I was in a 'I want to try something autumnal now!' mood :)
It was really easy to make – bake the chocolate sponge and fill with chestnut mousse – the latter comprising of chestnut puree, creme fraiche, sour cream and double cream (vanilla and orange zest are good extra touch). In the recipe it suggests using a loaf pan to mould the cake but I used a Matfer buche cake mould that I bought from my last trip to Paris. The cake turned out really nicely, but it didn't taste as strongly as of chestnuts as I expected – I think it depends on what puree you use, but I'm going to use less creme fraiche and sour cream next time. I quite liked the orange and chestnut combination, and as you can imagine it works well with chocolate too.
 
browse
search
categories
current reading

food blogs
Nordljus is powered by textpattern
All writing and images on this site © 2005-2009 Keiko Oikawa