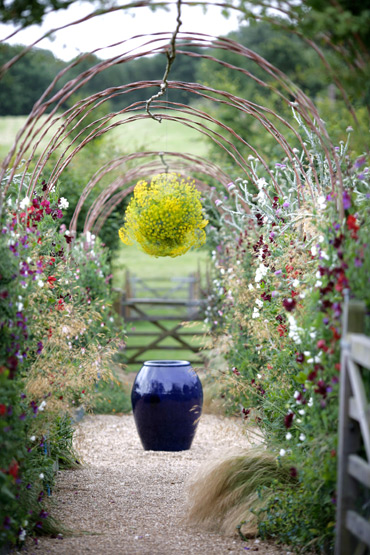 Colours of Summer
12 August 2009
After a very promising start, our summer has become a rather familiar story – it already feels quite autumnal in fact – nonetheless, we're trying to make the most of it and I wanted to share some summery images that I took at Sarah Raven's garden a few weeks ago.


I've written about this beautiful place before – Sarah is an acclaimed writer and broadcaster on gardening and food. As well as writing books and appearing on TV and radio programmes, she is busy running various courses at her Perch Hill farm in East Sussex.


It was one of the coldest months when I visited the farm last time, so I was really looking forward to going back when everything was in bloom. Not only to see the garden again, but I was happy to be there for my friend's special occasion – I was honoured both to attend and be asked to take photos of my friend Bea's wedding – she has been working as the head gardener at the farm so it was a natural choice of venue for her wedding.


I knew the garden would look lovely and abundant at this time of year, but I just swooned at its sheer beauty as I stepped in. With so many colours and shapes everywhere, it is literally a gardener's paradise.
I always take my hat off when I talk to Bea about gardening (she is my great mentor on the subject) – her knowledge and love of nature is inspiring and she often makes me think that anyone could be a happy person if you just spend a little time growing things…


On my last visit, I remember Bea lovingly telling Shalimar and me about her boyfriend Mark – we tried not to be too nosy :) but are really happy for them to be together. It was a real shame that Shalimar couldn't make it to the wedding, but I hope we can meet up for another celebration sometime soon.
Bea looked really beautiful in her wedding dress, although I must say that I love seeing her in her wellies covered in mud too :)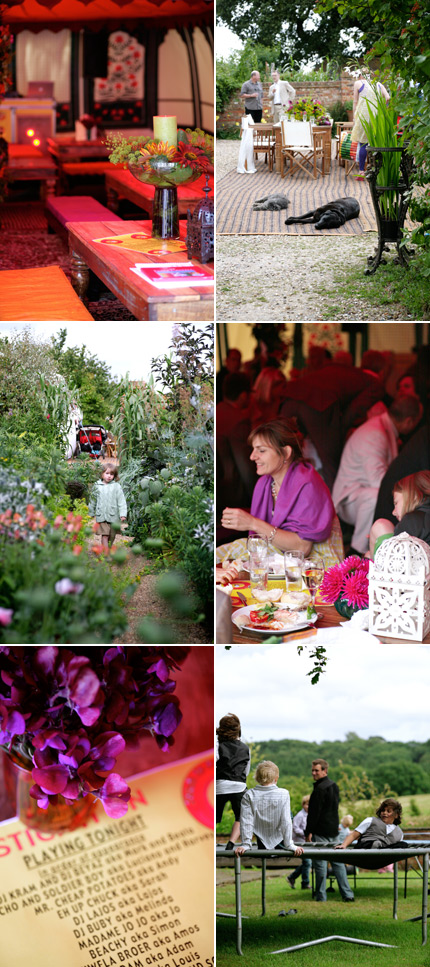 After the lovely wedding ceremony in Brighton, we headed to Perch Hill for the reception. It was very relaxed and down to earth – I knew Bea wanted an unfussy, casual atmosphere and everyone felt comfortable and had a great time.
The beautiful Indian tent was decorated with flowers from the garden – we enjoyed a fantastic hog roast (it was a whole hog AND hogget actually) and Sarah and her team prepared many delicious dishes using their own home-grown vegetables.
Meeting with Bea's family was lovely too – they flew from Hungary and it was nice to see how close she is to them, especially her younger sister, Linda. (as an expat myself, I know how much she misses her family) Linda is a talented violinist, and played some beautiful tunes for us at the wedding.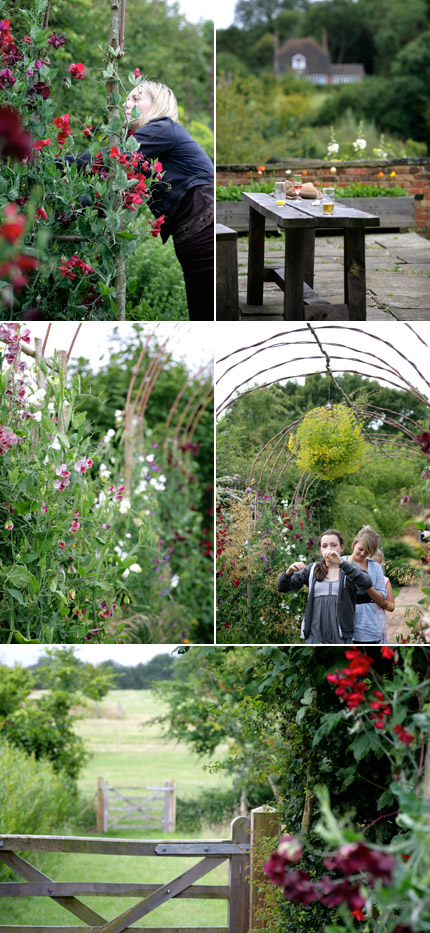 As I type this, a huge box arrived on my door step – I realised it was from Bea when I opened it – the box was packed with beautiful flowers from the garden which filled the house with a heavenly scent. She sent them to say thank you to me for photographing the day – you can guess how happy I was, and will be so while I'm surrounding by them…
I seriously recommend visiting the garden if you're in the area – they are not open every day, but they have some great courses (how exciting Yotam is teaching next month!). I'm hoping to go back sometime soon, but if you have a chance to visit, please say hi to Bea for me :)