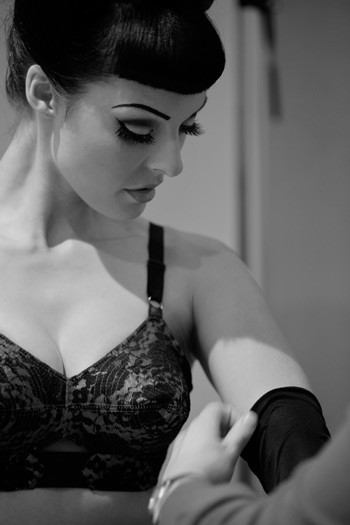 Rediscovering Some of London Markets
22 April 2009
These photos are from a London markets story that I shot for a US travel magazine a few months ago – I love visiting any sort of markets, and London is certainly not short of interesting ones. I had fun meeting lovely people as well as finding new favourite spots, so wanted to share some of them here.

Every Sunday, this East End street becomes packed with flowers and plants. It's so colourful and characteristic – you can buy everything from seeds to trees and it attracts a broad demographic from young to old. (It gets extremely busy in the summer, so you should head there early unless you're specifically looking for closing-time bargains.) I actually shot this market for a Japanese lifestyle magazine last year – and it was lovely to go back to some of the shops and see their owners too.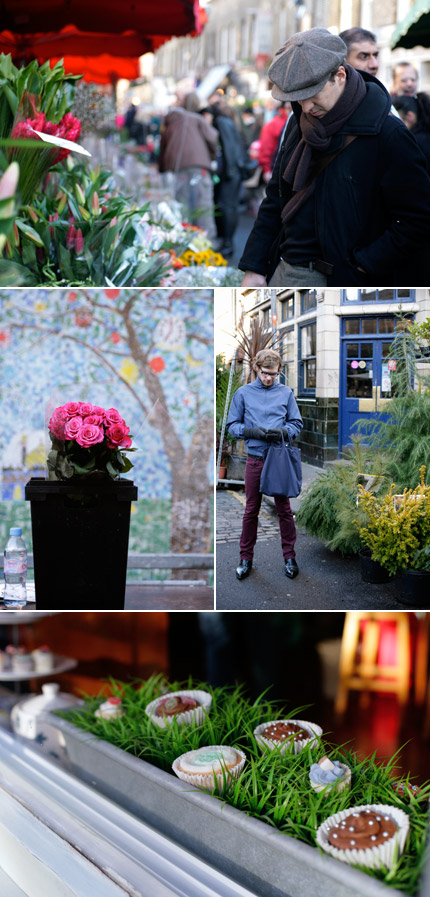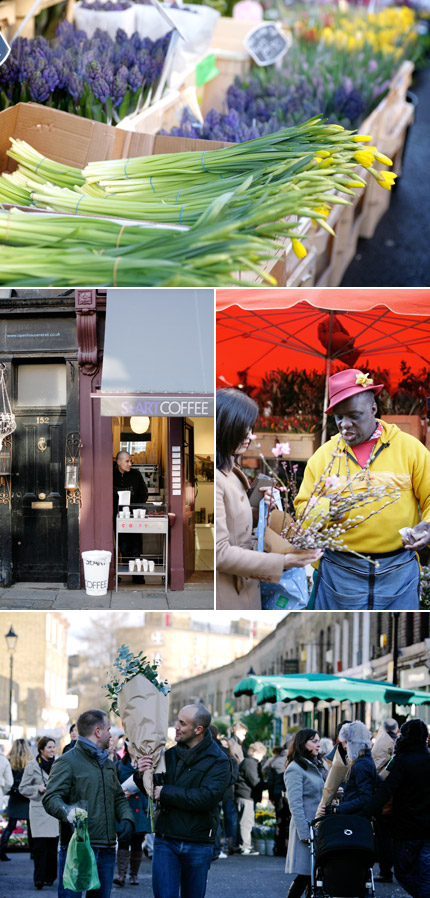 Although it is a flower market and just finding some fresh blooms for your home is fun, there are many great shops along the street that you also shouldn't miss. One of the latest additions is Ryan Town – a beautiful little shop selling work of artist Rob Ryan. I've been a huge fan of his work and it puts a smile on my face every time I stop by.
Vintage Heaven has loads of lovely kitsch housewares but just going to see the delightful owner, Margaret, is worth the trip :) At the back of the shop you'll find a cosy cafe – you can enjoy cream tea and other homemade cakes, served on varied mismatched china pieces – that are also for sale.


L'Orangerie (162 Columbia Rd) is another shop that I just can't leave empty handed – the owner Catherine collects beautiful accessories from all over Europe which are not only eclectic and colourful but also affordable.
If you're a cupcake fan, don't miss Treacle – I'm not really a cupcake person myself, but can't pass this cute shop without a quick peek. My other favourites are Elphick's, Two Columbia Road and B. Southgate.
Although you can have fun all day just wandering around Columbia Road, I also recommend checking out Old Spitalfields Market and Brick Lane to soak up the East End sprit :) Oh and try to get to Cheshire street if you can – there are some cute little shops like Mar Mar Co., Shelf and Labour and Wait there.
Most shops in the area are only open at weekends, so check their opening hours before you head out.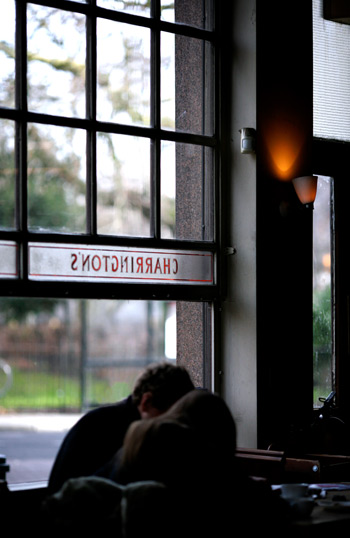 Broadway hosts another lively East End market – I've wanted to visit this place for a while and I'm glad I finally had a chance.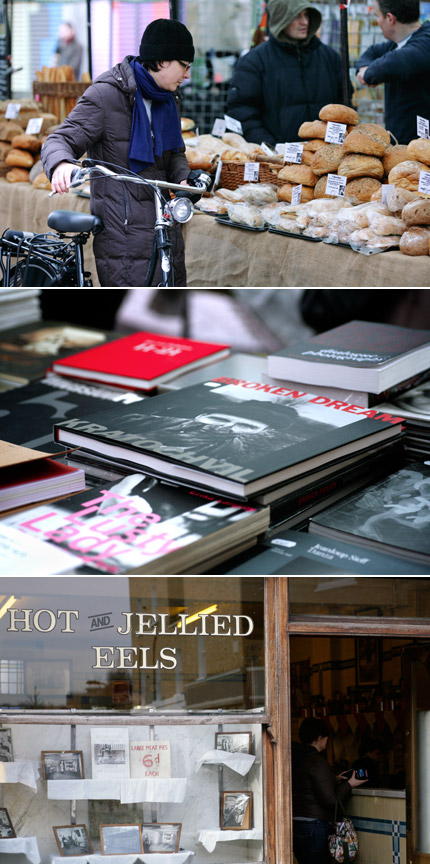 You can tell straight away that the market has a distinctive character – both the sellers and the shoppers. As Tamami (who has a lovely cake stall in this market but unfortunately wasn't there when I went) puts it, "It has a village-like atmosphere, full of 'real' London charm." and I couldn't agree more :)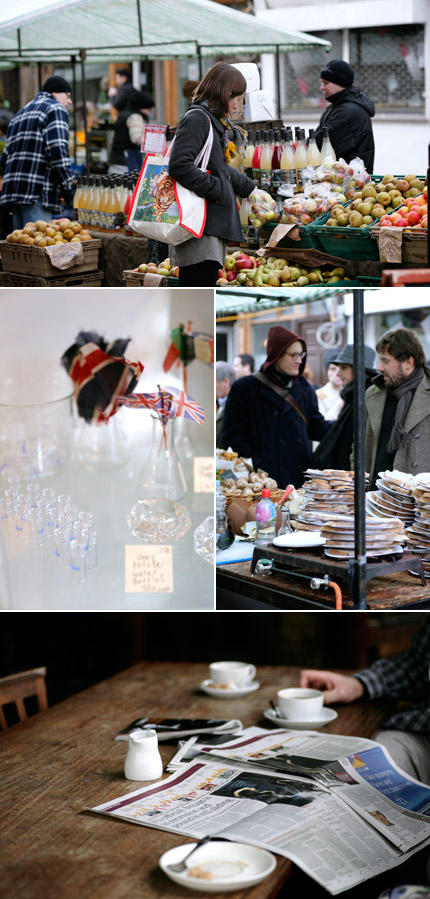 Although it's primarily a farmer's market, you'll find all sorts of things here – I especially liked an art book stall whose owner was a photo expert – and told me off for spending money on expensive camera gear instead of good books :)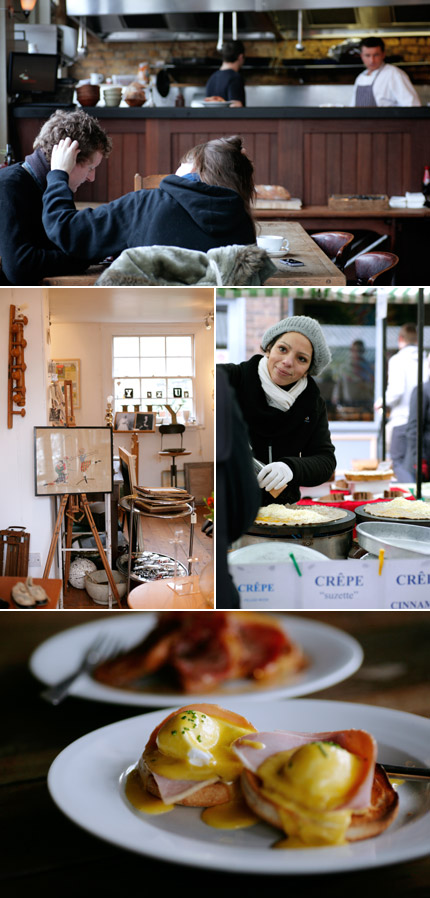 If you're into vintage stuff, check out a lovely shop called Stella Blunt (75 Broadway), I'm a fan of her eclectic collections. Opposite, the Cat & Mutton serves delicious rustic food.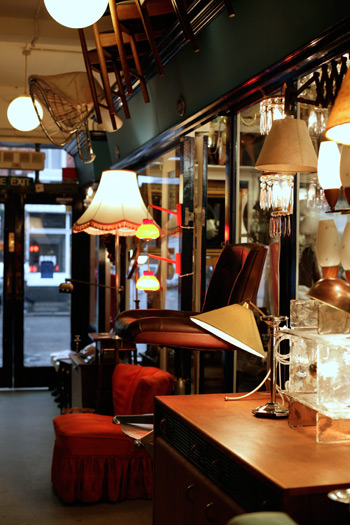 This has been my favourite market for a long time – I used to live in the neighbourhood and always loved to browse, although there aren't many things I can afford – this is a place for serious collectors.


You're likely to be welcomed by one of stall owners along lines of 'wander around and get lost' :) This indoor market is a maze of antiques and a huge variety of vintage furniture, clothing and memorabilia. I normally have my eye on furniture or collectables, but this time I needed to take some photos of something different – covering a pin-up shoot.

I didn't know much about pin-ups (Matthew seemed to know better and was more excited about the job than me :)), but I had great fun!
The Girl Can't Help It has a massive collection of mid 20th century vintage clothing – it's so much fun just browsing and the perfect place to find something for a glamour photo shoot. (speaking of vintage clothes, I can't get enough of Mad Men – I love everything about them.)
We had a gorgeous model, Tasha, on that day for a shoot – for me, it was just fascinating to watch her preparing – she had her hair done at Nina's Hair Parlour, and make-up at Issidora's Powder Room next door. Once she was ready, glamour photographer Tony at Casting Couch took over for the shoot with help from stylist Shona. I was a bit worried that I might feel out of place, but everyone was relaxed and having fun – thanks again everyone for the help!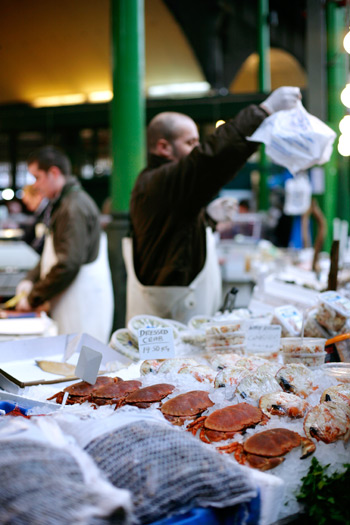 You probably won't need an introduction for this famous food market located near London Bridge. It attracts massive crowds on Saturdays – I must confess I preferred it when it wasn't so busy and touristy… but when I have a chance to go, I still stock up on yummy goods at the Ginger Pig, Neal's Yard, Brindisa and Monmouth Coffee etc. It's certainly worth visiting if you've never been – you'll see a huge diversity of produce from Europe and the UK which is definitely one of the good reasons to live in London.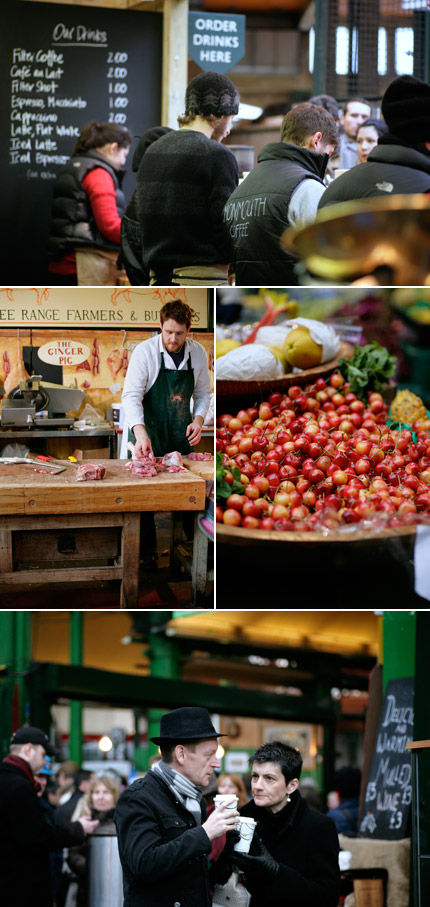 There are many more great markets in London that I haven't yet had a chance to visit – hopefully I can write about them sometime, and please let me know your favourites too!