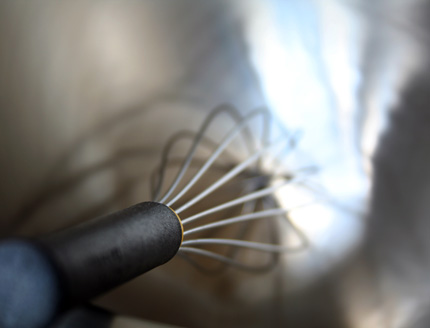 Utensibility - Matfer Piano Whisk
4 July 2005
I might be too late for this meme, but after reading the sweet story written by this gorgeous British girl in CA, I just had to contribute too!
I never really thought about it before, but I didn't realise that I was quite a gadget freak in the kitchen. Firstly, the KitchenAid – it's relatively new in our kitchen, but already something I can't live without. Gaggia ice-cream machine – another of my most frequently used gadgets, it was originally Matthew's idea to get this enormous machine, but I'm so happy we got it. Magimix and Braun food processors – they do all kinds of stuff for me, the hand blender is especially useful. Magimix deep fryer – this is actually Matthew's, he had it when I moved into his place a long time ago. It's essential to cook perfect fish & chips at home (yes, he is indeed British)... And another 'can't live without' gadget is my beautiful Isomac espresso machine that Matthew bought for my birthday almost two years ago (I think I'm going to post about it as I'm a coffee fanatic…)
Anyway, our kitchen isn't huge and we're running out of storage space. More importantly, though, this meme was about utensils so I should stick to it – but again, it's difficult to choose just one thing. I think I have to include these three – the John Julian Design white porcelain pestle & mortar, Microplane graters and this Matfer whisk pictured above. I bought it here a while ago, I knew Matfer had a good reputation and I had always wanted to try their stuff. Mine is 25cm long and its thin, short handle fits my hand really nicely and it has excellent, er, whisking action (not too hard, not too soft)! You might say it's just a whisk, but when you actually find one you really like, it soon finds its place in your heart (I guess that's a similar feeling to when you find the perfect spatula or wooden spoon). I have some other Matfer stuff (mainly cake moulds) and am sure the collection will expand little by little. (BTW, I love the kitchen stuff at this shop, I'm a big fan of their beautiful English sycamore cutting boards).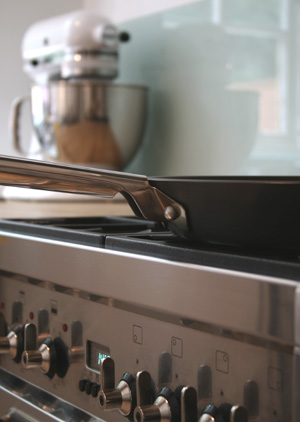 Oh and one more thing – this is my recent favourite, Anolon Professional French Skillet. Because Matthew doesn't like any stewy/soupy type dishes, there is lots of frying/grilling going on in our kitchen. Although my dream pans always have been Iittala Dahlstrom, I'm quite happy with this solid, easy to use, non-stick frying pan. It looks nice on top of our industrial-looking Smeg Opera cooker too…
I hope Sam will enjoy her shopping spree, I'm looking forward to seeing what she and Fred get for their lovely kitchen…