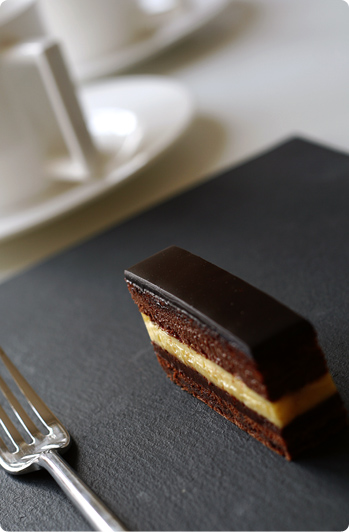 Riviera
28 January 2006
Apologies for the mess over the last couple of days due to the move of our server, and sincere thanks to all of you who supported this site for the 2005 Food Blog Awards – in which Nordljus has been chosen as Best Food Photography Blog. As you have probably noticed, taking pictures is something I really enjoy and although I have loads to learn, it has encouraged me in many ways – so thank you so much again for all your feedback and support!
Anyway, this cake from Desserts by Pierre Hermé has been on my must-try list for a while – I was intrigued by the unusual combination of the flavours and I've finally got around to trying it. The cake has three textures each with their own flavour – layers of dark flourless chocolate cake, bittersweet chocolate mousse and ultra smooth lemon cream. I've made a similar cake before with orange and chocolate – but the orange butter cream was quite rich and I didn't think it worked very well with the chocolate in terms of flavour or texture. So I was a little anxious until I actually tasted the finished cake, but luckily I was totally convinced this time :)
What makes it is definitely the lemon cream which I've been making good use of since I first made his lemon tart (which is another stunner). This cream has the same ingredients as used to make lemon curd, but straining and giving it a high speed finish in a blender while adding the butter results in silky texture and vibrant flavour. I liked the flourless chocolate cake too – it looks quite dry when baked but has a slightly chewy texture inside. Although he doesn't suggest it, I applied syrup to the chocolate cake, suspecting that it might end up too dry without it (and I think it was the right decision).
The recipe specifies another layer of the chocolate mousse on top to finish, but wanting something more interesting, I made glacage au chocolat instead (with sugar syrup, cocoa powder, double cream and gelatine). It's the same as I use for opera cake and unlike the picture in his book, mine ended up looking like opera indeed – but I was really happy with the result, I think it is a good addition to the recipe. As he points out, the proportion of the component parts is very important for this cake – I assume it depends on one's taste but you will see what he means when you actually try it. As you can imagine, it's difficult to get bitter and acidic flavours to work well together so you need a chocolate that is more sweet than bitter. I followed his advice and used Manjari which also helped to bind the two flavours together.
Speaking of Riviera – I saw the first cherry blossom of the year yesterday, I can now see an end to this dark, cold winter (even though I still have lots of chilblains on my feet), I can't wait for the spring to come…