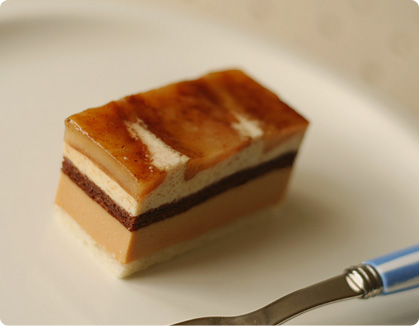 Pomme d'Eve
11 November 2005
Since I started this blog I've been inspired to use ingredients that I don't normally like – and I'm glad I have because I've always been pleasantly surprised by the results! I wouldn't call myself a fussy eater, but there are some things I'm not mad about – especially when it comes to fruit… if I had to choose one among them, apples come to mind without a doubt. So, sadly I've never made apple tart or tarte tatin myself. By the way, the part of Japan I'm from produces some of the best apples in the country (you wouldn't believe how expensive they are!) and I still remember my mum admonishing me for not eating such good things… no matter what she said, I just didn't like them.
But putting my reservations aside for the sake of culinary experimentation (and perhaps also being swayed by the wonderful local apple juice we have in Suffolk), I was tempted by the aesthetics of another Hidemi Sugino recipe.
His Pomme d'Eve consists of – from top to bottom – sauteed caramelised apple, apple mousse, chocolate sponge, caramel mousse and almond sponge. I used Bramley apples this time as their higher acid content and lower sugar levels give a tangier and stronger flavour when cooked. Although it might sound complicated, it was quite easy to make – you basically make two mousses with pâte à bombe, double cream and gelatine. I added cinnamon and vanilla beans into the caramel, which lent it a subtle, but deeper flavour. He suggested making the caramel darker than normal in order to better complement the tart apple and he was absolutely right. The flavour of the tangy apple mousse melds with the rich dark caramel mousse as soon as you have it in your mouth – for me, the ratio of each component was just right too (not too appley!) He suggested using Calvados to flavour the apple mousse as well as the syrup for the sponges, but I used dark rum instead.
I really liked the final result, I think it helped that it has lots of different flavours and textures. I'm not sure if I'm ready for anything more apple-oriented than this yet, but maybe given time…