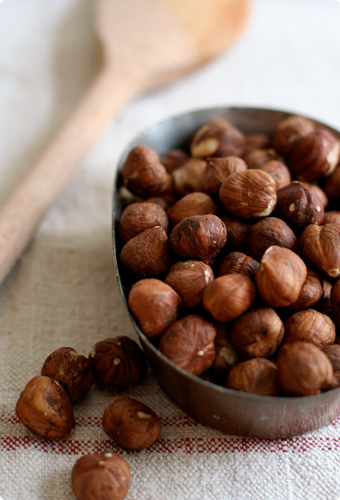 Plaisir Sucré
20 December 2005
This classic cake from Pierre Hermé has been my favourite for a long time. I've tried quite a few of his cakes by now but Plaisir Sucré still remains one of the best and I've always wanted to try making it myself. It somehow took me a while to try making it, I think I was a little scared of being disappointed by my execution of the recipe – but I'm glad I've finally done it.
If you don't know what the Plaisir Sucré looks like, this is one from PH patisserie.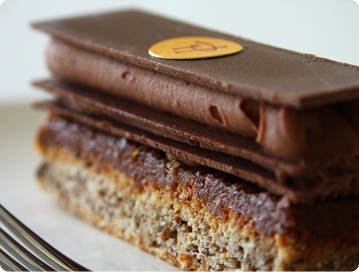 And this is my version.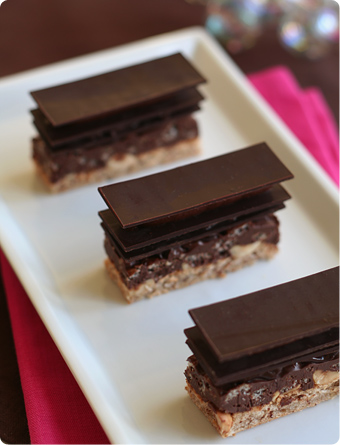 They may not look as great as his, but I was happy with how they turned out and actually surprised at how easy it was to make them – I should have done it sooner! I like the distinctive look of this cake – hazelnut dacquoise for the base (with lots of halved nuts pressed in), Nutella and chocolate spread with rice crispies, two layers of rich ganache with chocolate sheets and chocolate whipped cream topped with another chocolate sheet – yes, it is very chocolatey! I can't get enough of the chocolate and nuts combination (especially hazelnuts) and this rich chocolate flavour works perfectly with the crunchy rice crispies and hazelnuts as well as the dacquoise – it really deserves its name 'sweet pleasure'. I made them bite size this time, it was good fun 'building' so many little chocolate sheets up :) You can find the recipe in Chocolate Desserts by Pierre Hermé.
 
browse
search
categories
current reading

food blogs
Nordljus is powered by textpattern
All writing and images on this site © 2005-2009 Keiko Oikawa