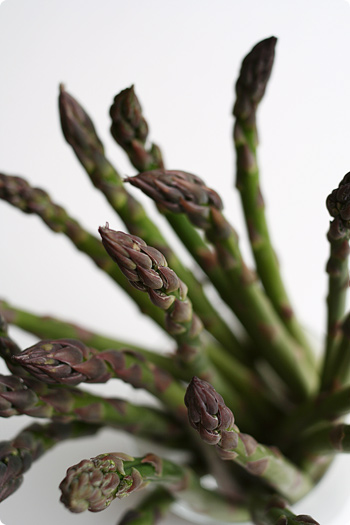 The Month of...
19 May 2006
Asparagus – that's what it is now here in the UK. It is available for just a few weeks and its appearance at markets is a sure sign that summer in on the way (I'm sorry if I sound over excited about the arrival of summer, but I really am :)) We can get asparagus that freshly picked on the day from local farm shops (or from a neighbour's garden, if you're lucky), I've been enjoying them grilled, roasted or simply steamed – but I went for a bit of a soup-y affair this time.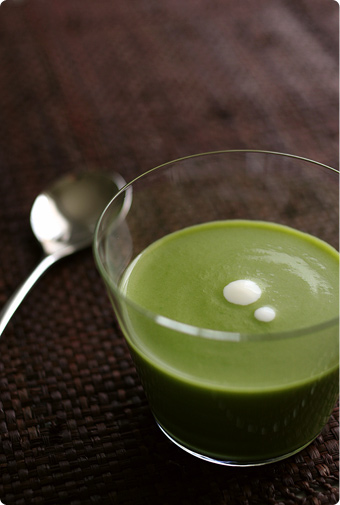 This is the simplest soup, yet full of flavour. Like other plain veg soups, fry onions in butter and cook asparagus with stock until tender, then puree in a processor and strain. I prefer not to add cream, though it's up to you. Serve hot or cold, I like it cold as I think you can taste the flavour better.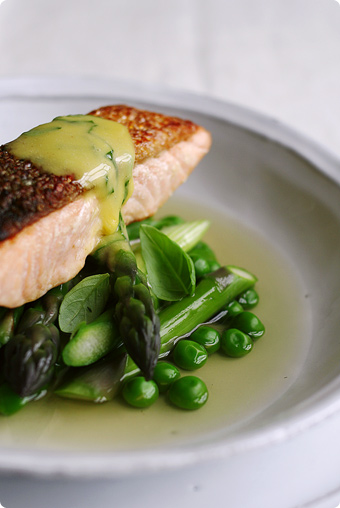 Matthew is too fussy to eat meals without meat or fish (he's the fussiest eater I've ever come across), so this is one with something extra. I used the recipe from here but have seen a few similar 'salmon in broth' recipes. I wanted to try it with sea trout for this as they are also in season, but no luck obtaining any this time. Another no-brainer to make – whisk up aioli (garlic mayonnaise) first, and as you grill the fish, cook the vegetables in stock. Serve in a broth of the cooking stock and add herbs (I used basil and fennel this time) as you wish.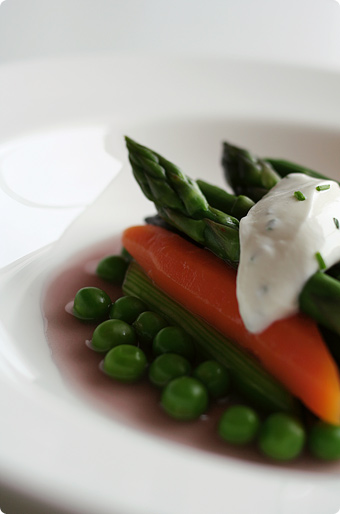 This chilled veg version was for me and I found the recipe in Sally Clarke's Book. Originally the recipe called for jellied broth – using meat stock gives a set jellied consomme but I decided to go with veg stock (hence no-set). To make the consomme, fry vegetables (I used carrot, onion, leek, celery and fennel) in butter, add herbs (thyme, rosemary, sage and parsley) and some peppercorns then cook in light bodied red wine and stock, until reduced by half. Strain through muslin and chill. After the consomme is ready, cook vegetables in salted water and when cool, toss with olive oil and herbs (I used chives and tarragon). Serve with fromage frais. I was a little sceptical about red wine consomme, but it was lovely and refreshing. I'd like to try with a meaty stock too.
I can't wait for June when we get all the lovely berries and beans/peas, and the weather gets even better…