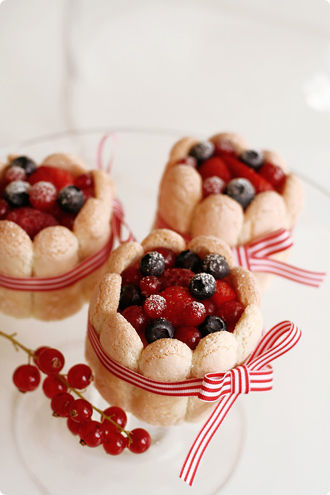 Goodbye Summer (Fruit)...
8 October 2006
While I've been struggling to put regular posts up here (and here), the transient British summer seems to have gone – it almost feels like we've missed the autumn now, it's suddenly been so wet and cold since the arrival of October (yikes)... Nevertheless, here are some more of the summer fruit desserts I was enjoying this season – and this will be the last of my rather intensive fruit posts this summer (well, more autumnal fruit will be on its way :))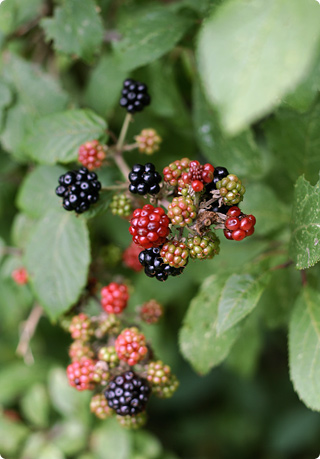 I enjoyed quite a few blackberries this summer – In the UK, you can find them wild pretty much everywhere, just like elderflowers. Our friend's allotment is surrounded by these thorny bushes so I go there to pick some whenever I want – you can enjoy them for a while as they ripen gradually.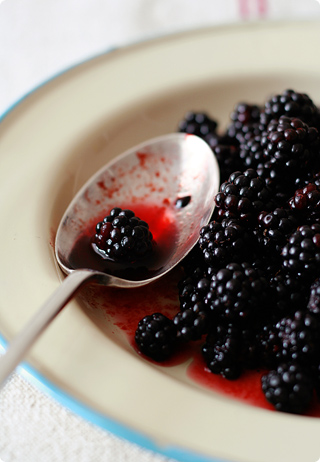 If I had to pick a favourite from all the tempting summer fruit recipes, though, I might choose the sorbet – the intense flavours from all the berries/currants, the dark rich colour – it's just irresistible! I always try to churn an extra batch for the winter but it never survives that long, it disappears so quickly every time I make it.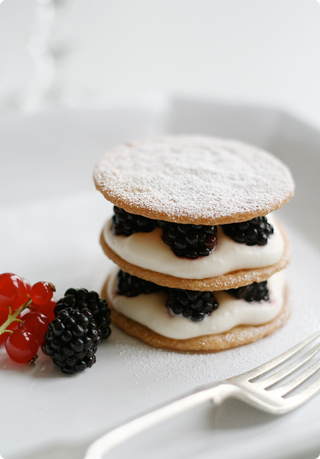 This little shortbread tower recipe is from the Claudia Fleming book – sandwiched by the crumbly shortbread biscuits (scented with grated orange zest) are blackberry puree, fresh blackberries and créme fraîche scented with orange-blossom honey & orange-flower water – all of which add a subtle but refreshing, distinctive flavour. You can find a similar recipe in Christine Manfield's Desserts, which is paired with lemon cream instead of orange.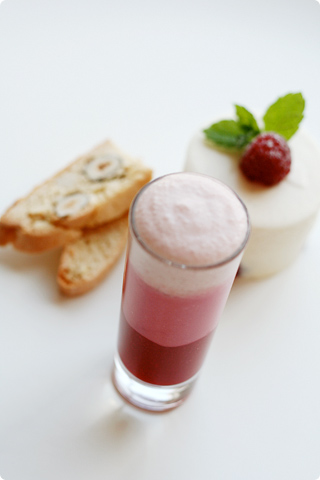 You can't resist this if you're a raspberry fan – I was just happy with the melt-in-your-mouth white chocolate mousse with the berries, but the raspberry milkshake (raspberry liqueur and coulis at the bottom, milkshake (coulis and milk blended together) on the top layers) really makes the most of fresh raspberries. I made lemon biscotti to accompany it. The recipe is from Formulas for Flavour.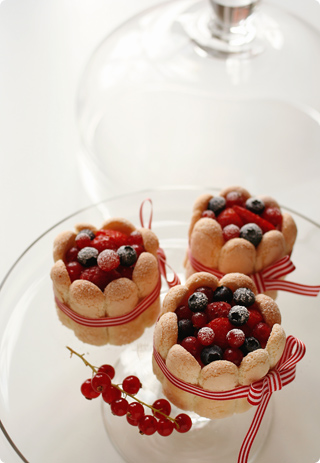 I always love making charlotte and found a tempting recipe in the wonderfully comprehensive The Cook's Book where Pierre Hermé writes the dessert and pastry sections.
I could have done it as one big cake, but I'm such a sucker for the pretty little ones :) His recipe called for simple raspberry mousse inside, but I added redcurrants to give a little more kick, and I'm glad I did :) The fruit, mousse, coulis and the light sponge marry beautifully – simple but definitely one of my favourite summer desserts. (oh and Matthew, who doesn't always like everything I make, thought these looked pretty and even had some – that was definitely an improvement…)