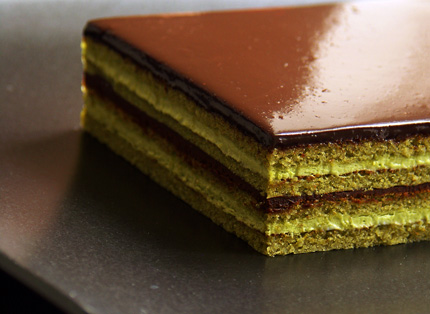 Green Tea Opera Cake
7 May 2005
We've had such lovely weather over the bank holiday weekend – I just didn't feel like staying in and cooking at all… Now the weather is back to typical British and so I'm back in my kitchen too.
This classic, really rich and chocolatey dessert is usually one of Matthew's favourites – but alas, not this time. I've always made this cake with a classic combination of coffee flavoured butter cream and ganache sandwiched with almond sponge (joconde), so this time I wanted to give a little twist to the recipe.
Since I had some variations of matcha (powdered green tea) desserts in Paris a while ago, I've always wanted to try making some myself too. For this green tea opera cake, I added matcha to the sponge as well as the butter cream – although the finished colour looked quite green (I couldn't get the exact colour in the picture), it tasted more subtle than I thought – the tea flavour comes as more of an after taste. I personally could have gone for a stronger tea flavour, but I imagine how it turned out may be enough for my British friends…
I think one of the key aspects of getting this dessert to taste better is making all the layers as thin as possible (you may not be able to tell from the picture, but I always make it less than 3cm height in total). They work better that way as the butter cream, the ganache and the glaze are all rich and you wouldn't want a big blob of any of them! I like to serve with coffee flavoured Créme Anglaise for this cake, and of course for this green tea version, a little matcha sauce for a finishing touch wouldn't be amiss either!
As I've mentioned, Matthew doesn't really like Japanese sweets and this opera cake wasn't an exception either. I thought about making two different types of flavour at first, but couldn't be bothered in the end… (sorry) BTW, I've made the classic version of this cake for the birthday of my friend Cheryl's mother (she is such a lovely lady!) – I made it without any decoration other than chocolate glaze and she put some white orchid flowers on top for a final touch, I was really happy to see that my cake turned out so special…