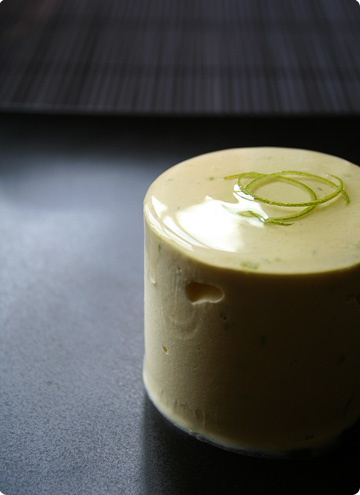 Coconut and Lemon Grass Ice-cream
2 September 2005
Although my all-time favourite ice-cream is classic vanilla, I really love this exotic flavour as well. Using coconut milk instead of normal milk gives a richer flavour and makes surprisingly good custard (I wasn't sure at first) – the subtle yet fragrant flavour from the lemon grass and lime rind works well with the creamy texture. The lime syrup makes a really nice finishing touch too. You can scoop it like normal ice-cream, but using moulds gives a more interesting presentation especially if you have guests around :)
 
serves 5-6
4 lemon grass stalks
370ml coconut milk
3 egg yolks
90g caster sugar
10ml cornflour
120ml double cream
finely grated rind of 1 lime
For the lime syrup
70g caster sugar
70g water
1 lime, thinly sliced
30ml lime juice
 
Cut the lemon grass stalks in half lengthways and bruise them with a rolling pin. Place in a saucepan, add the coconut milk and bring to just below boiling point. Remove from the heat and leave to infuse for about half an hour. Remove the lemon grass.
Whisk the egg yolks in a bowl with the sugar and cornflour until pale. Gradually add the coconut milk, whisking constantly.
Return to the saucepan and heat gently, stirring until the custard thickens. Remove from the heat, strain into a clean bowl and leave to cool. Chill.
Stir the cream and lime rind into the custard. Churn in a machine until thick. Freeze.
To make the syrup, heat the sugar and water in a saucepan until the sugar dissolves. Boil for about 5 minutes without stirring. Reduce the heat, add the lime slices and juice and simmer for another 5 minutes. Cool.