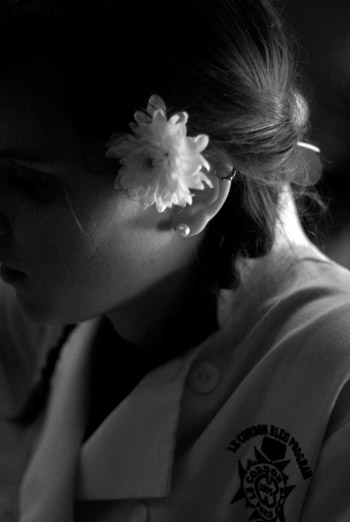 First Post in More Than Ten Thousand Miles...
15 June 2007
Apologies for being negligent in keeping this place up to date and thank you so much for all the kind messages while I was AWOL (Speaking of being negligent – I've just added quite a few pictures on my photo blog too). I've been back from my trips, but being a rather disorganised person, have spent too long catching up with work (as well as doing some photo work, I've also started working for some great food photographers – which has made me realise that how little I know about photography, but I've been enjoying learning and hopefully I can write about it some time). Since I got back to the UK the weather hasn't been that great – but in a brief sunny spell, I managed to make a few batches of elderflower cordial so hopefully I can share an interesting recipe with it soon.
As I briefly wrote here, I was in Italy for a week then shortly afterwards spent three weeks in the States. Both trips were for photo work for these folks in LA – I had such a wonderful time meeting with lots of lovely people throughout the trips so I wanted to share some of the stories here.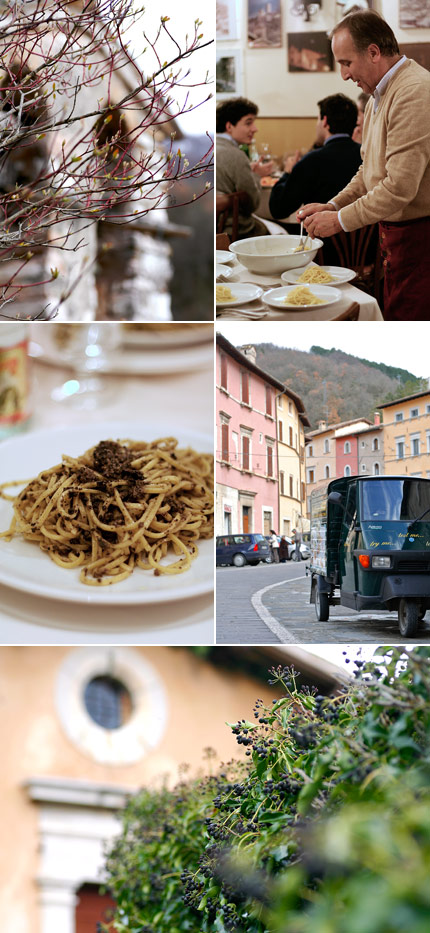 The Italian owner of Cube, Alex, wanted me to visit his pizza factory in a town called Visso in Marche region – he wanted me to take pictures of the factory as well as some of their products. During my stay, I was well looked after by a lovely Italian man called Mauro, Alex's brother-in-law who works with him :)
Alex (from LA) and I (from London) flew into Rome on the same day and headed for Visso – Visso is a lovely little town surrounded by beautiful mountains (which were snowy when we were there) – Roger, who is a consultant chef for Cube and flew with Alex this time, told me that he fell in love with this little town when he first visited, and I felt the same way.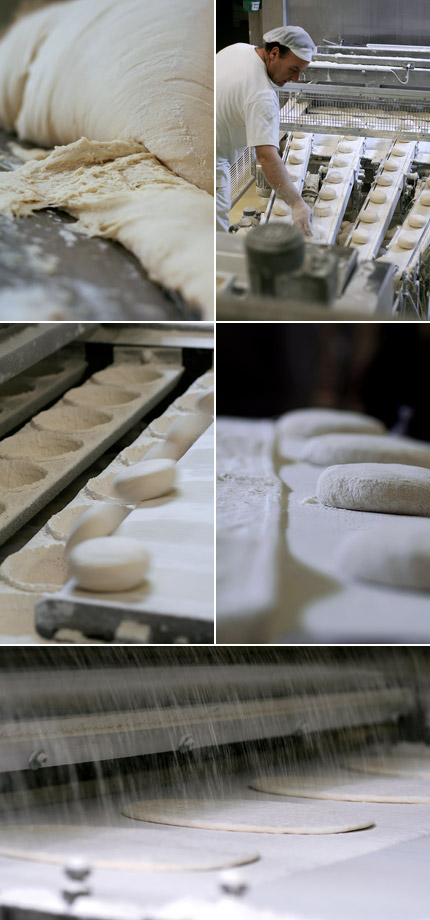 Having lived in and based his business in the US, Alex could have had a factory near him – I asked him why he hasn't done so and he told me that it's because of the water that makes all the difference in the pizza dough.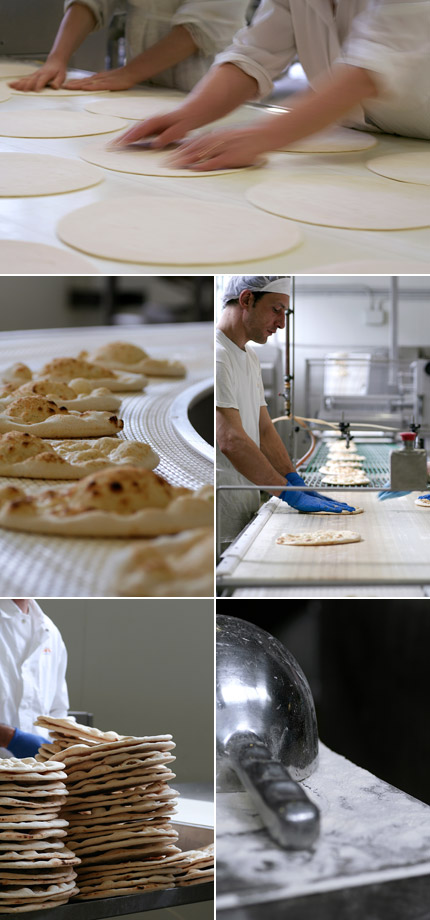 As soon as I stepped into the factory, I was welcomed by the lovely smell of baking. Mauro took me on a tour – watching how the machines work was really interesting, but I particularly loved the stage where the ladies who work there give the dough a finishing touch by hand before they go into the oven – Alex explained to me that this is to give the pizzas their wonderful handmade texture and taste. Of course I had to try some of the freshly baked pizzas, they were absolutely delicious. I liked the way Alex is very hands-on at the factory and in touch with everyone who works there. At the end of the trip there, I couldn't help smiling when I saw my tripod was covered in flour :)
Later, Alex took us to dinner with some people from the factory. A charming trattoria in Visso called Richetta (Piazza Garibaldi 7), run by two brothers Orazio and Uccio – they are normally closed on the days we were there but they were happy to open for Alex. The walls were covered with Orazio's beautiful photos of Visso – I tried to tell him (in my extremely limited Italian) how much I liked them and he kindly gave me one of his favourite pictures, which has pride of place in my room :) We enjoyed the lovely food, including the most amazing black truffle pasta and braised rabbit (and endless tasting of gorgeous local wines).
Alex told me that he wanted to show me his passion for good food on the trip, and I could certainly tell that he meant it :) (and when you are in a place like Italy, you can tell that eating well is not a big deal – it is normal for them and it certainly leads to good living too)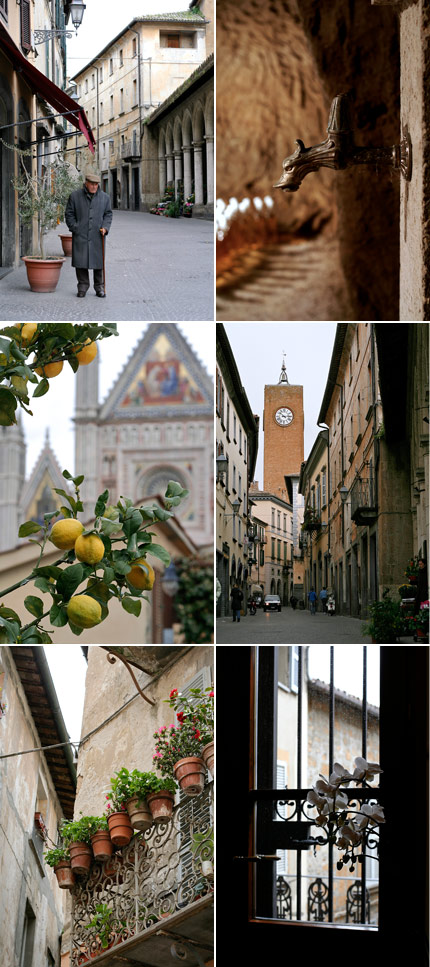 Before heading back to Rome, we visited Mauro's parents in Orvieto (in Umbria) – we enjoyed a lovely lunch which Mauro's father cooked for us. I always wanted to visit this town and I'm glad I finally did – it truly is a beautiful place. Mauro's parents' gorgeous house (it was a palazzo to be precise – I nearly got lost in there) is located just front of the big duomo and has a magnificent view from the roof garden. Equally fascinating is their amazing cellar, which houses literally thousands of bottles, and adjoins ancient remains which apparently date back thousands years ago!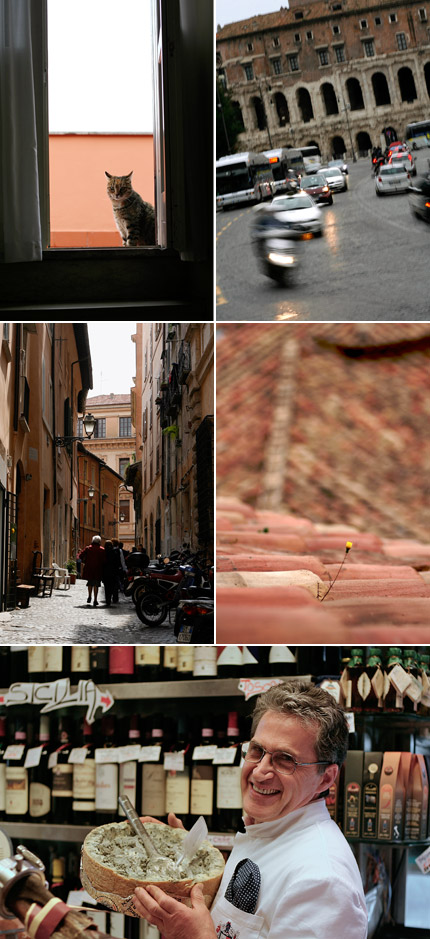 Alex didn't have time to stay in Rome this time, but I had a few days to spare and he kindly let me stay at his lovely flat just by the Trevi fountain – I was happy to meet a beautiful cat (pictured above) who kept me company during my stay (found out she was called Tigrotta (baby tiger) later on… she was such a sweetie).
It wasn't my first visit to this ancient city, but I always find something fascinating about it and I love the 'down to earth' feel of the city (oh and I love Joycelyn's beautifully written comprehensive guide to Rome).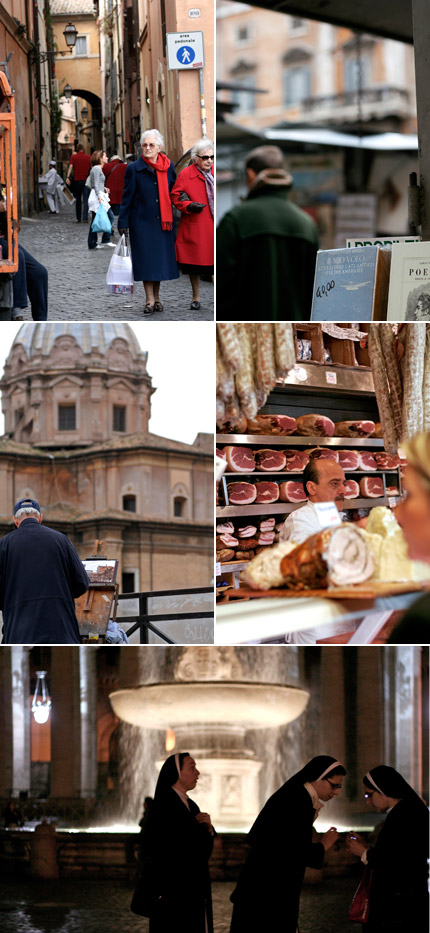 I managed to meet a lovely fellow blogger this time – in spite of her elegant blog and being elegant herself, I was quite amazed by her driving skills as we made our way round the city after she picked me up in her pale blue Punto at Piazza Venezia :)
She gave me a grand tour of her work place, Gambero Rosso, a company with many food related facets including publishing, broadcasting, education and restaurants. I can't think of a better place to work if you are a real foodie! Then she took me to a place called Da Felice in Testaccio – a lovely trattoria always packed with local people. Sigrid recommended a pasta dish called cacio & pepe – but not being a big matured cheese fan I went for one with fresh ricotta instead and I loved it. I was harassing her to give me the recipe for a while :) and she recently posted it here – I can't wait to try it myself, thanks again, Sigrid!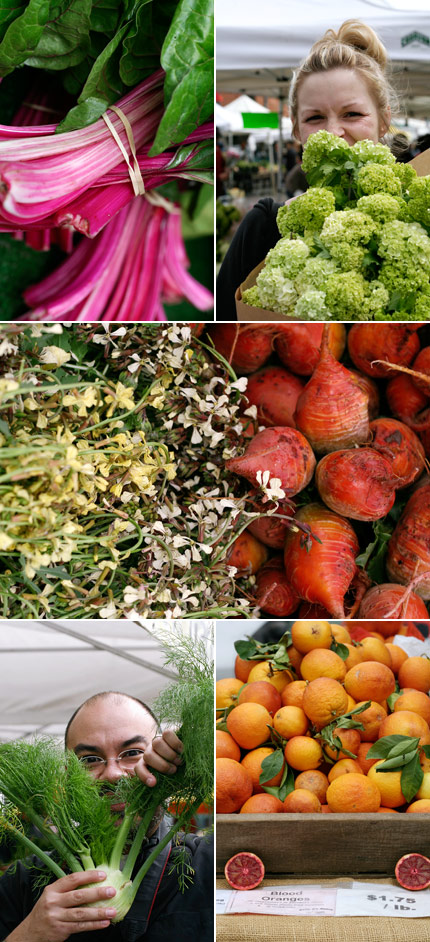 After returning home to enjoy the goodies from Italy for a while, I flew into the sunny city of Los Angeles – I was happy to see the people at Cube again, especially the gourmet buyer Rachael (pictured above with hydrangea), who isn't just a passionate food lover but also a really sweet girl. She asked me to come back to report on the second of their exciting Makers Night events in association with Slow Food in Schools. They invited these four makers this time:
Armandino Batali (yes he is Mario's dad), Salumi Artisan Cured Meats
Jeremy & Jessica Little, Sweet Grass Dairy
Mandy Pedrozo, Pedrozo Dairy (tel: 530-865-9548)
Alex Weiser, Weiser Family Farms
as well as Cecily Upton, National Programme Coordinator from Slow Food in Schools.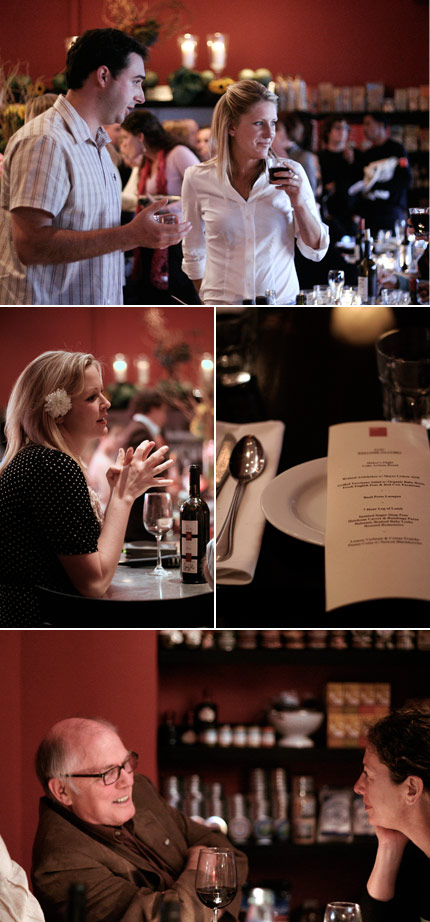 Like last time, the event was on for two nights and they had a tantalising menu starting with Maker's flight followed by:
Pedrozo Northern Gold and Weiser Family Farm heirloom carrot soup with chive oil and crostini
Braised fennel, radicchio and endive ravioli with mascarpone – served with Salumi Guanciale, brown butter, sage and red cow parmesan
Braised duck with plum and port, Sweet Grass Dairy Lumiere and champagne risotto
Trio of desserts – Mini Weiser Farm heirloom carrot cake, Butterscotch pots de creme, Dark chocolate almond tart
The event was sold out well in advance – I could recognise some of the guests from last time and it was even more successful. The food was gorgeous too – I especially loved the radicchio ravioli with guanciale, and the butterscotch pots de creme, which everyone agreed were insanely delicious :) I can't explain it very well, but it's such a lovely feeling when you have so many real food lovers together in one place. Cube is planning more exciting events in the future, so be sure to watch this space.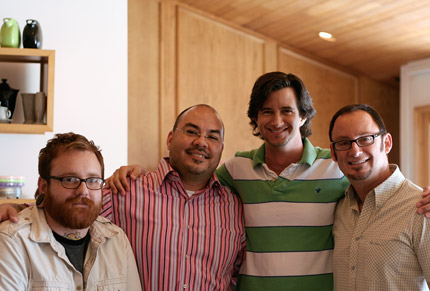 Oh and I must include this picture of the gorgeous guys in LA – (from left) Adam, Matt, Kevin and Ed. I've been a huge fan of their blogs since I first visited, and I was lucky to meet them on my last visit too. Kevin and Ed kindly invited us to their gorgeous place this time (I have no doubt that their house has the most spectacular view of LA, including Catalina Island, of anywhere in the Hollywood hills!) Kevin made such a lovely brunch for us (it was so delicious and Ed did the washing up of course :)) – I couldn't think of any better way of spending Sunday morning than enjoying such lovely food in such great company!
I was happy to be joined by Matt & Adam at the Santa Monica farmer's market a few days later. I know I've said it before, but it's definitely my favourite market anywhere – not just the fantastic produce, but the people that make me want to come back again. Oh and while I was in LA, these über-stylish couple from Singapore were in the city too and we were hoping to meet up somehow, but sadly we couldn't make it as I was too busy working most of the time (well, I just have to ask them to come to Tokyo next time I go back to Japan :))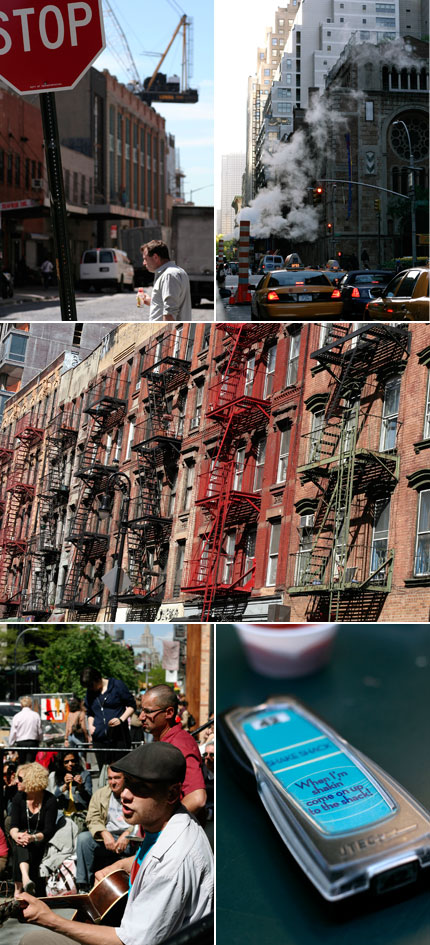 Before I flew back to the UK, I managed to spend a few days in New York too – my last visit was nearly six years ago so I could tell a lot of things have changed since then. I stayed in Brooklyn this time where Kelli & Andrew kindly let me stay with them – as I wrote here, I've known them since I started my blog but I've never met them before so I was really looking forward to getting together with them. They are the most adorable couple you could ever imagine and they work wonderfully together as the driving force behind the ever expanding Amai Tea & Bake House.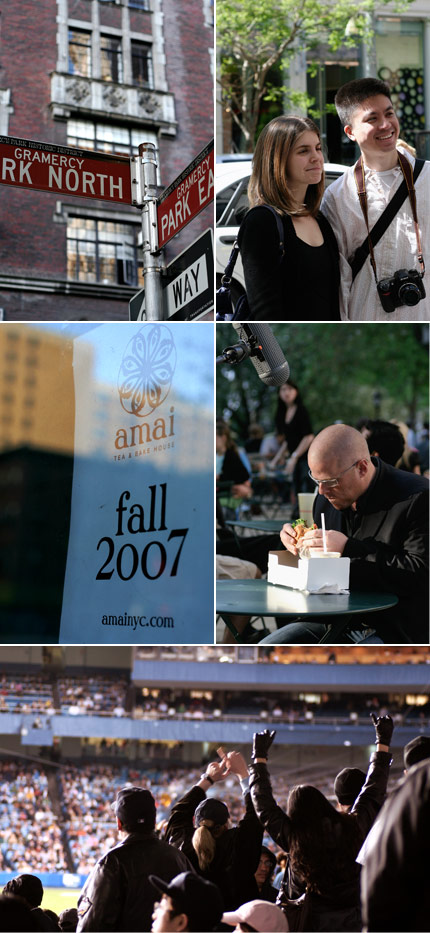 I was so happy when I heard the news about them opening their first store in Manhattan this autumn (they are hoping to open in early August) – I just had to visit the space on this trip! The store is located in the chic Gramercy area (3rd Ave, between 16th & 17th St) – it was quite a bit bigger than I had thought, and I couldn't help getting excited as Kelli told me about the layout, their plans for the interior and their menus. They will have a kitchen downstairs so everything will be freshly made on site and they will be serving tea with some brand new sweets, I can't wait to visit it next time I'm there.
I had so much fun with them, including a day out to the Noguchi museum and a chocolate/desserts tour (yes, we all have super sweet tooth) – I was looking forward to tasting some desserts at ChikaLicious, but there was a big queue when we were there and had to give up (not quite, as we enjoyed some lovely Japanese-inspired desserts here instead :))
Oh and I just had to go here after hearing Andrew's enthusiastic recommendation (and we spotted Heston Blumenthal biting into their burger for the BBC (pictured above)). I managed to enjoy a Yankees game too which was good fun, the first time I have been to a baseball game since I lived in Tokyo (we don't really have baseball in Europe!).
I was lucky to meet some fellow food bloggers too – Celia, the author of a fabulous site Cravings, organised a small get-together for me (I've known her since she did a feature about food blogs on her site – I love her jet-setter life style, she even managed to come to San Francisco when I was there last November and met up with Sam & Fred, Shuna, Elise and Brett & N at Zuni)
We met at a lovely Italian place called Il Buco – Josh, Cecily & Winnie (from Slow Food) and Kelli could make it so it was great to see them all. The food was gorgeous and it was interesting to know about the food scene in NY too (and Josh showed us some lovely pictures of his princess Anya – how lucky she is to have a dad who takes such beautiful pictures :))
I can't possibly include all the lovely people I met (and all the food I had) throughout these trips in this post – but I would like to send a big thank you to all of them. Hopefully I can go back to see them again soon, and I'm already looking forward to it…