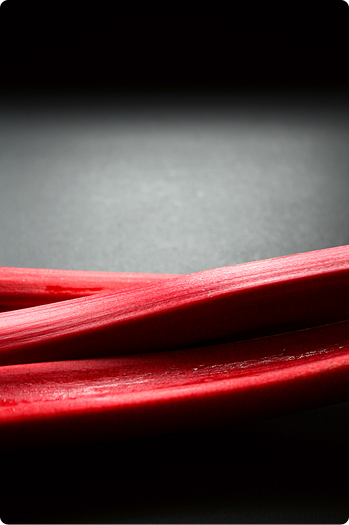 Rhubarb Rhubarb
17 March 2006
I remember it took a while before I first tried this colourful-celery-like vegetable, which I wasn't familiar with when I was in Japan. I still wouldn't say it's my favourite ingredient, but since I started this blog I've been converted to trying ingredients that I'm not mad about per se. So I decided to give it a go with rhubarb this time, which I got from a farmer's market last weekend. Because I didn't really want to use it as a core component, this recipe for chilled rhubarb soup with rose parfait, strawberry sorbet, candied pistachios, strawberries and rhubarb chips from The Last Course by Claudia Fleming seemed perfect.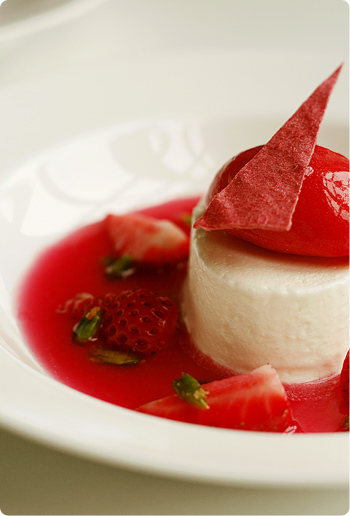 Although this dessert has quite a few parts, each was straightforward to make and you just need to be a bit patient :) I started with the rhubarb soup and strawberry sorbet – as I churned the sorbet in the machine, I cooked rhubarb in syrup with a little ginger, mashed it as it cooked and sieved. For the rose parfait, lightly whisk double cream, creme fraiche, a touch of rose preserve and rose water together, then fold in some Italian meringue and freeze. The rhubarb chips were good fun to make – cook chopped rhubarb with a little sugar until it's quite dry. Push through a fine sieve (discarding the solids) and spread thinly on a baking sheet, then bake in the oven at about 120ºC until leathery (it takes about half an hour).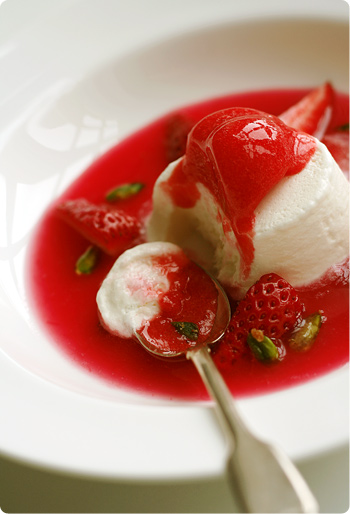 I was really excited to try the finished dessert – and I absolutely loved it! The tangy flavour of rhubarb and zing of ginger was balanced by the fragrant, extra light parfait and the sweet strawberries. The candied pistachios (coat the nuts in syrup first, toss them in light brown sugar and roast in the oven) add a nice contrast too – all the flavours work so well, I think it's a really refreshing and elegant dessert :)
Oh just one thing – I like The Last Course and I think it's a beautiful book, but I'm not sure about the use of a lot of corn syrup in her recipes. If I have to, I use a lesser amount of golden syrup instead (it's a bit hard to find corn syrup around here), but it seems to me that she suggests using it even when perhaps it's not necessary. Because I've never learnt pastry making, I don't know the science behind it – I've actually tried some of the recipes without, or making my own syrup with sugar and they turned out fine (or have I just been lucky?). I'd be grateful if someone could tell me a bit more about it, thank you…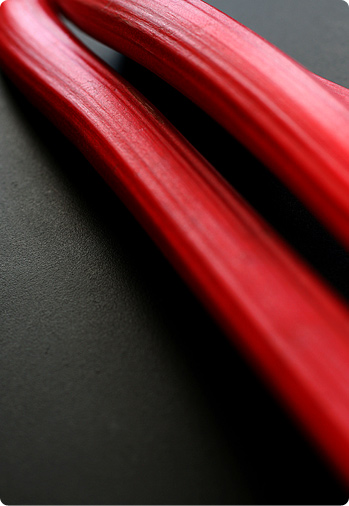 It's been really cold here for the middle of March (my chilblains are still active!), but I was happy taking pictures of this dessert, the vibrant colour made me feel that the real spring is definitely on the way :) I'm sorry I'm being slow at writing back to the comments and messages, I'll try to get back soon.