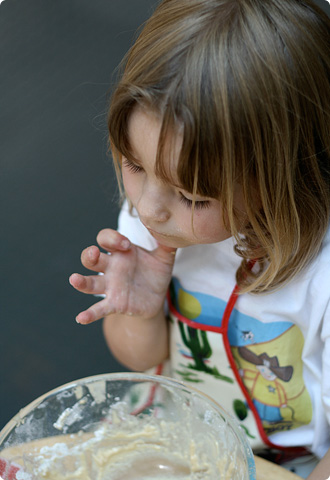 Cooking with Ella
22 September 2006
I received a few books from HarperCollins a while ago and this children's cookbook was one of them. It's written by Nora Sands, who has been arguably the most well-known dinner lady in the UK since her appearance on the Channel 4 programme Jamie's School Dinners last year (I don't know why but here in the UK the school lunches are called school dinners even though it is lunch!).
I've mentioned the programme before – I knew that children here were eating too much junk food but what I saw on the programme was far worse than I had imagined. They were mostly being fed processed, really unhealthy (and unattractive looking!) food at school and home (and having seen Super Size Me, the situation in the US looks just as bad…). Jamie tried to teach the dinner ladies as well as the kids and their parents how important it is to eat better food, but from the reactions in the first episode of the series, it seemed unlikely that anyone would share Jamie's enthusiasm.
We had a 'catch-up' episode of the programme this week – the government has taken this matter quite seriously after the first series and has started to put some effort to change the situation, although Jamie's ideals are still some way off. At least the government has secured some money for local councils and schools until 2011 (more details and key figures here and here) which is definitely worth the effort.
For the schools that don't have a kitchen (I couldn't really believe it), they are trying to get local pubs/restaurants involved in preparing school meals as well as the local producers who can offer cheaper fresher ingredients for them. It's only a temporary measure but surely seems a good way to get better food into as many kids as possible and also raise awareness of the issue.
I'm certainly moved by their enthusiasm and determination, especially Nora's – even though she hasn't got paid for the extra hours she's been working since this campaign started, she hasn't served a single chip at the school since then! It's really nice to see children enjoying hot meals rather than eating packed lunches (normally a packet of crisps and a fizzy drink; the closest thing to food for most of the kids seems to be something like a processed cheese snack!).
I feel a little sad that this is such a big issue – for me, it's something fundamental that shouldn't need as much as improvement as it does. It's totally understandable that some people aren't interested in food/cooking, but giving young children decent food and teaching them the importance of knowing what they are eating is adults' responsibility. I actually like eating junk food occasionally – but that's my decision and I'm aware that I'm eating bad food – but how would children know good food from bad if they have never tasted good food.
Anyway, back to the book. I don't have any children but was intrigued by the book and asked my friend Cheryl if she and her 4 year old daughter, Ella, would be interested in trying out some of the recipes from it. It was a while before we managed to get round to it, due to Ella's extremely busy social life (much better than ours, as we all agreed!).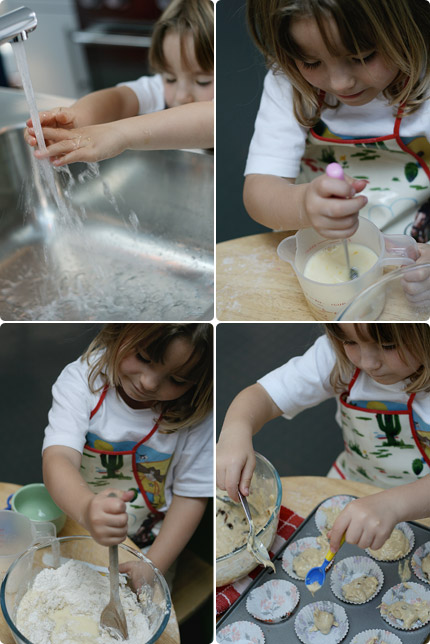 The book is aimed at children aged around 7-12; Ella is a little too young to work on her own, so Cheryl helped/supervised all way through. They chose two recipes this time – mighty muffins and pea & ham risotto (they use bacon in the book) – both of which turned out delicious. Ella did all the mixing and stirring for the muffins, and put them in paper cups ready for baking. For the risotto, she chopped the ham (with her special plastic knife), stirred the rice and delivered chives from the garden (in her favourite red car).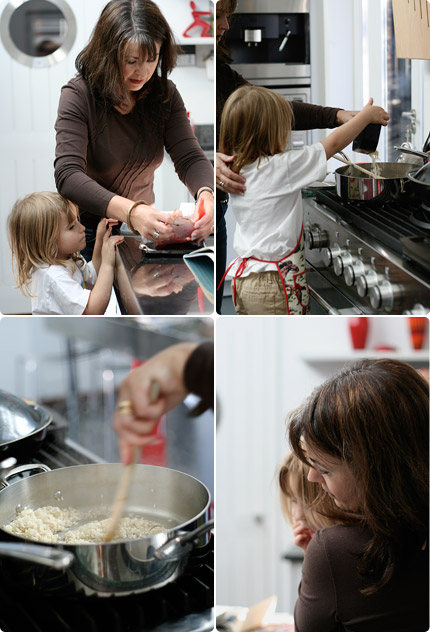 Cheryl liked the fact that the finished dishes were attractive to both children and adults as well as the clear instructions. It was also nice that Ella had great fun creating her own supper which she loved (and scraped the bowl clean!). Cheryl thinks the book differs from many others in that it shows kids how to make good healthy dishes which they can eat with the family rather than just 'children's food', ie cakes with faces on or biscuits shaped like animals!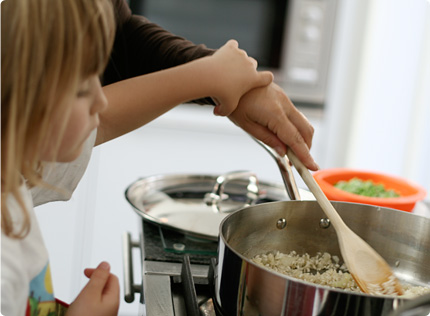 I asked Cheryl what the good things about cooking with young children are and she cited doing something together, fostering a love of food and introducing new ingredients (children are more willing to try something that they have helped to create). Also it's educational in a fun way – maths (weighing and measuring), science (how ingredients react to heat for example), co-ordination (stirring, filling cake cases etc) and later, reading and understanding the recipes. Only by learning to cook themselves will this generation of children grow up with an understanding that not all meals come ready-made.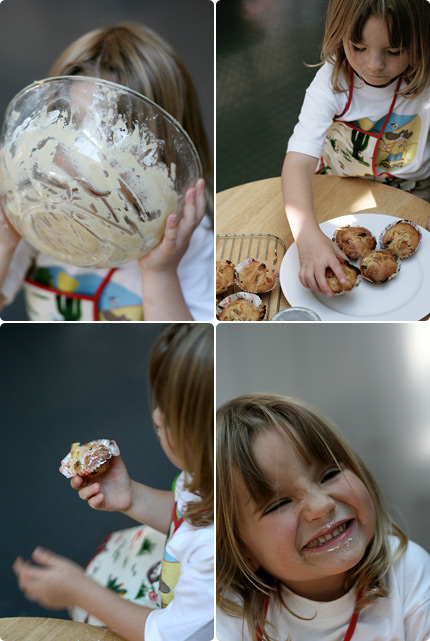 Ella's school is lucky enough to have a proper kitchen and a committed cook who prepares meals that the children seem to enjoy – no chips feature on the menu and packed lunches are not an option. Sitting down for a proper hot lunch at school is also vital to help young children enjoy eating together as a social activity – particularly when many families can't always eat together in the evenings.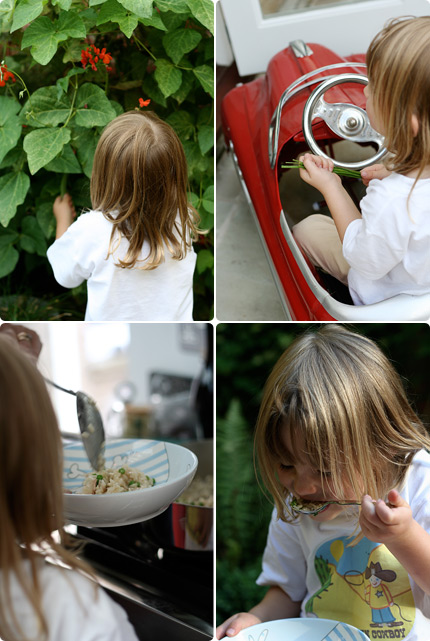 It was lovely to hear Cheryl's own childhood story too – she was given this book for Christmas in 1969 by her auntie Lesley that started her cooking in the first place with delicacies such as Eggs in Tomatoes, Baked Alaska, Coconut Ice and Peppermint Creams… no wonder she is such a wonderful cook!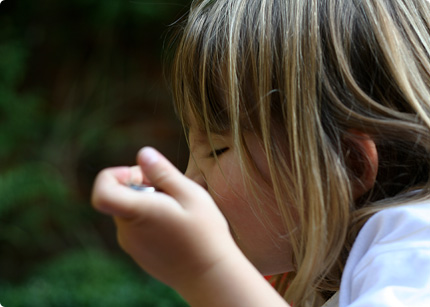 Although I knew Ella normally eats well, I'm glad that she enjoyed both the process and the end result – I had great fun too so thanks again, Cheryl and Ella; hopefully we can have another session in the near future :) (oh and here and here are some other cookbooks that they have enjoyed dipping into.)